Miracle Hill denies turning away Jewish woman from Christians-only foster care program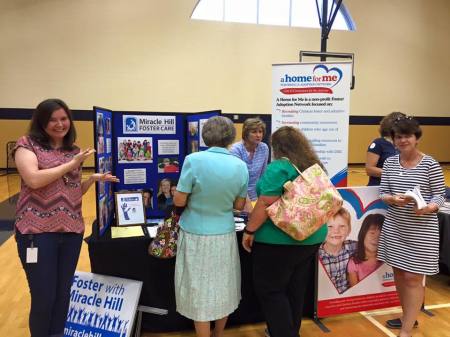 Miracle Hill Ministries, a Christian social services agency that runs South Carolina's largest and most respected state-funded foster care program, denied a report that they turned away a Jewish woman as they await an exemption from the Trump administration to keep accessing government funds while having a Christians-only policy.
Beth Lesser, a Jewish woman in her 50s, told the Forward, a Jewish-centered publication, in October that she and her husband were turned away by Miracle Hill while participating in a child mentorship program for prospective foster parents.
"Miracle Hill won't even let a Jewish person take a kid out for ice cream while they wait for a home," Lesser, who has no children of her own, told the publication. "What did they think I was going to do, force feed them latkes?"
In an interview with The Christian Post this week, Sandy Furnell, Miracle Hill's, communications director, said her agency does not prevent anyone from becoming a foster parent and did not specifically turn Lesser away.
"The reality is, Miracle Hill's existence does not prevent anyone from fostering. Anyone who wants to foster can do so through their local department of social services that is available to anyone regardless of religion, sexual orientation, whatever the case may be. No religion, whatever.
"We are not preventing anyone from becoming a foster family in this state. We are simply adding to the pool. It's our special mission that we have," she said. "It's because of who we are and this is what we choose to do according to our faith."
Furnell explained that Lesser was trying to become a mentor with a local organization called Fostering Great Ideas which is a Miracle Hill partner. Fostering Great Ideas works to improve the experience for every child in foster care.
She said Lesser was trying to mentor, not foster, through Fostering Great Ideas. When she went to the mentoring training at one point the leader of the training divided the participants into different religious groups to assign them to organizations that were in line with their religious values.
Lesser said, however, that she felt discriminated against in the program.
"I was the only Jewish person," she told the Forward. "It was humiliating to be told essentially, Christians over here, Jews over there."
Furnell added that matching prospective foster parents or mentors with organizations that align with their faith is in line with Fostering Great Ideas' mission to improve the foster care experience.
"We partner with Fostering Great Ideas for mentoring with the kids who are in our children's home, our boys' shelter. In terms of mentors to work with, the kids who are in our children's homes we do ask that they be like-minded in their faith with us because we are a faith-based organization. We believe people who are mentors or foster parents are in places of spiritual influence in someone's life," Furnell said.
A spokeswoman for South Carolinas Department of Social Services told The Washington Post that there are 11 child-placement agencies in South Carolina with religious affiliations. Miracle Hill, however, is the only one that insists foster parents share its faith.
The social services agency wrote to Miracle Hill in January 2018 and outlined that it breached a federal regulation instituted by the Department of Health and Human Services near the end of President Barack Obama's second term that bans discrimination in all HHS programs.
South Carolina Gov. Henry McMaster has sought to get an exemption for Miracle Hill from HHS but the agency has yet to make a decision.
An HHS spokesman told The Washington Post the issue was one of "religious freedom," and signaled that the federal agency was open to allowing the funding.
"The request from the governor of South Carolina on religious freedom and foster care agencies has been received by HHS and is currently under consideration," he said.
Furnell said that while Miracle Hill is hopeful for a positive outcome, they remain concerned about the future of their foster program which operated without government funding for some 27 years of their 30 year operation.
"Our ministry has been operating since 1988 and I believe it wasn't until three years ago that we took any government funding at all. So for about 27 years we did not have any government funding. We did foster care completely on our own and the reason why we started to take some funding was because DSS asked us to step up our recruitment efforts and we said 'Ok, we'd be happy to do that, if we're able to get a little bit more support because we only have so much funding. But we would love to do more if we could,'" she said.
According to The Washington Post, Miracle Hill received nearly $600,000 in state and federal money in the last fiscal year to support foster care families. Reid Lehman, the ministry's leader, said he would rather drop out of those government programs if they insist on sacrificing their faith-based policy that's been in place since 1988.
Furnell said because of Miracle Hill's efforts, they were able to "greatly increase" the number of foster homes in their area.
Even if Miracle Hill chose to forgo working with government agencies to help place children with foster families, Furnell said the issue of their operating license would still hamstring the foster care ministry without an exemption from HHS.
"At this point I think the greater issue is whether we are allowed to exist or not because when Department of Social Services wrote to us, they basically said, this goes against various policies; you can't do this so we won't license you unless you change. And so if we are not allowed to be licensed then we can no longer even participate in the system," she said.
"Even if we did not take government funding at all, if we are not allowed to be licensed, if the Department of Social Services won't license us because of how we operate, then we can no longer even participate in the process," Furnell stressed. "That is getting lost on a lot of people. Do we have a right to even exist as a faith-based foster care program? If we're not licensed we can't work with the kids that come with the system. We won't be allowed to, even if we don't accept government funds," she said.
She explained that they're operating on a provisional license from the DSS but it will expire on Jan. 27.
"We are hopeful and we feel confident that DSS will renew another provisional license but we don't know what the Department of Health and Human Services is going to say," she said.
Each provisional license is issued for a maximum of six months but Furnell noted that only the DSS can decide how long they will keep issuing a provisional license.
"We feel that probably [they] would want to because we provide such good service for foster care in our area. So we feel that it would obviously be in their best interest to continue to renew that," she added. "We of course would love to continue to serve our families and serve children in this area as long and as much as possible. Of course funding will depend on our community support. We do what we can with the support that is given by our community," she said.
For now, Furnell explained, Miracle Hill is hoping the HHS will allow them to continue serving their community according to their faith.
"We are still awaiting. We have not gotten a response from the Department of Health and Human Services yet. And we're not the only organization across the country that need some clarification on this as well," she said.