Miss Kay of 'Duck Dynasty' Shares Her Testimony, Says God Can Heal Broken Families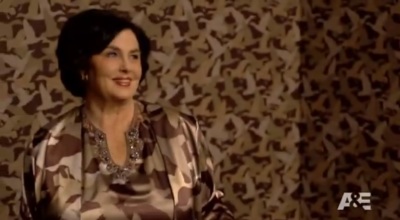 Miss Kay, the matriarch of the Robertson family, the stars of A&E's most-watched reality television program, "Duck Dynasty," shared part of her Christian testimony at the "Night of Ducks and Huck" event that was also attended by former Arkansas Gov. Mike Huckabee in Monroe, N.C., on Saturday.
Robertson, who was invited to speak at the Union County Republican Men's Club kick-off campaign, spoke candidly about her family's history and the difficult times she endured with her husband, Phil, because she wants people to know that "broken families can be healed."
Even though her eldest son, Alan, had prepared a speech for her, she didn't use it and instead opted to hold the pages in her hand "to give her confidence" and then "let the Holy Spirit lead her" as she spoke to the audience.
As she began to talk about her family's faith and the struggles she faced during the first 10 years of her marriage, Robertson said she wanted everyone to learn three things from her.
Robertson first advised that what she does every day is to try to find joy in her journey in life.
"I try to find joy in everything," she said. "Another thing I want you to learn is how to overcome difficulty by being determined to never give up. I had 10 bad years with Phil, and he was horrible. I did not give up on my marriage; I did not give up because God told me to fight for that marriage, and I did and it made it through."
Lastly, she said to "build a strong foundation with your family, because you need them and they need you and that's very important in America today."
Robertson also said she wants everyone to know that her family cares about their Duck Commander and "Duck Dynasty" fans.
"We're not pretending. We are sincere, and we care about America, and we care about changing this world and bringing it back to what it used to be," she said.
During a 20-minute Q&A session, Robertson explained that although Phil gets embarrassed when she or one of their three eldest sons, Alan, Jase and Willie, shares their family's testimony, they know people need to hear it to understand that with God's grace, lives can be transformed and families can be healed.
As she described a troubling moment during her marriage, Robertson said she had reached a point where she was giving up on life, and locked herself in the bathroom to cry and wanted her life to end.
"People who I talk to who say they have no hope, I can say I've been there," Robertson commented.
"I just didn't want to live anymore. That's when I went to my knees for God. But what saved me, probably, from doing anything to myself that night was Alan, Jase and Willie. Alan knocked on the door and said, 'momma, don't cry anymore, God's gonna' take care of you.' He was 10 years old, Jason was 6, Willie was 3. And he again said, 'mom, He will take care of all of us, please don't cry anymore.' I felt like right then, God told me, 'I've got plans for you,'" she added.
The next day, Robertson said she made the decision to "give her heart to Jesus."
"When you have Jesus living in you, you have hope forever," she said. "When you have the Holy Spirit living in you, you have help." But the preacher reminded her that when she returned home to Phil, she was going home to a drunk and a man who was still going to call her names; but she had the Holy Spirit with her and she needed to live for the next world, not for this one.
This was the point when Robertson and her three sons began praying for Phil's salvation. She explained to her young sons that their father had a choice, "a choice to change or continue living like he was," but they were going to follow God and keep praying.
After a lot of prayer Phil was led to turn his life over to Jesus Christ. But, according to Miss Kay, he knows it's necessary for the Robertsons to share all of their testimony, the good and the bad, with the people they meet.
"We want other people to know that a broken family can be healed. And we also know that it's better for families to do everything they can to try to make that marriage and that family work together," she said.
Speaking about all four of her sons and filming "Duck Dynasty," Robertson explained that although Alan, Jase and Willie joke that Jep is her favorite son, she loves them equally, but has always had to stick-up for Jep, and noted that he's the most sensitive of the four. She also shared that the producers of the show were concerned about featuring Alan because he's a preacher and they didn't think he'd be funny.
Robertson commented that Alan is just as funny as his younger brothers, and expects that viewers will see it as he's featured more often of the show.
Similarly, she said the producers also wanted to keep uncle Si out of the show until Willie stepped in and told them they were missing out on reality-TV gold if they didn't include their dad's youngest brother and Duck Commander's most valuable employee.
And regarding Jase, Robertson said that for a long time she and Phil believed he was an angel because he never got into any trouble. When they'd argue, she said, Jase would tell them, as a little boy, that they needed to repent.
"What kid says that to a mom and dad?" she asked. Being named after his uncle Si, Robertson said she soon realized that Jase wasn't an angel, because just like his uncle, he'll argue about anything.
The Ducks and Huck event was part of a political fundraising dinner that also featured Reps. Richard Hudson and Robert Pittenger, both of North Carolina, and Louisiana state Sen. Elbert Guillory, whose YouTube video, titled "Why I am a Republican" has received more than 900,000 views.
Watch Miss Kay share her testimony and stories about filming "Duck Dynasty"