'We wanted to focus on people': Missouri church packs over 40,000 meals to help community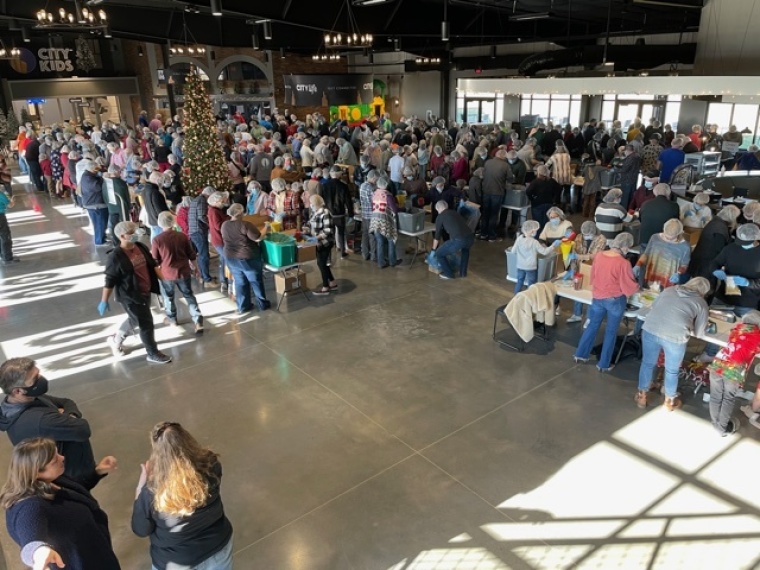 A congregation in Missouri packed over 40,000 meals for the less fortunate, with more than 500 volunteers taking part in the charitable endeavor.
Hope City Church of Joplin held the meal-packing event on Sunday morning, with participants putting together exactly 40,218 meals during their 9:45 a.m. and 11:15 a.m. worship services.
Those involved in the effort to pack tens of thousands of meals were required to take various precautions due in part to the coronavirus pandemic, according to Lead Pastor Cody Walker.
"We had about 525 individuals pack the meals. Everyone was required to wear a mask, hair net, and gloves," Walker explained to The Christian Post.
"Every volunteer was stationed with a small team of about 10 in a specific spot while they packed the meals."
Walker also told CP that his church held the event because they "wanted to give our people an opportunity this season to impact our local community."
"In a season where it can be easy to give our attention and focus to things, we wanted to focus on people. Instead of having a typical worship gathering, we spent most of our time packing meals that will help feed hungry families," he continued.  
"We know everyone needs two things: food and hope. We hope these meals will be able to provide both for people who need to know they are not forgotten or alone. Our people at Hope City know we are all in the same boat and serving others is at the heart of the Gospel."
After the meals were prepared, they were delivered to Watered Gardens Ministries, a charity based in Joplin that Hope City has partnered with for the past few years.
Casie Augustine, kitchen manager at Watered Gardens, told CP that the tens of thousands of meals will be distributed at their Mission Market and their Outreach Center.
"It helps keep our Mission Market stocked with an item we use very often and thus tend to run out of regularly," explained Augustine.
"Through providing quality food, it allows us to have regular shoppers, and build relationships with our clients. This gives us an opportunity to encourage, share hope, and pray with those we get to meet and serve."

Hope City Church was founded in 2014 as a church plant created by Christ's Church of Oronogo, Missouri, with the intention of reaching out to the unchurched.