Missouri President Tim Wolfe Reads Psalm 46:1 in Resignation Amid Claims of Campus Racism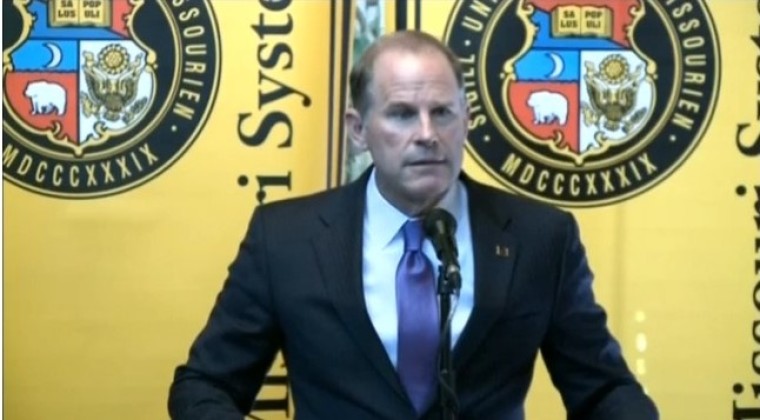 University of Missouri President Timothy M. Wolfe read from Psalm 46:1 during his resignation on Monday amid claims of racial hostility on campus.
Wolfe, president of the flagship school in the University of Missouri state system, said he hopes his resignation can be used to move the school forward instead of dwelling on incidents in the past that cannot be changed.
Choking up at times, Wolfe said, "I am resigning as president of the University Missouri system. My motivation in making this decision comes from a love of Columbia where I grew up and the state of Missouri. I have thought and prayed over this decision. It is the right thing to do."
"The frustration and anger I see is real," he continued, "and I don't doubt it for a second."
During his resignation speech Wolfe read from Psalm 46:1, a verse which he said has given him strength in life: "God is our refuge and strength, a very present help in trouble."
Wolfe added that he hoped his resignation would be used to "heal and not to hate."
Reuters reported on Monday that "Unrest at the university started on Sept. 12 when Payton Head, president of the Missouri Students Association, said on his Facebook page that he was repeatedly racially abused on campus by someone riding in a pickup truck."
Since then other students also claimed they were called racial slurs on campus.
This was followed by a hunger strike on campus by Jonathan Butler, a graduate student, who vowed not to eat again until Wolfe was removed.
As members of the Missouri football team vowed not to play or participate in football-related activities until Wolfe resigned, it signaled the fatal blow for Wolfe's tenure as president. Head Coach Gary Pinkel said the team was united as pressure on Wolfe mounted. If Missouri had to forfeit their game against Brigham Young University on Saturday, it would have cost $1 million for breach of a scheduling contract.
"I became involved because I support my players," Pinkel asserted. "I did the right thing, and I would do it again."
Some media reports have claimed that a swastika was either painted or depicted on campus in one of the university's buildings this semester.
The school's athletic department announced on Monday that they will resume football activities now that Wolfe is no longer leading the university.
The student activist group Concerned Student 1950 had petitioned for a list of demands to be met by Oct. 28 or they would engage in "appropriate non-violent action." One of the demands called for an apology from Wolfe during a press conference where he would publicly acknowledged his supposed white privilege. Wolfe, however, did not acknowledge or admit to white-privilege during Monday's resignation.
Wolfe was also accused of "enabling a system of racism" and for being too slow to respond to the concerns of African-American students on campus.
Some activists and students further complained that Wolfe and school administrators did not condemn the 2014 shooting of Michael Brown in Ferguson, Missouri, by a white police officer.
The Concerned Student 1950 name is a reference to the history of the university, which enrolled its first black student in 1950.
Earlier this year, students started a petition calling for the removal of a statue of Thomas Jefferson.
"Thomas Jefferson's statue sends a clear nonverbal message that his values and beliefs are supported by the University of Missouri. Jefferson's statue perpetuates a sexist-racist atmosphere that continues to reside on campus," the petition reads, in part.
Gov. Jay Nixon, a Democrat, released a statement about Wolfe's resignation as university president, saying, "Tim Wolfe's resignation was a necessary step toward healing and reconciliation on the University of Missouri campus, and I appreciate his decision to do so."
White House spokesman Josh Earnest also praised the protesters' actions: "A few people standing up and speaking out can have a profound impact on the places where we live and work."
Later in the day protesters with Concerned Student 1950 shouted down, pushed a student reporter and demanded with chants that he leave public property.
The University of Missouri in Columbia is the largest school in the state, with over 35,000 students, in which just over 7 percent are African-American.