Modern American Christians Have 'Big Shoes to Fill,' Megachurch Pastor Bartholomew Orr Says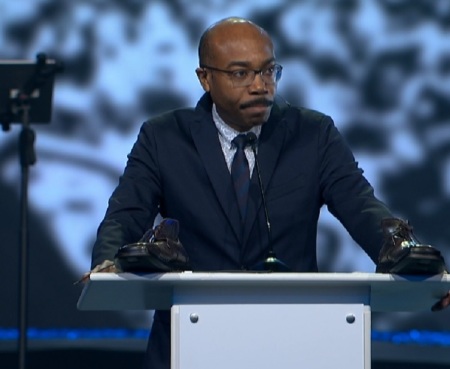 Pastor Bartholomew Orr, senior pastor of the Brown Missionary Baptist Church, says the American church has "big shoes to fill" when it comes to improving society.
Orr, whose Mississippi church is 10,000-members strong, told those gathered at the MLK50 Conference in Memphis, Tennessee, Wednesday that "we have some big shoes to fill," and brought a pair of shoes to the lectern and spoke about how his father did a lot to provide both for his family and society through his work with the Civil Rights movement.
"My daddy had some big shoes to fill," said Orr. "But my daddy was a provider. He worked by day at Hunter Fan in a factory and by night he was a shade tree mechanic and a part-time farmer."
"He wanted better for those coming behind him, and so when the Civil Rights group focused on voter registration in Mississippi in 1964, the summer of 1964, momma and daddy opened their home up to the whites to come in and to live as they registered voters."
Orr noted that his father also become involved in the NAACP and later marched with Martin Luther King Jr. when the famed Civil Rights leader was in Mississippi.
Orr then told those gathered that he believed each generation should "go farther than the previous generation," including the generation that fought for Civil Rights in the 1960s.
"To achieve greater, to reach higher, to accomplished more, to accumulate more opportunities to solve harder problems and to birth more businesses," Orr added. "Simply, do more with what God has given us."
Orr's comments came as part of the two-day MLK 50 Conference, an event held on the 50th anniversary of King's assassination at the Lorraine Motel in Memphis.
Phillip Bethancourt, executive vice president of the Ethics & Religious Liberty Commission of the Southern Baptist Convention and another conference speaker, explained in a video just before the event began Tuesday that the goal of the conference was to strengthen those involved in racial reconciliation efforts.
"What we want to do is inspire and equip people so that wherever they're starting at here, they leave here better than they came," said Bethancourt.
"We want to see relationships form and connections where people look around the room and say, 'I'm not alone in this. There are thousands of people just like me who love Jesus and who care about justice and those don't have to be separate from each other.'"
In addition to Orr and Bethancourt, other scheduled conference speakers include NFL player Benjamin Watson, DesiringGod.org founder John Piper, noted Bible study leader Beth Moore, Acts 29 President Matt Chandler, and Liberty University English professor Karen Swallow Prior, among others.