More Americans Say Businesses Can Refuse Services to Gay Couples Over Religious Objections: PRRI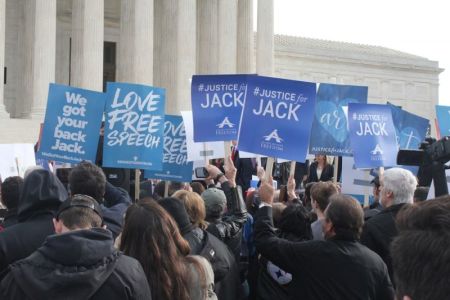 An increasing number of Americans believe that businesses should be allowed to refuse on religious grounds certain services to same-sex couples, according to a new Public Religion Research Institute survey.
In June, the United States Supreme Court ruled 7-2 in Masterpiece Cakeshop v. Colorado Civil Rights Commission that a Christian baker named Jack Phillips was wrongly punished for refusing on religious grounds to make a wedding cake for a same-sex couple.
According to a report provided to The Christian Post earlier this week and embargoed until Thursday, the PRRI found an increase in support among surveyed respondents over whether businesses can refuse to offer services to same-sex couples.
The PRRI report drew from survey data from telephone interviews of 2,008 American adults aged 18 and over from June 27 to July 28 with a margin of error of 2.6 percent.
The research was funded by grants provided by the E. Rhodes and Leona B. Carpenter Foundation and the Arcus Foundation, the latter being a professed supporter of LGBT advocacy.
Forty-six percent of Americans said that wedding-centered businesses should be allowed to decline service to same-sex couples, a five percent increase from last year.
This increase in support for wedding businesses being allowed to refuse service for religious reasons compared to last year was found in multiple surveyed groups.
For example, 45 percent of African Americans support the religious objections versus 36 percent in 2017; Hispanic support went from 26 percent in 2017 to 34 percent in 2018.
Regarding small business refusals to service same-sex couples, the percentage of Americans who believed that small businesses should not be allowed to refuse service declined from 56 percent in 2017 to 49 percent.
Catholic respondents saw a noted increase in support for small businesses being allowed to refuse service, going from 29 percent in 2017 to 38 percent in 2018.
PRRI's report also found that 64 percent of Americans support same-sex marriage, a 9 percent increase compared to 2015. 
PRRI CEO Robert P. Jones said in a statement emailed to the press that despite growing support for LGBT rights nationwide, "opinions are less settled in specific areas such as religiously-based service refusals, especially in the context of wedding service providers."
"Given the court's narrow decision in the case involving the Colorado baker, the Supreme Court will likely have another say on this and other related issues, and Judge Kavanaugh, if confirmed, could end up being the deciding vote," stated Jones.
In late June, the high court vacated the 2017 ruling in the case of Arlene's Flowers, Inc. v. Washington et. al. and sent it back to the state court, citing Masterpiece Cakeshop.
"When the Colorado Civil Rights Commission considered this case, it did not do so with the religious neutrality that the Constitution requires," read the majority opinion in Masterpiece Cakeshop.
"Given all these considerations, it is proper to hold that whatever the outcome of some future controversy involving facts similar to these, the commission's actions here violated the Free Exercise Clause; and its order must be set aside."