Most Southern Baptists Laud Pence's Speech, but Some Want Politics Left Out of SBC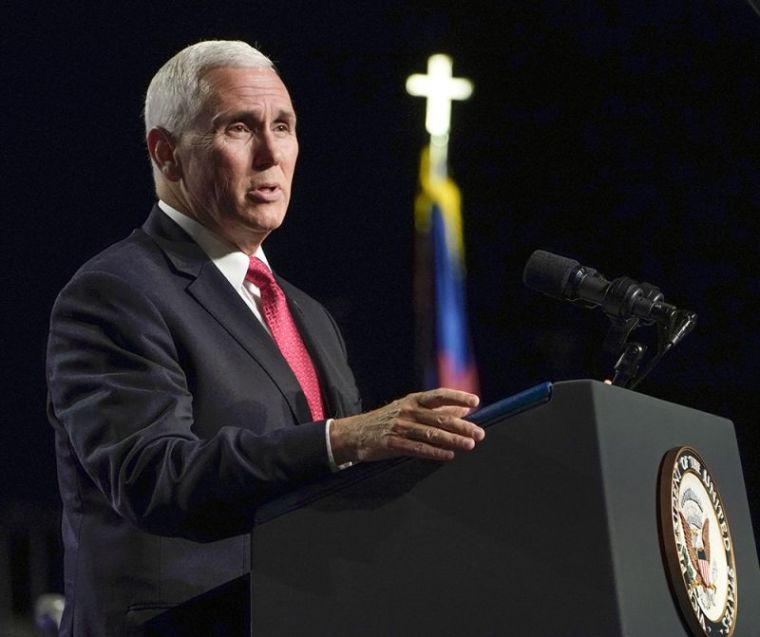 DALLAS — The majority of Southern Baptist messengers applauded Vice President Mike Pence as he spoke at the denomination's annual meeting on Wednesday, but some say politics should be left out of the Christ-centered event.
African-American Pastor Bruce Kirk of Alpha Missionary Church in Bolingbrook, Illinois, said it's not the messenger but political messages that have no place in a convention made up of both Republicans and Democrats. He told The Christian Post that, in his opinion, the SBC needs "a smack on the wrist" for allowing Pence to talk about politics instead of "sticking to the script," and solely focusing on what Jesus Christ has done in his life.
But other pastors, like Jeremy Butler who leads Rio Mimbres Baptist Church in New Mexico, said Pence's speech was edifying and he felt buoyed by his support for their work in local communities.
"I like that he encouraged pastors. He encouraged us to preach the Bible and said they would protect our freedoms. But that while laws are helpful, ultimately it's us being in our communities helping people — both spiritually and physically — that will help our communities the best. So it really encouraged me that he encouraged pastors," Butler said.
His wife, Angela, said that she, too, was encouraged by Pence's speech, saying that he "stood behind the Word and really preaching the Word."
"He encouraged the pastors, pastors' families and people of faith to continue sharing the Gospel, and continue taking care of Americans by meeting their needs on a spiritual and on a practical basis," she added.
But for Kirk, who told CP that parts of Pence's speech "were good," it was the context that bothered him.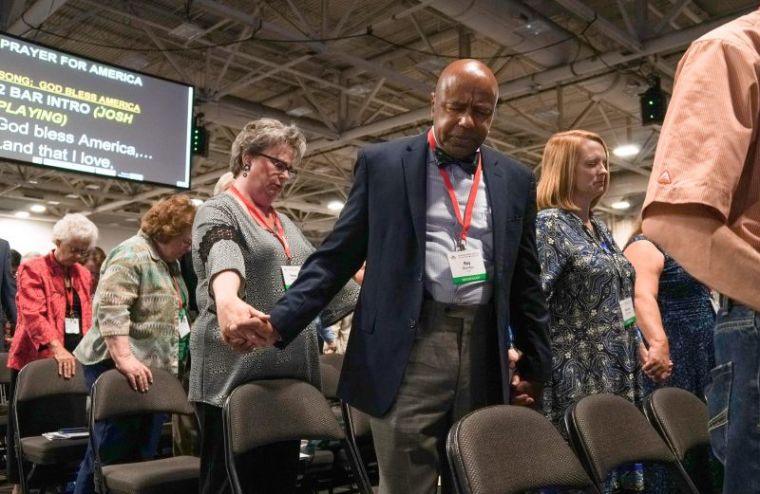 "It's not that he didn't say some things that were good, it's just the context. In seminaries we're taught about context. Whenever you're sharing the truth of God's Word, you've got to make sure that you do it in the right context. That speech was in the wrong context of what we were trying to accomplish here at this convention."
Before Pence's speech, Kirk said he had assured a friend that it wasn't going to be political, and cautioned that the media would likely twist his speech at the SBC. "We've got to be careful because the media, they twist things," Kirk said he told his friend. But following the speech, he said, "it's worse than how I thought the media would twist it."
The Illinois pastor said he felt the SBC had allowed the convention to be "hijacked."
You can read a transcript of Pence's speech here.
"I just think that all that has been accomplished these last few days was destroyed within a few minutes of what we just saw in the auditorium," he added.
"People come here, I come here to hear what I can learn to take back to my congregation, to keep my congregation and our church Christ-centered. I don't need to know about politics; we get enough of that outside."
While he's not opposed to politicians attending the SBC's annual meeting or being a speaker, Kirk said government officials should discuss Christ, not politics. 
"This was a Republican rally in the midst of supposedly a Christ-filled environment. ... When you do that, you're splitting Christ — the Christian community — you're splitting it in that arena."
Kirk reiterated to CP that while he sees nothing wrong with Pence promoting the president and the administration's successes, it was the wrong venue.
"We have to draw the line when it comes to Christ. I really, truly believe this hurt a lot."
Messenger Tiffany Izquierdo, who was a missionary with the International Mission Board in Mexico and studied at Southwestern Baptist Theological Seminary, wasn't opposed to hearing about the administration's accomplishments, which she said are in-line with the priorities of Southern Baptists, such as protecting sanctity of life and religious freedom worldwide.
Izquierdo said she particularly liked that "Pence talked about a new initiative that they, as an administration, have taken on to be proactive in protecting Christians and religious minorities around the world who are being persecuted because of their faith, such as in Myanmar.
"And the defunding of Planned Parenthood is really significant for us as Southern Baptists because we believe in the right to life, for all life," she added. "That's encouraging for us. And the appointment of Gorsuch to the Supreme Court was a major victory for conservative Christianity across our country."
After it was announced on Monday that Pence would be speaking at the SBC's two-day meeting, a motion was brought to the floor to disinvite the vice president. That motion failed, as did other motions that sought to refrain from accepting or extending invitations to public government officials, except for those from the local government in the host city.
Kirk's wife, Michelle, told CP that she cried during parts of Pence's speech after watching people around her writing text messages praising it, despite others in the audience feeling hurt. 
"I cried a little bit because after being here the last two days listening to the Word of God and then to hear it being politicized. To hear [Mike Pence talk about the things Trump has done to] bring jobs back. ... We don't need to hear about [politics]. It's OK, but just tell what God has done for you in your life," she said. "Don't bring in what the president has done for African-Americans and the job situation. We already hear about that on a daily basis."
Michelle Kirk told CP that she's attended SBC's last three annual meetings and over the last three days she's heard speakers and preachers talk about what God has done in their lives and how to build up other Christians, so the political aspects of Pence's speech were a disappointment for her.
"Some people had their heads down, and then you had other people cheering him on," she said.
"It wasn't supposed to be like that. So I think that's what really upset me. Is this what we came for? I thought we were supposed to be talking about Christ, because that was what [the SBC's annual meeting] is all centered around. But when you come here and you talk about what President Trump has done for African-Americans and Hispanic people, to me it's just like we're getting ready for 2020. To me, it was a rally."
Speaking at a news conference Tuesday following his election as president of the Southern Baptist Convention, Pastor J.D. Greear of The Summit Church in North Carolina, said he understood that some saw Pence's invitation to speak as an endorsement.
"I think we have to ask how this is going to be interpreted by everybody who's here and everybody's who's listening," Greear said. "We respect the decision of the messengers, and they decided they wanted to listen to him. I think we owe it to them to be charitable that they are having Pence for the reasons they say they are having him, which is to honor him and not give an endorsement.
He added, "At the same time, we need to show empathy for those who hear a different story and different narrative, and understand that. And understand why they see this as an endorsement. Those are the two things that need to shape this conversation going forward: empathy and charity of these kinds of things.
"What I want to be very clear about," he continued, "is that the SBC, we are a convention that believes that the scope of our leadership and authority ought to be by the Bible itself, especially those of us who lead churches. It means that we might have strong political opinions and politically informed opinions, but we need to limit ourselves to proclaiming what the Bible says ... and we don't want to do anything that implies all Christians should be Republicans or Democrats. We recognize that, in our convention, we're going to have godly people, Gospel people, walking with God on both sides of the aisle."