Mother Teresa's Life of Charity and Darkness Revealed in New Film
Throughout the film, the Indian residents constantly accuse the prioress of trying to convert the predominantly Hindu community into Christians. "I'm not here to convert anybody to my faith. I'm only here to teach people to read, and to write, and to help people anyway I can," she says over and over again.
Initially, Sister Teresa started a school in Motijhil (Calcutta). "The Letters" touches on that in a heart tugging scene that shows her teaching a flock of children the alphabet – a scene meant to show the grave need for education in the impoverished country.
Soon after, she starts tending to the needs of the destitute and starving. Not much is seen of the so-called internal "darkness" or the disconnect from God she faces. Instead she is shown in fervent prayer frequently as she narrates some of the letters she wrote expressing her great doubt, loneliness, and temptation to quit.
A glimmer of hope is introduced and her ministry takes on a life of its own when some her students at Loreto convent school join her in the endeavors to help the poor. She also finally finds proper shelter in the home of a Christian man from Bangladesh.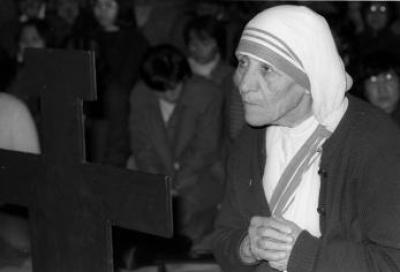 The Vatican extends her time helping the poor away from the convent and immediately the relentless nun is shown applying for permission to become a congregation called, Missionaries of Charity. She is granted favor to start her own work and officially earns the title of mother. In 1952 the indian government also gives her a facility to care for those who are left on the street to die.
Mother Teresa's disdain for the limelight is showcased in the motion picture when a radio reporter from New York visits India to cover all she was doing. "It's not my work Mr, it's God's work," she corrects him as he tries to give her the credit. "I'm just a pencil in God's hand," she concludes before running off in an effort to avoid further press.
The feature film communicates that "belief and prayer" was the foundation of Mother Teresa's faith. It shows that she worked for over six decades and took no credit for her accomplishments. A portion of her Nobel Peace Prize speech from 1979 was included in the film as she read Saint Francis of Assisi's prayer.
To many, Mother Teresa was an icon, but in her eyes she was just a servant of God. The film states that she wanted all of her letters to be destroyed but instead they were turned into a book and now a film. Her ministry, Missionaries of Charity, continues to grow until this day with thousands of nuns now carrying on the work.
Overall "The Letters" was inspiring, convicting, and calls for self-examination. Mother Teresa helped the poor in humility unlike what is popularly seen in Western church culture. It did not highlight much of the Catholic rituals besides the chain of command and that gives the film a broader appeal to all denominations of Christianity.
It never once showed Mother Teresa proselytizing but instead showed her as a beacon of hope for this day and age. It could have been a bit more relatable had it explored her weaknesses but it is still a must-see.
"The Letters" was directed and written by William Riead and comes at a good time since the Italian news announced that Mother Teresa would be canonized as a saint on Sept. 5, 2016. On December 4, the feature film will open in theaters across the nation.