MSNBC, FOX Aired TV Ad Urges State Dept. to Declare 'Genocide' ISIS' Christian Persecution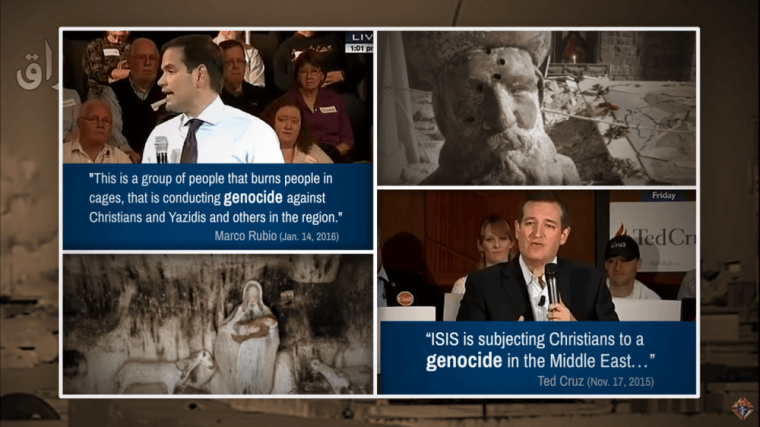 The Catholic organization Knights of Columbus and the human rights advocacy group In Defense of Christians have launched a national television ad campaign this week calling on the United States State Department to label the Islamic State's treatment of Christians as a "genocide."
The 30-second commercial, which debuted Wednesday, shows various video clips and pictures showing how Christians and other religious minorities are being horrifically treated by IS (also known as ISIS) in the Middle East. The commercial is running in the mornings on MSNBC and is also running in the morning, daytime and primetime on Fox News. The ad is scheduled to run through the weekend but may be extended.
The ad shows clips of ISIS destroying crosses and monasteries and also uses IS footage of when the barbaric terrorist group executed 21 Coptic Christians in orange jumpsuits on a beach in Libya last February.
The commercial also highlights statements made by presidential candidates Sen. Ted Cruz, R-Texas, Sen. Marco Rubio, R-Florida, and former Sec. of State and Democratic frontrunner Hillary Clinton, in which they each called IS' treatment of religious minorities a "genocide."
"It's not a partisan issue. Ted Cruz and Marco Rubio have declared it genocide. Hillary Clinton has too. A majority [55 percent] of the American people agree," the narrator in the commercial asserts. "This is what Christians and other religious minorities are facing at the hand of ISIS in the Middle East. But, the State Department still hasn't labeled this extermination what it is. It's time for action."
The commercial ends by calling on viewers to sign a petition that was officially launched Wednesday on StopTheChristianGenocide.org calling on Sec. of State John Kerry to finally label the atrocious "extermination" of religious minorities by IS a genocide.
"The United Nations Convention on the Prevention and Punishment of the Crime of Genocide defines 'genocide' as killing and certain acts 'committed with intent to destroy, in whole or in part, a national, ethnical, racial or religious group,'" the petition reads. "Extensive and irrefutable evidence supports a finding that the so-called Islamic State's mistreatment of Iraqi and Syrian Christians, as well as Yazidis and other vulnerable minorities, meets this definition."
The petition, which has already been signed by about 25,000 people, lists mass murder, torture, kidnapping for ransom, sexual enslavement, systematic rape of girls and women, forcible conversions to Islam, destruction of ancient Christian holy sites and artifacts and the assassination of church leaders as proof that genocide is occurring at the hands of IS.
Because of IS, hundreds of thousands of people in Iraq and Syria have been displaced from their homes and now live as refugees and internally displaced persons.
The petition has been signed by a number of prominent Christians, including leading Southern Baptist ethicist Russell Moore, National Association of Evangelicals President Leith Anderson, Catholic Near East Welfare Association Chairman Cardinal Timothy Dolan, Hollywood producers Mark Burnett and Roma Downey, Princeton law professor Robert George, Republican presidential candidate and Ohio Gov. John Kasich, human rights lawyer Nina Shea, authors Eric Metaxas, Os Guinness, Johnnie Moore and many others
"I think a lot of people understand that this is a very important issue," Knights of Columbus Vice President for Media, Research and Development Andrew Walther told The Christian Post on Thursday.
"The European Parliament has called this genocide, Pope Francis has called this genocide, the U.S. Commission for International Religious Freedom, they have all said that Christians and other religious minorities over there are all facing genocide," Walther continued. "I think that it is an important distinction, not only because of the legal implications that I understand occur with a genocide designation, but it also really it tells the story of how bad this really is."
In December, a number of human rights advocates explained at an IDC event on Capitol Hill why it is so important for the U.S. to make the genocide designation.
Although USCIRF and nearly 200 members of Congress have called on the federal government to designate the situation as a genocide, the State Department has yet to make such a designation.
In a spending bill that was passed in December, Congress gave the State Department 90 days to make a distinction whether or not the U.S. will call the situation in Iraq and Syria a genocide. The State Department has until March 16 to make that decision.
On Wednesday, Kerry was asked by Rep. Jeff Fortenberry, R-Nebraska, about a possible genocide designation during a House Appropriations Subcommittee on the Department of State and Foreign Assistance hearing. Kerry told the subcommittee that "additional evaluation" was needed before the State Department could make a decision.
Walther told CP that there is already enough "compelling" evidence for the State Department to make the genocide designation.
"I think that there is evidence out there that has proven compelling to a number of other entities," Walther said. "There is no shortage of people that have looked at the evidence and have found this to be genocide."
In August 2014, Kerry had hinted that there was indication that IS was committing genocide in official State Department press statement about Iraq.
"ISIL's campaign of terror against the innocent, including Yezedi and Christian minorities, and its grotesque and targeted acts of violence bear all the warning signs and hallmarks of genocide," the former Democratic presidential nominee said.