New 'Muppets' Exposes Kids to Sex, Drugs and Alcohol?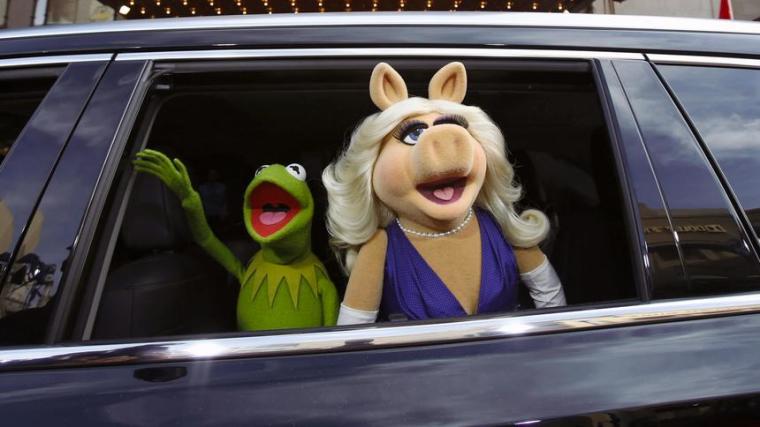 Two family television watchdog groups are warning parents that the new version of the iconic children's series "The Muppets" is no longer the loveable kids show it used to be and is now exposing children to sexual innuendo and references to alcohol, drug use and adult content every three and a half minutes.
The Parents Television Council and One Million Moms have launched campaigns informing parents that ABC's new adaptation of "The Muppets," which features beloved children's characters Miss Piggy and Kermit the Frog, is not suitable for younger viewers.
The first four episodes of the new series, which premiered on Sept. 22 and airs Tuesday evenings during primetime, featured adult content every three minutes and 38 seconds, according to research compiled by PTC. In the four episodes there were 33 different adult references, with 46 percent being sexual and 45 percent related to drug or alcohol use.
PTC president Tim Winter told The Christian Post that the content included a scene of beloved characters getting "inebriated" at a bar, Miss Piggy talking about getting breast augmentations and butt lifts, Animal implying that he's been with "too many women" in "too many towns," and Miss Piggy telling someone to "sex it to me sake boy."
According to the research, over 4 million children ages 2 to 11 viewed the first four episodes — an average of about 1 million child viewers per episode.
"Parents of a million kids every week are thinking this is OK for their kids, and they don't realize it's not," Winter asserted, explaining that even before the first episode aired, the show's producer, Bob Kushell, admitted that he was taking the show in a more adult direction than legendary producer Jim Henson had. Kushell was quoted as saying, "Rightfully or wrongfully, 'The Muppets' became more of a kids product over the years."
"'Rightfully or wrongfully?'" Winter asked in astonishment. "Animated characters with puppets that children love and adore, how could it ever be wrongfully that this has become a product for kids? He said straightforwardly that this version of 'The Muppets' was going to push them the way they have never been pushed before."
Although Kushell has been open about the adult direction in which he has taken the show, Winter says that doesn't change the fact that children will still see "The Muppets" as a kids show.
"Our concern isn't that adults can't have some nod-nod, wink-wink humor out of 'The Muppets.' In the past they have done so, but it had been so heavily veiled that kids didn't get it. Now, it's in their face," Winter stated. "Even though you can have a show like 'The Muppets' that has the type of innuendos that go over kids heads, the whole point is children reasonably believe that 'The Muppets' is for them. They see 'The Muppets' and say 'This is for me,' instinctively, inherently."
Winter argues that exposing young children to high amounts adult content will democratize them on sex, drug use and drinking.
"It's tough to know what the longterm ramifications are, but when you have 50 or 60 years of scientific evidence that connects a child's behavior to the media they consume, the result can't be positive," Winter said.
PTC sent a letter to Disney-owned ABC condemning the amount of adult content in the show. PTC has also reached out to advertisers of the series to make sure they are aware of the content they are sponsoring. Winter said PTC has not yet heard back from any advertisers.
One Million Moms has put together a campaign allowing concerned parents to call or email the network to voice their displeasure with the adult content that has been shown to children.
Winter also told CP that the show's new adult focus is part of a larger trend in television media that leaves families without many options when it comes to shows that are appropriate for children.
"I think it is [a] consensus in Hollywood that the edgier, the better. You look at what are the alternatives for family viewing. There aren't any, not on broadcast," Winter insisted. "Maybe you can watch 'Dancing With the Stars' or 'The Voice,' maybe you can watch a football game. Other than that, there really isn't programing for a family audience. It's very rare."
Winter praised the new CBS drama "Supergirl," which topped PTC's list of the best new fall television shows, for being a "squeaky clean" show for families to watch.
PTC, however, was disturbed by the fact that during the show's premier, a Victoria's Secret commercial aired that featured half-naked lingerie models. PTC is now urging CBS to reevaluate the ad placement on its program.
"For the first time in recent memory, CBS aired a primetime program that was high-quality, family-friendly, positive for young girls, and thoroughly entertaining," Winter said in a statement shared with CP.
"Unfortunately, the network couldn't get out of its own way, inserting an explicit advertisement with sexually-charged images of nearly-naked women 46 minutes into the 60-minute program. Did the CBS ad sales team not take Marketing 101 in college? The commercial's messaging was in total contradistinction to the messaging of the program, and it sent exactly the wrong message to young women and teens who tuned in to watch the show."