Muslim Group Wants Trump to Drop 'Islamophobe' Franklin Graham From Inauguration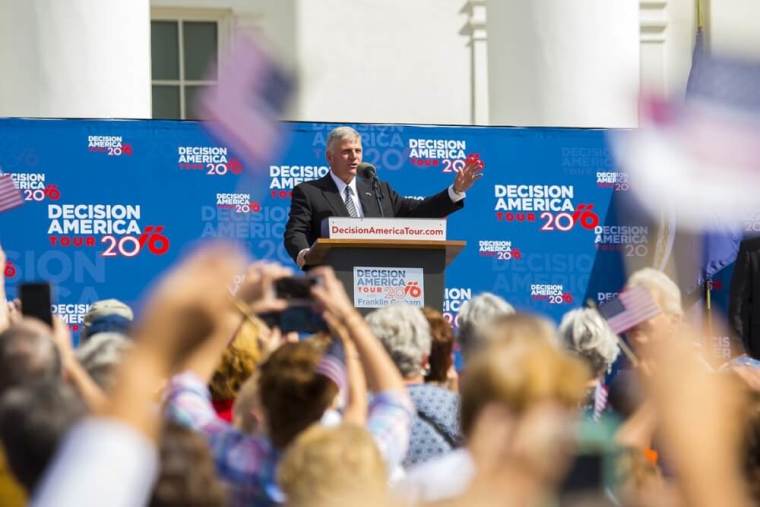 The United States' largest Muslim civil rights organization is calling for President-elect Donald Trump to disinvite leading evangelist Franklin Graham from speaking at Friday's presidential inauguration.
The Center for American-Islamic Relations has issued a statement calling on Trump to drop Graham, the son of Billy Graham and president of the Billy Graham Evangelistic Association, from the list of six faith leaders who are scheduled to offer prayers and readings during the inauguration ceremony.
The group claims that Graham is a "notorious Islamophobe" with "extremist views."
There is no hiding the fact that Graham has been a vocal critic of radical Islam and has stated in the past that "Islam can't save anyone from Hell" and that Islam is a "very evil and wicked religion.''
Graham has also criticized President Barack Obama for not acknowledging the fact that "Islamic extremists" are responsible for some of the worst terrorist attacks in the last couple years.
Additionally, the group took issue with a 2015 Facebook post that Graham wrote following the terrorist attack in Chattanooga that killed five people. In the post, Graham called for a halt in Muslim immigration to the U.S., saying that "we are under attack by Muslims at home and abroad."
"If President-elect Trump truly seeks to unite our nation as he promised in his acceptance speech, he will limit the list of those offering prayers at the inauguration to religious leaders who work to bring us together, not to create divisions between faiths," CAIR National Executive Director Nihad Awad said in a statement. "Rev. Graham's ill-informed and extremist views are incompatible with the Constitution and with American values of religious liberty and inclusion."
This is not the first time Graham has faced backlash over his views about Islam.
In 2010, Graham was invited and then later disinvited by the Army to participate in a National Day of Prayer event at the Pentagon because of controversial comments he made about Islam.
"True Islam cannot be practiced in this country," he told CNN in 2009. "You can't beat your wife. You cannot murder your children if you think they've committed adultery or something like that, which they do practice in these other countries."
According to CNN, the Army feared that Graham's speaking at the Pentagon would be detrimental to the safety of U.S. troops stationed in Iraq and Afghanistan at the time on the grounds that Islamic extremists could publicize Graham's comments and fuel tension toward the U.S. in Muslim-majority nations.
However, the Army only rescinded Graham's invitation after the secular legal group Military Religious Freedom Foundation, who opposed the prayer gathering in general, raised concerns about Graham in a letter to Defense Secretary Robert Gates on behalf of Muslim military service members.
Although Graham has been labeled an "Islamophobe" with "extremist views,' Graham leads a humanitarian organization called Samaritan's Purse, which indiscriminately helps feed, clothe and treat victims in some of the world's deadliest war zones regardless of their religion.
Last week, Graham dedicated a new 50-bed Samaritan's Purse field hospital outside of Mosul, which is now the closest hospital to the frontlines of the Iraqi-led coalition's fight against the Islamic State.
Even though the hospital has been open for about 10 days, it has already saved the lives of a number of innocent civilians and troops who were seriously wounded in the conflict, including Muslims.
"Samaritan's Purse is there to show God's love," Graham wrote on Facebook. "We want to show the same love and compassion for each and every one because that's what Jesus Christ would have us do."