Nancy Pelosi: I Pray for Republicans, Have Sympathy for Eric Cantor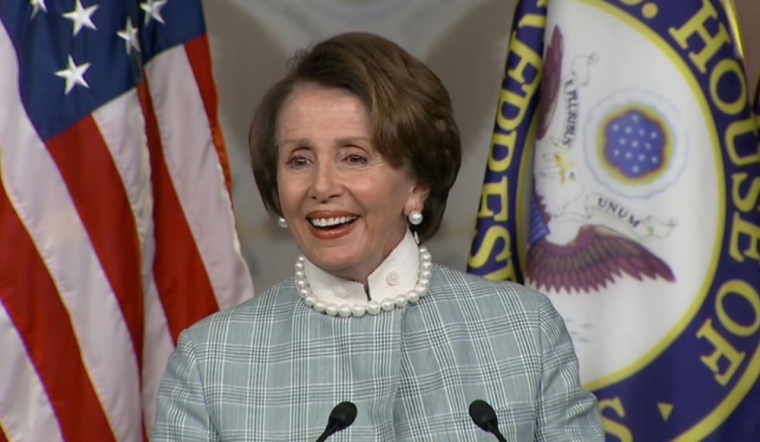 Democratic House Minority Leader Nancy Pelosi revealed that she prays for Republicans at least once a week and admits to having sympathy for Rep. Eric Cantor, who resigned as majority leader after a primary loss last week.
During a press briefing in the Capitol Thursday, Pelosi emphasized that her sympathy was not focused on Cantor's defeat but instead on "how sad it must be to lose in your own district."
"I was thinking about it on Sunday when I was praying for the Republicans in church, as I do at least every Sunday," Pelosi said, according to The Hill. "I pray for the Democrats and the Republicans, for our country."
She added, "I have as much sympathy for Mr. Cantor as he would want me to have for him … Power comes and goes here, but the connection you have to your district is such a deeply rooted thing. I feel sad for him in that regard."
Cantor, who has represented Virginia's seventh district since 2011, was defeated by David Brat, a Tea Party-backed economics professor at Randolph-Macon College in Ashland, Virginia.
Following Cantor's loss, historians noted that no other House leader similar to Cantor had ever been defeated in a primary election, according to the Washington Post.
Prior to admitting that she sympathized for Cantor, Pelosi had suggested that he lost because he had not spent as much time in his own district saying, "We all know that you keep your home fires burning."
Cantor had been considered the top candidate to succeed Speaker John A. Boehner but will now be replaced by Rep. Kevin McCarthy, whom House Republicans elected Thursday.
McCarthy, known as a former deli owner, congressional aide and California state lawmaker, will officially become House majority leader when Cantor steps down at the end of July.