Nat Geo's new Aretha Franklin's series fueled by the spirit of God, show writer says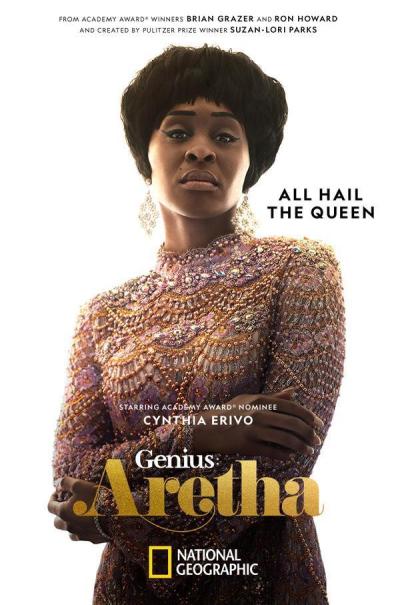 National Geographic's latest season of its anthology series, "Genius: Aretha," was driven by the Holy Spirit, according to series writer Susan-Lori Parks.
"This series is fueled by the Spirit; I prayed a lot to get this show made," award-winning writer Suzan-Lori Parks ("Topdog/Underdog") said of the Franklin series.
The third season of the limited series will premiere with back-to-back episodes over four consecutive nights starting on March 21. Parks emphasized that the show didn't come to life without a fight and the power of prayer is what got them through.
"Through COVID, you know how much we prayed? Do you know we had to shoot 12 days in a row? Do you know we had to get COVID test every single day?" she said.  
"Do you know how much prayer, how many times we, as a group of TV show makers, from actresses to director, to writer (me), cameramen and women — how many times we had to pray to get the show done? It wasn't always a good day," Parks stressed. But ultimately, she said, "We wanted to show the beauty of the Spirit." 
Born in Memphis, Tennessee, on March 25, 1942, Franklin's father, Clarence LaVaughn "C. L." Franklin, was a preacher at Detroit's New Bethel Baptist Church. She was a child prodigy, and by age 10, she was already performing in church.
"I couldn't see telling a story about Aretha Franklin without including her faith," Parks said. "Her faith, I think, is the rock on which she stands. When young Aretha was called, her answer was her song. I think her genius flowered because of her faith." 
The successful scriptwriter said they made an effort to highlight Franklin's Christian faith throughout the series. 
"We established that in episode one, where she is in the studio in Alabama, and she is having a difficult time finding the groove of the song. It's a totally secular situation," Parks explained. "There she is with some musicians in a music studio, recording a record. But when she is lost and can't find her way, she leans on the rock of her faith and literally, she says, 'I will trust in the Lord' and begins to remember how her father would preach powerfully in church and that's what leads her to success in that moment."
Cynthia Erivo, a Tony, Emmy and Grammy Award-winning actress and Oscar-nominee ("Harriet," "The Color Purple"), portrays the queen of soul in the series. 
The cast of "Genius: Aretha" also includes: Emmy-winning Courtney B. Vance ("The People v. O.J. Simpson: American Crime Story") as Aretha's father, C.L. Franklin; Malcolm Barrett ("Preacher") as Ted White, Franklin's first husband and business manager; David Cross ("Arrested Development") as legendary music producer Jerry Wexler; Patrice Covington ("The Color Purple") and Rebecca Naomi Jones ("Oklahoma!").
Other actors starring in the series are Steven Norfleet, Pauletta Washington, Omar J. Dorsey, Marque Richardson, Kimberly HébertGregory, and newcomer Shaian Jordan who portrays a young Franklin.
"I believe that God works through people. As the people around her became inspired. She allowed herself to see the Spirit in people ... which I think helped her keep going," Parks continued. "She is a black American woman in the music business — that is not an easy road. It wasn't an easy road in the '60s or the '50s; it's not an easy road today. She had her faith to lean on, which helped tremendously."
"A lot of people know Aretha started in the church, but Aretha would say she never left. Even though she rose to great heights — Grammy wins and Rock and Roll Hall of Fame induction, singing for presidents and kings and queens — but she never left the church," Parks maintained. 
Throughout "Genius: Aretha," Franklin is shown praying during difficult moments in her life. The episode "Amazing Grace," which will air on March 23, will also focus on Franklin's live gospel album Amazing Grace, which was recorded in 1972 at New Temple Missionary Baptist Church.
"Prayer was a constant companion and the constant source of strength for Aretha Franklin," Parks told CP.
"She's a daring and brave artist who didn't just have a flash in the pan kind of career. She started performing at a very young age in church and then just kept developing. In her 30s, she was still getting number one records, and in her 50s, 60s, and beyond, she was still making hits that we listen to today. It's just important to know that her faith was really hand in hand with her success."
Parks, who passionately captured Franklin's beliefs and perseverance, wants viewers to be "inspired" by the music legend.  
"I would hope people would be inspired by her genius. A lot of times, we see the genius in folks and we go, 'Wow, I could never do anything like that.' Well, my suggestion is that you can do something wonderful. I would encourage people to find the beautiful things that they can do in their own lives and to embrace that," she said.
"I would encourage people to let the Spirit move them as it moved Aretha Franklin. The Spirit was constantly calling Aretha Franklin to be her best self in the real understanding of what Christ was talking about, 'Love thy neighbor.' 
"I would encourage people to embrace. This series embraces the black family ... this series embraces the beauty of motherhood, the power of sisterhood, and the power of brotherhood, the power of romantic love, the bonds that a father and a mother can have for their children, the power of the artist in the secular world, fueled by the Spirit," Parks added.
Parks also emphasized that she wants people to allow the Spirit of God to be in their lives at all times and "not just on Sunday." She declared that when Jesus taught us to love one another, He meant everyone, even those who do not "look like you."  
"This series is very embracing of all kinds of people. All walks of life, all colors, all stations, and it's very embracing and inclusive of all kinds of people. We give dignity in this series to all kinds of people. That is a real great thing that NatGeo has encouraged us to do through this series," she continued.
"I would want people to know that this show is fueled by the Spirit, and we have put respect on the name of Aretha Franklin," Parks concluded.
The series was executive produced and directed by Anthony Hemingway ("The People v. O.J. Simpson: American Crime Story"). Produced by 20th Television and Imagine Entertainment, Imagine has partnered with Warner Music Entertainment for this third season of the anthology series, which is executive produced by Imagine's Brian Grazer and Ron Howard. 
For additional information on "Genius: Aretha," visit natgeotv.com. Episodes will also be available on Hulu following each televised broadcast.