Christians Must Live Out Their Faith to Impact the World, Says Tony Perkins Ahead of Nat'l Day of Prayer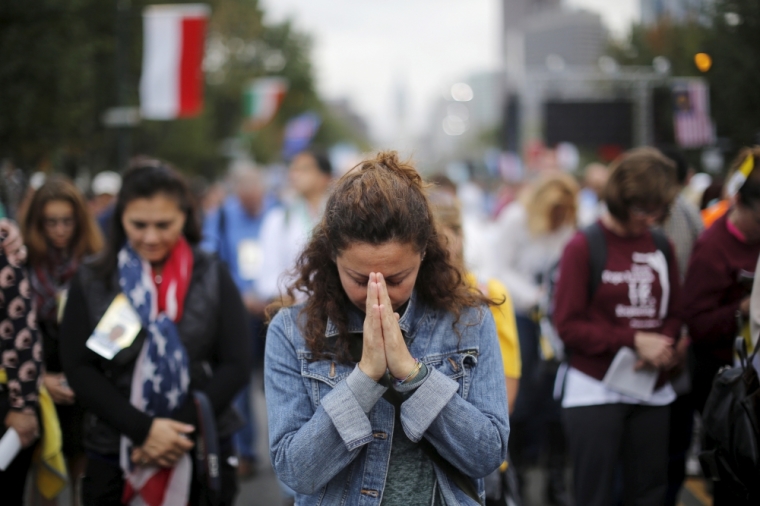 Family Research Council President Tony Perkins warned Wednesday at the Pre-National Day of Prayer event in Washington D.C. that the time for spiritual warfare has arrived in America, and Christians must pray and follow it up with action to protect their families.
"There probably has not been a time in our nation when prayer and intercession has been more needed. We know that prayers are always needed," Perkins began his speech at the event, which gathered several conservative pastors and ministry leaders to pray and reflect on the spiritual needs of America.
"We think of prayer as a secondary effort," Perkins added.
"If we don't begin everything on our knees, we will end up on our knees in despair. Prayer is not an afterthought, it is not the whipped cream on a Sundae, it is the substance of who we are, and what we must be about."
He added, however, that the effort can not stop with prayer.
"And that's an issue with some I have in the evangelical world. 'Oh, I'll pray.' Well, we gotta do more than pray.
"We must never fail in our responsibility to act on those prayers. God moves through people, and God moves through men."
Perkins said that men must take back the prayer movement.
"I'm grateful for the women who throughout the generations have sustained the church. But the times in which we live demand that men get serious about prayer. That we begin to intercede for our children," he continued.
"Our children are being taken captive by the culture. I believe we are living in a Lot moment, where we have a generation that is willing to push our children out just to appease the culture. God help us if as men we don't intercede first in prayer, but then in action on behalf of our children, families, communities, and our nation."
He then reflected on Joel 3:9 in the Bible, which reads: "Proclaim this among the nations: Prepare for war! Rise up the mighty men! Let all the fighting men draw near, let them come up."
The FRC president clarified that he is not advocating for literal weapons, but what he's calling for is people to get ready for spiritual warfare.
"It's time for the men of God in America to stand up against culture and 'gain an eternal perspective.' The hour is late, time is short, it is time to wake up," he said.
David Butts, president of Harvest Prayer Ministries, then led a 20 minute prayer session among the conference attendees, calling on them to pray for what he called the "sins and transgressions" of America.
"We face a serious situation in our nation, and I think from traveling around this nation that most Christians are in agreement. As important as it is to vote, what we really need is for God to step in. We need the intervention of God Himself into this nation," Butts said.
Bruce Wilkinson, chairman of The Exponential Group, focused his message on the need for people to show forgiveness to others, explaining that without such a gesture, God will not forgive people either.
Paraphrasing Jesus' words in Mark 11:25, he said: "If you have unforgiveness against anyone — against President [Barack] Obama, the Senate, the Congress, the Judiciary, the IRS — forgive him, for that your Father in Heaven may also forgive you."
Wilkinson added: "Let's say there are a lot of people who wounded you, and you didn't forgive. And if we choose not to forgive, He keeps His word. He keeps His decree. If you don't forgive them, He doesn't forgive you."
He then reminded the audience of Matthew 18:21-22, which talks about the importance of never closing the door on forgiveness:
"Then came Peter to him, and said, Lord, how oft shall my brother sin against me, and I forgive him? till seven times? Jesus saith unto him, I say not unto thee, Until seven times: but, Until seventy times seven."
Wilkinson insisted that showing unforgiveness is the reason why many in life are tormented and not in God's favor.
"Americans in particular are so filled with torment. Not four people out of a hundred have no unforgiveness today," he said.
An analogy between NFL referees and Christians was made by Tony Evans, honorary chairman of the National Day of Prayer, who also serves as senior pastor to the Oak Cliff Bible Fellowship in Dallas. Evans noted that NFL referees, much like Christians, are called to be outside the conflict of the football field, and follow a rule book regardless of their preferences.
The pastor pointed out that God also has a "third team" in the conflicts of the world today.
"Men who are supposed to be in the middle of it, but not owned by it, yet speaking to it, and bringing order in its midst. These are the men of the kingdom. These other men who God has dubbed as His representatives in history. And it would be their communication link with the kingdom up there, and the chaos down here, that would determine the order on the field. It would be their failure that would exasperate an already conflicting situation," he warned.
Evans suggested that sometimes, prayers to God are not answered, because people are not "legitimately reaching out" and practicing fairness and righteousness toward their neighbors on Earth:
"One of the things that is often missed in Isaiah 58, He says 'Call on me.' But then a few verses later He says 'But you wonder why I'm not answering you when you called on me. And you complain you called and I didn't answer when I told you to call on me.' He said 'Because what you are doing is not what I asked for. You have kept this vertical while ignoring this horizontal. Because you mistreat your workers. You operate in an unjust society. You are unfair in your relationships.'"
Evans argued that God wants men to come under Him, because it would be through the men that He would determine how the nation would fare.
The conference concluded with more prayers from the participants ahead of the 65th annual National Day of Prayer on Thursday.