Ohio Church to Break Guinness World Record With 2,300 Nativity Scenes

A congregation in Ohio is looking to break the Guinness World Record for most unique nativity scenes in a single display.
Pines Christian Church of Mt. Gilead is gathering up as many nativity scenes as possible, shooting for at least 2,300 sets this year. The display will be at an open house event on Saturday.
Betsy Anderson, spokesperson for Pines Christian Church, told The Christian Post that as of Thursday they had "not made our official count."
"Originally we used it as an outreach to the community and it has grown into what we have today," said Anderson. "Church members loan out their personal collections [and we had] donations from community members."
Jan Johnson, a member of Pines Christian who is helping to gather up nativities for the record-breaking display, explained to local media that the effort is helped in part by her own little addiction to buying nativity scenes.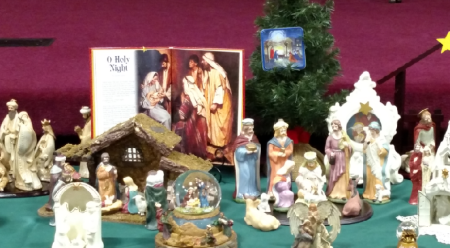 "I keep telling everyone, 'all right, that's it. No more.' But then I see another one. No matter how many you have, the next one you see is so much different," said Johnson to the Mansfield News Journal.
"It's gotten to the point where I was at a garage sale in Mt. Gilead this summer, and I just picked up a nativity, never said a word, and was just looking at it. … A man came up to me and said, 'are you from the Pines?'"
Johnson also told the Journal that she hopes the Guinness Record attempt and a showing of the display throughout the month will bring more people to the church this Christmas season.
"We're trying to get the word out about breaking the Guinness World Record, which I think will bring in even more people," continued Johnson.
Oasis Church of Pembroke Pines, Florida, set the Guinness record back in 2010 by gathering up 2,150 different nativity displays.
Oasis Church Senior Pastor Guy Melton told CP that if Pines Christian wanted to try and break their record, "go for it."
"We knew someone would. With a name like Pines Church, even better since we are located in Pembroke Pines, Florida," said Melton.
Melton explained to CP that accomplishing the 2010 record was a "big time challenge" for Oasis Church and is not the only seasonally appropriate record they currently hold.
"It shattered the previous record held in Italy and was three times what we had ever had. We have done the display yearly except for two years since 1993," continued Melton.
"We aren't really interested in breaking it again. It was a personal thing we wanted to do. We also hold the Guinness World Record for the most lit Christmas trees from two years ago, 511."