NC Economy Barely Impacted by Backlash to Transgender Bathroom Law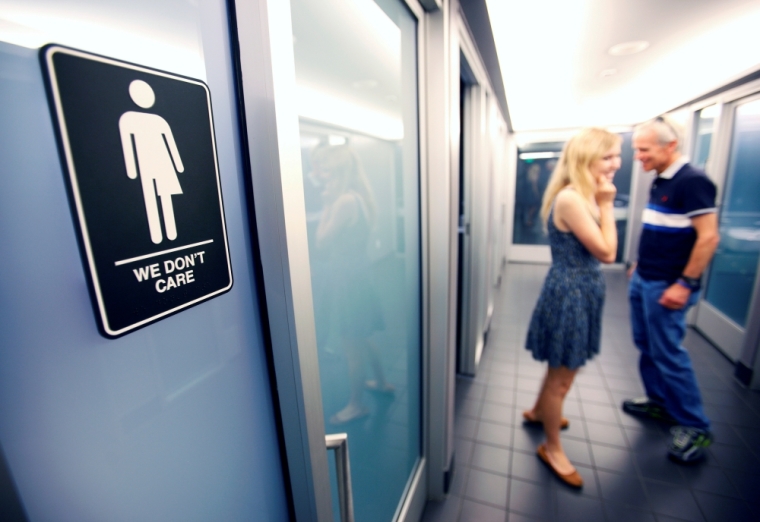 Although opponents of North Carolina's controversial transgender bathroom law have claimed that corporate backlash will cause huge economic losses, Lt. Gov. Dan Forest said Wednesday that the state's economy is doing "extremely well" despite small losses suffered from HB 2-related backlash.
Since North Carolina passed a bill last March that prohibits local governments from forcing businesses to allow people to access bathrooms consistent with their gender identity, a number of corporations have responded to the so-called "anti-LGBT" law by either changing plans to expand to the state or by canceling previously scheduled events or moving them out of the state.
As PayPal, Deutsche Bank, NBA, NCAA and various entertainers have canceled their plans to move, perform or host championship and all-star events in the state, that has propelled liberal critics of the law to proclaim that the law is detrimental to the state's economy.
Various reports and studies have been published proclaiming that North Carolina could lose hundreds of millions of dollars in gross domestic product and a University of California Los Angeles study produced last year proclaimed that North Carolina could lose upwards of $5 billion in GDP over HB 2-related consequences every year.
Despite the fact that so many businesses and organizations have spoken out against HB 2, North Carolina continues to rank as one of the top states for businesses.
In November, Forbes and Site Selection magazine both ranked North Carolina as the No. 2 state in the nation for business. In July, CNBC ranked the state as the No. 5 state for business. Meanwhile, Chief Executive Magazine polled 513 CEOs across the nation last May, who ranked North Carolina as the No. 3 best state in the nation for business.
"We are doing extremely well on the economic side and doing all the right things as Republicans to get our economy back in order again," Forest said during a special Family Research Council webcast hosted by FRC President Tony Perkins.
"We have created hundreds of thousands of new jobs over the last couple of years and businesses are still moving here and people are moving here in record numbers."
New North Carolina Gov. Roy Cooper, a Democrat, aims to repeal HB 2. He explained on Tuesday that it is "urgent" that the state repeal that law because the NCAA is set to decide in the next few days the venues for championship games for the next six years. North Carolina cities and schools have proposed 133 venues for the NCAA events and losing revenue from such events could cost the state an estimated $250 million.
Although Cooper and other opponents of the law are tallying the economic losses, Mitch Kokai, a political analyst with the John Locke Foundation who has closely studied the impact of businesses leaving North Carolina, said on the FRC webcast that the economic losses resulting from HB 2 would leave a very small impact on the state's overall economy.
"It's true that North Carolina has suffered some economic losses linked to HB 2 but it is important to put all of this in the proper context because the way that it has been reported here in North Carolina and, I suspect, other parts of the country where folks are trying to make the case against House Bill 2-style legislation, is that it has caused economic devastation. That is not the case," Kokai, a former statehouse reporter for News 14 Carolina, explained.
"What we have in North Carolina is an economy with a gross domestic product on the state level of about $510 billion," he continued. "At this point, the widest range of estimates of the potential economic loss from House Bill 2-related closings or businesses deciding they are not going to come here or athletic events that have gone to other places is in the hundreds of millions of dollars. You are talking about a fraction of a percentage point of gross domestic product of the state."
Kokai added that some of those estimates can't be taken at face value.
"Many of them are looking at potential multiplier effects from a particular game not being played in a particular community and saying that is going to be a cost of tens of millions or even $100 million," Kokai said.
Kokai specifically addressed the UCLA study.
"You have to look at what they were counting. They were counting on the loss of federal funds because of the Obama administration's approach to these issues. Now, that's all changed with a new administration in Washington, D.C. They were also talking about potentially increased costs of school bullying and potential increased health costs because members of the LGBT community would have greater cases of depression," Kokai explained. "Basically, they threw not only everything but the kitchen sink, but also the kitchen sink into these calculations and came up with this idea that it would be a $5 billion economic impact in North Carolina."
"While that is a big number, once again, you go back to that $510 billion economy. Even if you got the absolute worst case scenario that no one with any credibility would take at face value, that would be a little bit less than 1 percent of the state's GDP," he highlighted. "If you look at a more realistic assessment, we are talking about an impact in North Carolina, but not anywhere near the economic devastation that is talked about."
The FRC webcast comes as the state of Texas is considering a bathroom bill similar to North Carolina's HB 2. Opponents of the Texas bill have made a similar argument that the bill could cost the state economically.
Texas Lt. Gov. Dan Patrick, a proponent of SB 6, pointed out in the webcast that "there has been no economic downturn at all that we can find" after voters in Houston, Texas, voted in 2015 to repeal a transgender bathroom ordinance promoted by the city's former lesbian mayor.
However, the Texas Association of Business published a study in December claiming that if Texas passed a bill that prevents transgender individuals from using bathrooms and locker rooms consistent with their gender identity, it could cost the state between $964 million and $8.5 billion and more than 185,000 jobs.
The fact-checking website Politifact.com, which leans liberal, reported that the the Texas Association of Business study is "mostly false."
"Such a law might cause economic shivers. But we find this study's headlined figures, reached about 13 months ago, to be based on predicted or actual effects of discriminatory mandates in Arizona, Louisiana and Indiana that didn't make it into law or were rescinded or softened," the report states. "Moreover, not all the study's numbers, calculations and assumptions proved solid and a key figure, reflecting on Indiana losing $1.5 billion in conventions, doesn't appear to have a documented basis."