Netanyahu Likens Trump to Bible's King Cyrus, a Comparison Made by Some Evangelicals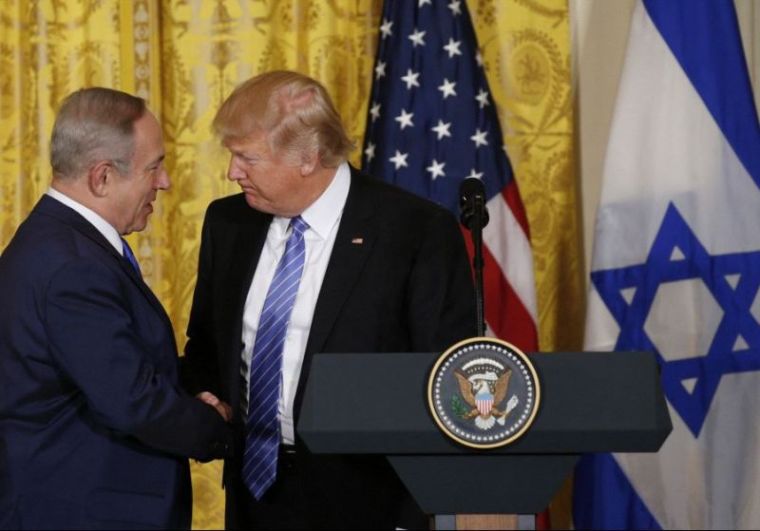 Israeli Prime Minister Benjamin Netanyahu likened President Donald Trump to Cyrus the Great, the Persian king who rescued the Jewish people from Babylonian captivity, a comparison some evangelicals have been making since Trump's election campaign.
In a White House meeting Monday, Netanyahu thanked President Trump for the close relationship between the United States and the Jewish state that has "never been stronger," noting his Dec. 6 announcement formally recognizing Jerusalem as Israel's capital city and setting in motion of the process of relocating the American embassy there.
"I want to tell you that the Jewish people have a long memory. So we remember the proclamation of the great King Cyrus the Great — Persian King. Twenty-five hundred years ago, he proclaimed that the Jewish exiles in Babylon can come back and rebuild our temple in Jerusalem," Netanyahu said.
He also recalled more recent figures like Lord Balfour who in 1917 issued the Balfour Declaration, which recognized the rights of the Jewish people to their ancestral homeland, and U.S. president Harry Truman, who in 1947 recognized Israel as a nation-state.
"[O]thers talked about it," Netanyahu said of America's Jerusalem recognition, "You did it. So I want to thank you on behalf of the people of Israel."
Among evangelicals, arguably the most vocal proponent of the Trump as Cyrus thinking is Lance Wallnau, author of God's Chaos Candidate: Donald J. Trump and the American Unraveling. Wallnau has expressed enthusiastic support for Trump and frequently argues that it is significant that Trump is the 45th American president and that the prophecy about King Cyrus delivering the Israelites from captivity appears in the 45th chapter of Isaiah. Cyrus is the only Gentile in the Old Testament who is called "anointed" by God.
Writing in Vox Monday, Tara Isabella Burton explained that the Christian appropriation of a pagan Old Testament king chosen by God to accomplish His sovereign purposes fits neatly with the Trump-supporting evangelical narrative.
"While Cyrus is not Jewish and does not worship the God of Israel, he is nevertheless portrayed in Isaiah as an instrument of God — an unwitting conduit through which God effects his divine plan for history. Cyrus is, therefore, the archetype of the unlikely 'vessel': someone God has chosen for an important historical purpose, despite not looking like — or having the religious character of — an obvious man of God."
"For believers who subscribe to this account, Cyrus is a perfect historical antecedent to explain Trump's presidency: a nonbeliever who nevertheless served as a vessel for divine interest."
She further noted that evangelical figures like Mike Evans and Ken Ham of Answers in Genesis have in recent months spoken openly on this theme.
Evans reportedly said after the Jerusalem recognition announcement that the first thing he was going to tell Trump was: "'Cyrus, you're Cyrus.'"
Ham told Deseret News three days before Trump's inauguration in an interview about the 45th president's rise to power that God makes clear in Scripture that "he raises up kings and destroys kingdoms. He even calls a pagan king, Cyrus, his anointed, or his servant to do the things that he wants him to do."
In similar fashion, in a Monday New York Magazine piece titled "Bibi and the Christian Right Agree: Trump Is the New Cyrus the Great," Ed Kilgore opined that "[f]or conservative Evangelicals who are already inclined to view Trump as a virtuous pagan who is fighting against feminists, LGBTQ activists, and other liberals to bring back the 1950s, having the Israeli leader they already identify with their apocalyptic hopes for Israel confirm Trump's religio-historical importance is huge."
Wallnau found the Vox piece "hilarious," noting on his Facebook page Tuesday that the liberal publication attempts "to figure out what people like me said about Cyrus Trump and the Christian right," on "the same day Benjamin Netanyahu is in the White House and declares that Donald Trump is a modern day CYRUS!"
"You can't make this stuff up."
Not every evangelical subscribed to the belief that Trump is a figure raised up by God like Cyrus, especially those who did not support him for president. But among those who ultimately did vote for Trump, some voiced a wait and see approach to the Cyrus designation, such as Messianic Jewish scholar and host of the Line of Fire radio program Michael Brown.
In March of 2016 Brown explored in a CP column titled "Is Donald Trump Like Cyrus From the Bible?" whether or not Trump, like Cyrus, may not know the Lord in a real and personal way but might still be used by Him to accomplish divine ends. When Christians speak of God raising up Trump to lead the United States, which would be different than Cyrus being used to help the Jewish exiles return to Jerusalem and rebuild the temple, it does not mean that Trump could not be like Cyrus, "it simply means that the parallel breaks down when applied."
"As the saying goes, let God be God, meaning, it's up to Him to do what He wants to do. Only He can answer this question for sure."
"Or, from a more secular perspective, only time will tell."