New Video From Hillsong United Features Live Performance of 'Touch the Sky'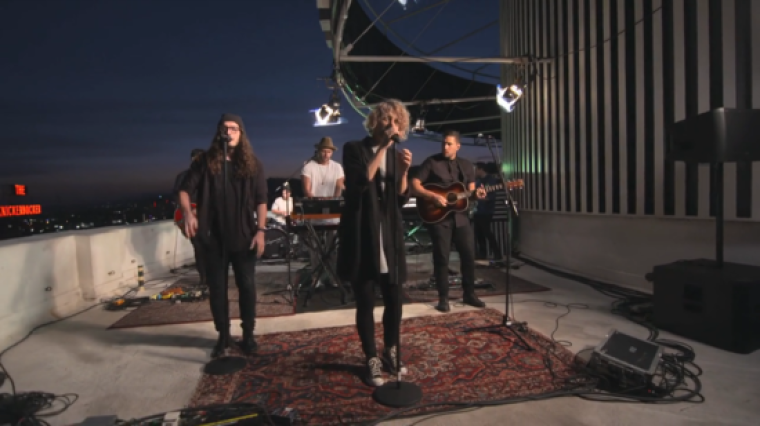 Popular Christian worship band Hillsong United released a video featuring a live performance of their hit single "Touch the Sky" filmed from the top of Capitol Records tower on Tuesday.
The new video premiered on Yahoo revealing Hillsong Church's famed worship band performing before a beautiful sunset, as seen from the top of Los Angeles' historic tower. Vocalist Taya Smith leads the song with the lyrics: "What fortune lies beyond the stars, those dazzling heights too vast to climb / I got so high to fall so far, but I found heaven as love swept low."
"Touch the Sky" comes from the band's latest album Empires which debuted at No. 5 on the Billboard 200 album chart last month. The highly-anticipated album also ranked No. 2 on the Digital Albums chart, and remains among iTunes' Top 5 overall album downloads.
The live performance of "Touch the Sky" is the latest video from Hillsong United, which recently released a lyric video for "Here Now (Madness)" earlier this month to thank fans.
"Thank you all for jumping on the journey of #empires," said the Australia-based band, via Twitter. "We have uploaded the lyric video for Here Now (Madness)."
 Along with Hillsong United's charts success, Hillsong United received five GMA Dove awards, including the coveted Artist of the Year and Song of the Year with "Oceans (Where Feet May Fail)." The group was also named 2014's artist of the year by Billboard magazine, and more recently, the band received the 2015 Billboard Award for Top Christian Artist this year.
While Hillsong's Empires is reaching millions of fans, band frontman Joel Houston said all the success is in God's hands during an interview with The Christian Post.
"The way we approached this record [is similar to] the idea that you build a boat, and you build the best boat you can, then you set sail, you push it out and ultimately, God is going to breathe on it as He will and make it go however, where ever He wants it to," explained Houston.
The singer added: "I don't have any anxiety over whether or not it's going to be a success, or if people will love it or hate it; our job is to be true to what God asked us to do, which is to write the most honest songs that were true to our understanding of what God is saying to us right now. And ultimately, our prayer is, if it's true to us, hopefully it speaks to others as well."
Watch the lyrics video for "Touch the Sky" here.