NewSpring Church to Address Rumors Perry Noble Has Been Fired Over Domestic, Other Issues on Sunday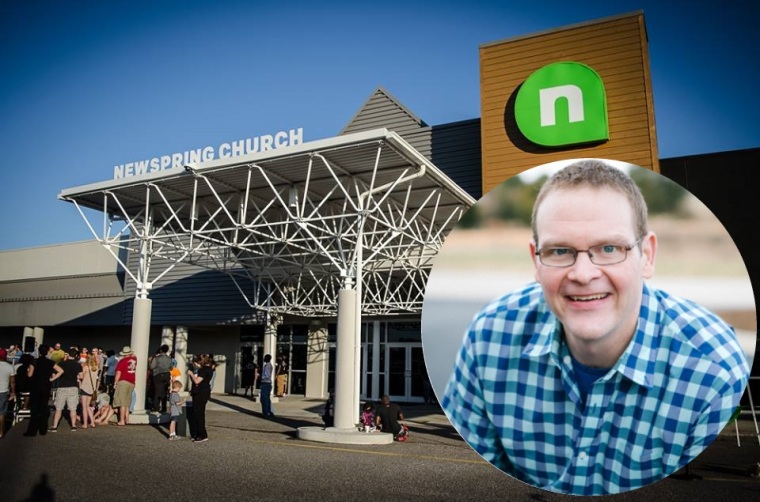 NewSpring Church, a popular megachurch in South Carolina that averages a weekly attendance of 30,000 people at multiple campuses in that state, said they will address on Sunday growing whispers that Perry Noble, the church's founding and senior pastor, was fired this week.
The Christian post was informed Thursday by a source close to the church that Perry's alleged firing was triggered by a "terrible marriage, alcoholism and maybe more."
Noble did not respond to queries made by CP via email on Thursday.
When asked about Perry's current status at NewSpring Church and if she could confirm whether or not Perry has been fired, a volunteer worker at the church also told CP Thursday, "I don't know anything about that." She said as far as she knew, Noble was on vacation. She then directed further questions to the church's public relations department headed by Suzanne Swift.
Responding to CP on Thursday night, Swift issued a standard email she also sent to a few other outlets asking similar questions about Noble's status at the church.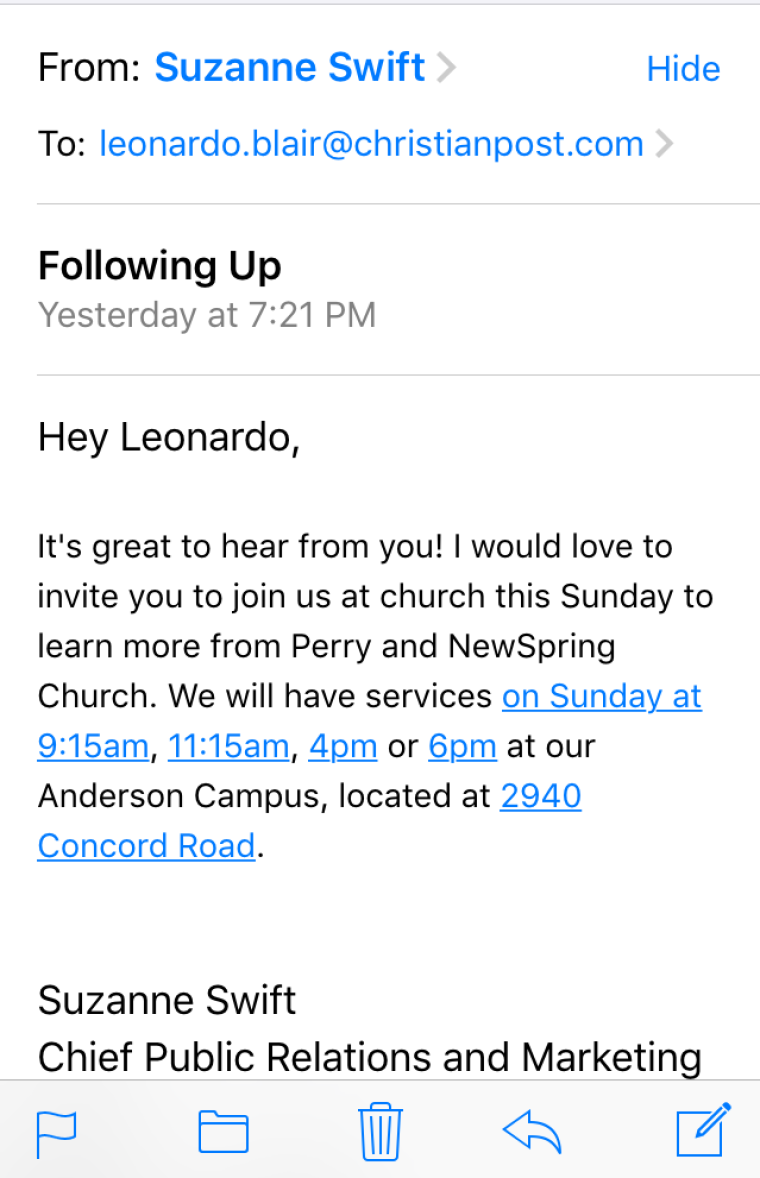 "Hey Leonardo, It's great to hear from you! I would love to invite you to join us at church this Sunday to learn more from Perry and NewSpring Church. We will have services on Sunday at 9:15am, 11:15am, 4pm or 6pm at our Anderson Campus, located at 2940 Concord Road," she wrote.
Shortly after, she was asked if she could provide further details about the rumors as well as Noble's alleged marital troubles and alcoholism.
Swift replied: "Hey Leonardo, I hope you'll be able to be at church. If not in person, you can watch online to learn more from Perry and NewSpring on Sunday at NewSpring.cc."
Local news station WYFF reported that the megachurch held a closed meeting of its leadership Thursday afternoon and also declined requests to discuss what the meeting was about.
Williamston Town Councilman Rockey Burgess, a NewSpring member, told Independent Mail that he had heard rumors but had no concrete information about what was happening with Noble.
"I can tell you I certainly believe in what the church is doing as far as trying to reach people," he said. "It may not be traditional to some, but it reaches people who may not be reached otherwise."
State Rep. Anne Thayer also told Independent Mail that she and her family have been attending NewSpring since it was a "small church" with a congregation of 200.
"I can't imagine that Perry would leave," she said. "He has always said: 'I'm here and this is where I want to stay. If he left, it would be devastating."
In 2014 Noble revealed that he had been taking anti-depressants since 2012 after years of struggling with anxiety and suicidal thoughts.
His struggle began, he said, with a mental episode in 2008 and it continued for three years without medication.
"It was brutal. I even gave suicide serious consideration. However, through a series of situations in my life that needed to be changed, along with some intense and excellent biblical counseling, I was able to come through the storm that had dominated me for so long," wrote Noble.
"My doctor and I considered medication during this process, and while it was strongly considered, we both decided that, though it was not wrong to take it, it was not the right thing for me at the time," he said.
Perry explained that, after getting the victory over that episode without the use of medication, he decided to do a series about stress, anxiety and depression at his church in the spring of 2012. He eventually decided to write a book about it called Overwhelmed that was released on April 1, 2014.
It was during the book writing process, he explained, that he began slipping away again.
"As I began the writing process the feelings of anxiety and worry began to slowly slither back into my life like a snake sneaking up on its prey. I remember writing a chapter in the book, driving home and having a panic attack in my living room," he wrote.
When the situation got too much for him, he said he reached out to his doctor and reluctantly gave in to treat his condition with anti-depressants.
Noble's wife, Lucretia, is a medical doctor. They live with their daughter, Charisse, in Anderson, South Carolina.