Newtown Received 175,000 Letters; Volunteers Handwriting Thank-You Notes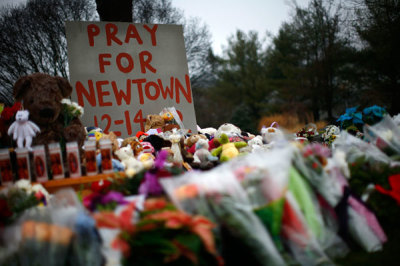 Newtown, Conn., received about 175,000 cards and letters and tens of thousands of gifts from church groups and others after December's Sandy Hook mass shooting. Volunteers are now working to preserve the mails and send handwritten thank-you notes to senders, even as officials Sunday distributed gifts to residents.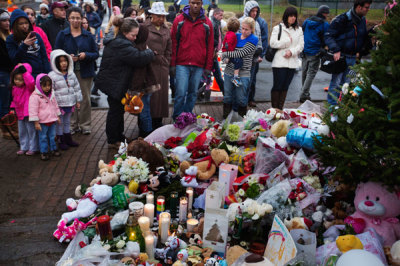 "It's incredible, incredible stuff," resident and volunteer Yolie Moreno told The Associated Press of the cards and letters received. "And I imagine everyone who sent something would like to know that it was held, read, touched, photographed and shared."
Moreno came up with the idea of archiving as she saw the trays and trays of letters lining the walls of the town's municipal building after a gunman murdered 20 children and six faculty members at the Sandy Hook Elementary School in Newtown on Dec. 14, 2012. A lone gunman killed 12 girls and eight boys – all six- or seven-years-old – and six women.
Moreno was moved especially by a child's painting, over which was written, "You don't know how strong you are until being STRONG is the only option you have."
With the permission of town officials, Moreno and a few other volunteers are taking pictures of as many of the cards and letters as they can at a storage unit. "Tray by tray, we'd take the letters out of the envelopes and photograph them, sometimes as a group, sometimes single letters, and try to motor through as much as we could," Moreno said. "We are trying just to document the outpouring from around the world."
After the archiving is done, the items will probably be incinerated and the ashes used to help create concrete in memory of the shooting victims. Moreno will make the photographs available for the public on a new website.
"The victims' families, I know, many of them are not ready to see all this stuff yet," she says. "A lot of people aren't ready. But maybe later down the road, maybe they will want to see it. And the only way they would be able to, is if somebody documented it."
Another groups working alongside Moreno and her associates is answering some of the mails.
The Newtown Volunteer Task Force, which is coordinating volunteer work for Newtown, has prepared thank-you cards, which say, "Your voice has been heard and your caring is deeply appreciated." Underneath the message, volunteer are writing with pen a line or two so that the recipients know their letters were read.
Postage stamps are being bought by the volunteers themselves. "It's another exercise in healing for our town, to recognize all the love that was sent from literally everywhere," Robin Fitzgerald, a task force organizer, was quoted as saying. "So we would just like to send as much of that back as we can."
Meanwhile, town officials held a "Community Giveaway" at the Reed Intermediate School in Newtown on Sunday to distribute the thousands of gifts sent following the shooting incident, Fox News reported. Donors had requested that the toys, school supplies and other items be distributed to town residents.
The town held a similar giveaway before Christmas, giving toys to the children of Newtown, including some at local hospitals. However, finding it difficult to manage, Newtown officials have asked the public to stop sending more gifts.
Tribute to the 27 Victims of the Newtown School Shooting - 27 Angels in Heaven
Mike Huckabee's Response to the Newtown Shooting Question- Where was God?