NFL Hall-of-Fame Coach Tells Megachurch How Racism Almost Made Him Quit Football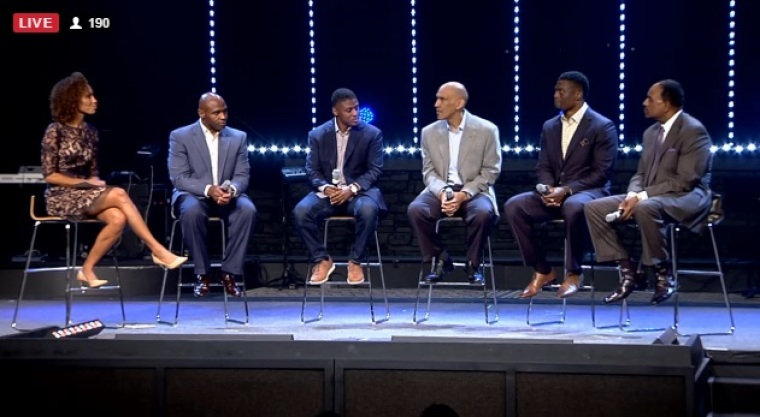 Tony Dungy, the first African-American head coach to win a Super Bowl, detailed at a race and faith forum on Thursday how he almost let racism end his football career before it even got started.
Dungy, the former head coach of the Indianapolis Colts and Tampa Bay Buccaneers who was inducted into the Pro Football Hall of Fame in 2016, spoke as a panelist in the "Under Our Skin" forum, held at the The Crossing Church in Tampa, that also included Baltimore Ravens tight end Benjamin Watson, CBS sportscaster James Brown, University of South Florida head coach football Charlie Strong and other retired athletes and media personalities.
Dungy, who is a devout evangelical Christian and is known for using his platform for Christ, told the crowd that if it were not for great fatherly advice and advice he received from his assistant principal, he would have let perceived racial bias stop him from playing football in high school and reaching the platform he has today.
"I think I am here because I feel like my life has been blessed by the Lord. I have got a tremendous platform that has been given to me but it probably was that close to never happening if I would have let some things that could have stopped me, it may not have ever happened," Dungy, 61, explained. "It would have been a mistake on my part. To help people avoid that, that is why I am here."
Dungy was born in 1955 and his dad, Wilbur, fought in World War II with the famed Tuskegee Airmen. After his father's military career came to an end, he went to the University of Michigan, got a degree and later moved to Arlington, Virginia, to become a teacher.
Although Arlington is now known as a very liberal suburb of Washington, D.C., Dungy said his family moved to Arlington at a time in which his father couldn't teach in three-quarters of the schools in Arlington because of the color of his skin.
"Living under this roof and have my parents raise me the right way and teach me about Christ and teach me that no matter what happens, to judge everybody individually, treat everyone with respect, this is the way you are supposed to do it," Dungy said.
"I lived in a predominantly black neighborhood. Went to elementary school and the message my parents gave me was not the message I was hearing in the neighborhood — 'They do this. They will treat you this way. Be careful, this is what is going to happen to you,'" Dungy continued. "So I am hearing one way from my parents. I don't have a lot of experience and I am hearing it a different way in the neighborhood."
By the time Dungy was in high school, schools were integrated. As a talented football player, Dungy said that he and his best friend had the potential to make school history in his junior year by becoming the first two black football captains.
"We were the guys who led the team and had done everything. Certainly, we are going to be the captains. Everyone was saying this is going to be a first for our school. I get elected and my buddy doesn't. I am sure, I am positive that this is racism," Dungy believes. "I believe that coach doesn't count the votes right because the school doesn't want two black captains."
"The coach tells me he counted the votes right. If that is the case then I am saying these players didn't do it right. These guys who I sweat with, they just didn't do it. I quit," Dungy explained. "I said, 'I don't want to be the captain of this team. Matter of fact, I don't want to play for you anymore.' Well, my dad didn't think that was right."
Dungy said his dad was the kind of person who would tell his kids what he thinks but ultimately, let his kids make their own decisions.
"He went through a lot to make the country the land of the free and home of the brave. He went through a lot worse than not being elected captain," Dungy stated. "He pointed some things out to me and let me make my decision. I wasn't going to listen to my dad because I was 16 years old. I was done with football."
Although Dungy's dad couldn't get through to him, Dungy said it was advice his old junior high school assistant principal gave him that ultimately changed his mind about quitting.
"I hadn't seen him in four years. He called me and said, 'What's this I hear about you quitting?' I told him why and explained the whole thing," Dungy recalled. "He said, 'I don't know if I buy that. But even if it is true, why would you let someone else take away something from you that you enjoy doing?' If it hadn't been for him. I wouldn't be sitting here today."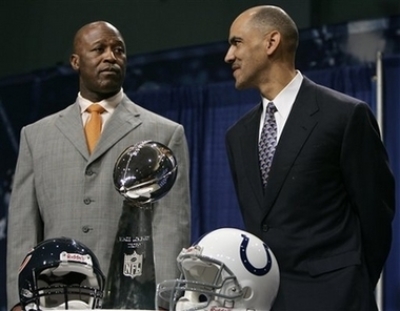 Even though Dungy was denied of his opportunity to make school history in his junior season of high school, he did end up making history when he coached in Super Bowl XLI, the first Super Bowl in which both teams were led by African-American head coaches. The Colts defeated the Lovie Smith-led Chicago Bears on Feb. 4, 2007.
"I was excited to see Lovie and Tony go at it — not for how the world was looking at it but the fact that I was excited, as a Christian, that here we had two Christian men heading up each of their teams," Brown said. "Knowing how those of us in [the media] business [try to get] ... every inane story possible and the excitement for me was they weren't going to get any of that from these two. It's all about the Lord. I was excited that we were not going to lose by whoever lost or won because both were going to give credit to the Lord."
"A lot of times in this business ... most of the Jesus comments get edited out. They will talk about whatever they say from a secular standpoint," Brown continued. "When Tony and his team won the championship I knew this was going to be good because they can't cut him now because of editing. The first thing he said when he got up there, he said 'I wanted to show you that it could be done the Lord's way.'"
As the purpose of the race forum was to give audience members and online viewers action points to take back to their own families and communities and help bridge the spiritual divide in their own spheres of influence, Dungy told the crowd that he agreed with Watson, who said earlier in the forum that more parents need to be honest with their kids about societal issues without giving their own ideological slant.
"That is what we need. Not everything of, 'Hey, here is the problem and we get in our corner and we fight together,'" Dungy explained. "Let's think about this. Let's get in the middle and see what happens. Just to have that kind of dialogue and to think about it is was we are trying to do here tonight."