NFL Hall of Famer Says His Pastor and Deuteronomy Bible Verse Led Him to Choose Jersey No. 28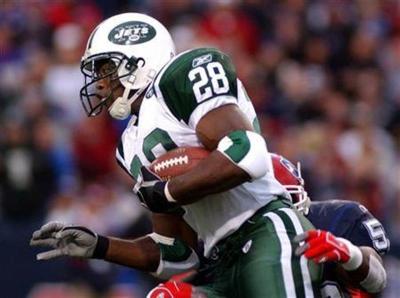 NFL Hall of Famer and former New York Jets running back Curtis Martin has his pastor to thank for donning jersey number 28 during his time with the Jets, which the team retired for him in 2012.
Martin said he settled on 28 after wearing No. 26 for a while and then finding out that a player who wore jersey 28 was cut from the team. After consulting with his spiritual mentor, he then realized that numbers can have meaning, especially a biblical significance.
"He said (28) because that is a really important Bible verse. It's Deuteronomy 28, and he said that it talks about the blessings for obedience and all that," Martin said, according to NBC Sports. "So I took the number and Deuteronomy 28 became my only ritual before every game. I would read it and that's the reason why I wore No. 28."
Martin played for the Jets from 1998 until his retirement in 2005; however, during his speech after getting inducted into the Pro Football Hall of Fame in 2012, Martin admitted that he never wanted to play football.
He said he took up the game only to stay out of trouble while living in inner-city Pittsburg, at the request of his mother. Despite not having passion for football, Martin became a top notch athlete which earned him multiple scholarship offers from various schools.
After playing for the University of Pittsburg, he was drafted by the New England Patriots in 1995. But after getting the offer to join the team by then-coach Bill Parcells, Martin turned to his family and pastor for guidance after being less than enthusiastic about joining the league.
Martin says his pastor at the time, Leroy Joseph, told him "Curtis, look at it this way … maybe football is just something that God is giving you to do all those wonderful things that you say you want to do for other people," according to Yahoo! Sports.
Furthermore, Martin recounts what life was like before making it to the big league. After witnessing his father physically abuse his mother and finding his grandmother beaten to death in his family's living room, he never imagined he would make it to age 20.
At the time, he made a pact with God and promised that if he made it to 21, he would give his life over to his faith and "do whatever you want me to do."
Now, Martin focuses on providing help to single mothers, children's charities, individuals with disabilities and low-income housing providers through the Curtis Martin Job Foundation, which he funded throughout his playing career.