NFL's Derek Carr Says God Gave Him a Heart for Critics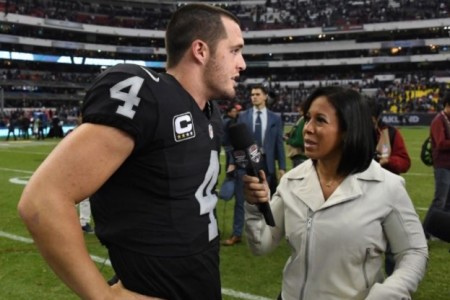 Oakland Raiders quarterback Derek Carr says his Christian faith helps him deal with the criticism that he faces from the media and fans.
Derek and his former NFL playing brother, David Carr, spoke about football and their faith at the "Inside the Huddle" event Saturday at the Saroyan Theater in Fresno, California. The event benefited  Valley Children's Healthcare, a hospital the family has supported since Carr's son received life-saving treatment there.
At the event, Derek spoke about God giving him a heart for his critics.
"For me, if I didn't have my faith, the game gives you a lot of highs and a lot of lows. I love people. I always want to make everyone happy," he said, according to The Fresno Bee. "What God has done for my life is I really have a heart for those people. Whenever they say those things, I think about if I was in that situation I will never say that."
The QB reasoned that people who choose to criticize him because of his platform might be dealing with other struggles.
"They must have something going out inside that they want to lash out and feel better about themselves," he said. "I really care for those people."
It's no wonder that Derek spoke at the event to honor Valley Children's Healthcare since his son, Dallas, underwent emergency surgery at the facility in 2013. As a newborn, Dallas was born with a life-threatening abnormality called intestinal malrotation that could have caused the blood supply to his intestinal tract to be cut off.
After undergoing two surgeries at the hospital, Dallas now has a clean bill of health. On the hospital website, Derek spoke highly of the medical facility.
"I want people to know how great this place is," Derek says of Valley Children's. "There's no better place for kids. They genuinely care for your child and that meant a lot. Every child who comes in here is their No. 1 priority."