NFL's Tony Dungy Says God Gave Him Job at NBC to Give Voice to Christian Athletes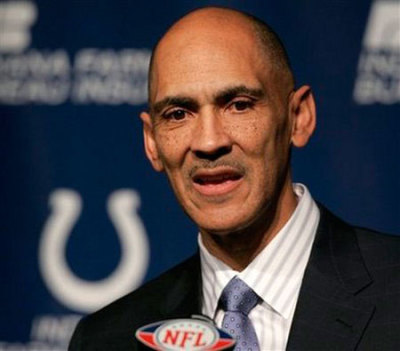 Hall-of-Fame NFL coach Tony Dungy, now an analyst on NBC's "Football Night in America," says he believes God gave him his new job for primetime TV to help Christian athletes share their faith.
The former American professional football player and NFL coach sat down with CBNNews last week to promote his new inspirational children's book series, Austin Plays Fair and Maria Finds Courage, which he co-wrote with his wife, Lauren. During the interview, Dungy was asked about the backlash he received after reporting, on air, comments made about God by Philadelphia quarterback Nick Foles prior to Super Bowl LII.
"He told me he felt that God had him on that Philadelphia Eagles team for a reason," Dungy shared. "He had been the backup quarterback, now he was starting in the Super Bowl and he felt very confident he was going to have a good game because he believed God had him there for that purpose."
The coach, who won Superbowl XLI with the Indianapolis Colts in 2007, revealed that some people took issue with bringing religion into his reporting. However, others praised him for it.
"So many people wrote in and said, 'Hey, I'm glad that you said and reported on exactly what he said and I'm glad you talked about his faith in Christ,'" Dungy explained, adding, "I feel like that's one of the reasons God has me at NBC, to be the voice for some of these Christian athletes who want to say those things."
The esteemed sports analyst believes football players should credit whomever they want when talking about their abilities.
"I think people have to understand that Christian athletes have the same ability to espouse their views as anyone else has and if we ask them a question about, what is allowing them to play well, and they say, 'It's my faith in Christ' or 'It's the Holy Spirit,' we can't hold that in and we can't begrudge them of that," Dungy maintained.
During a Twitter exchange in Feb., Dungy further defended why he believes God gave him the job at NBC to report the truth.
"I am just thankful for the boldness of Coach Pederson and those Eagles players to express their faith," he wrote. "I was proud to be able to use my job—where God placed me—to help their voice be heard."