Nigeria: 55 People Dead as Christian-Muslim Market Fight Turns Into Slaughter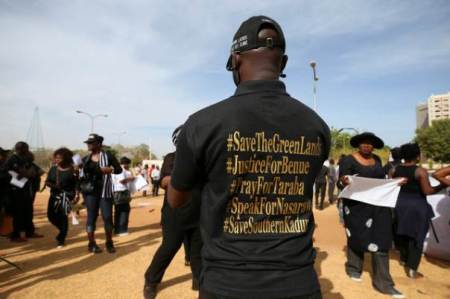 At least 55 people were killed last week in Nigeria following a market fight between Christians and Muslims that escalated into a larger battle involving guns and machetes and the burning of houses.
Nigerian authorities issued a 24-hour curfew in Kaduna, urging residents to uphold the peace following the deadly incidents on Thursday.
There have been conflicting reports over who is responsible for the violence at the Kasuwan Magani market. Two people were initially killed but the fight escalated into major clashes that left 55 dead.
Muhammadu Bala, a Kasuwar Magani resident who lost his home, told AFP that Adara Christian youths attacked Hausa Muslims following the fight at the market, due to what has been described as a dispute among wheelbarrow porters.
"Most of the killings were done in the second attack which took the Hausa community off guard," Bala said.
But Emeka Umeagbalasi, board chairman of Intersociety for Civil Liberties & the Rule of Law, told The Christian Post on Monday that the violence began after a Muslim man stole an item from the "Christian and indigenous-dominated market."
The traders chased the thief and got him, Umeagbalasi said, which led to Muslims regrouping to defend and rescue him. Armed with machetes and guns, they later went on a spree that resulted in Christian homes being burned down, he said.
The Intersociety board chairman estimated that the case was 80 percent Muslim violence against 20 percent Christian reprisal. Intersociety will speak more about the case next week during its monthly review.
Muslims and Christians make up roughly an equal share of the Nigerian population, though vioence has mostly been carried out by radical groups, such as Boko Haram and groups operating as Fulani.
According to Reuters, Nigeria deployed a special police force to restore calm following the clashes. Security has become a major issue for the country ahead of the February 2019 presidential elections, where Muhammadu Buhari will seek a second term in power. 
"The violence in Kaduna ... is condemnable. The police have been authorized to do everything possible to restore calm. A Special Intervention Force has been deployed to the flashpoints," Buhari said on Twitter affter the market clash.
"The federal government and its law enforcement agencies will work with the state government and community leaders to ensure the full restoration of peace and security."

Buhari maintained that "violence cannot be an alternative to peace. On the contrary, reliance on violence leads to ultimate self-destruction. Violence is an ill wind that blows nobody any good. Embracing peace is a necessity."
Premium Times noted that the president has not yet explained how it will be determined who is responsible for the violence, and what steps will be taken to bring those responsible to justice.