Nigeria Army Rescues 234 More Female Captives From Boko Haram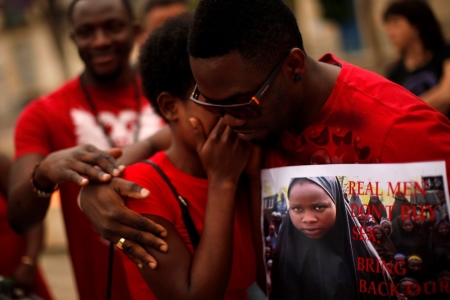 Nigerian troops have rescued 234 more girls and women from the Boko Haram stronghold Sambia Forest in the country's northeast, days after freeing 200 girls and 93 women from the same region.
The Nigerian Defense Headquarters posted a message on Twitter early Saturday, saying, "Another set of 234 women and children were rescued through the Kawuri and Konduga end of the #Sambisa Forest…"
This brings the total number of women and children rescued this week to 527.
However, a local senator claimed the women and children previously released may have been residents of the area, according to BBC. No details were given about the claim.
The military said the rescued girls and women are being screened to ascertain their identities.
Some women resisted, and even shot at the rescuers, The Associated Press quoted a military spokesman as saying. It is, therefore, suspected that some of them might now identify with Boko Haram after captivity and forced marriages.
The Nigerian military didn't say whether any of the 234 girls and women is among the more than 200 schoolgirls the Boko Haram had mass kidnapped from Chibok in Abuja on April 14, 2015.
Nigerian Army spokesman Sani Usman said earlier in the week that the army has raided a number of Boko Haram camps in the forest, which has served as a stronghold for the Islamic militants. The region is not far from Chibok.
However, Usman confirmed that the 293 captives previously rescued were not the schoolgirls taken by Boko Haram in that particular raid.
Boko Haram leader Abubakar Shekau had earlier threatened to sell the girls from Chibok "in the market."
"I abducted your girls," Shekau said in a 57-minute video earlier. "I abducted a girl at a western education school and you are disturbed. I said western education should end. Western education should end. Girls, you should go and get married. I will repeat this: western education should fold up. I abducted your girls. I will sell them in the market, by Allah. I will marry off a woman at the age of 12. I will marry off a girl at the age of nine."
Boko Haram recently announced it was changing its official name to "Islamic State's West Africa Province," or ISWAP. The terror group has aligned itself with Islamic State, also known as ISIS or IS, which has gained control over large parts of Iraq and Syria.
Boko Haram has also posted videos showing beheading of people.
Boko Haram has also killed numerous Christians and attacked several churches. It is apparently seeking to create an Islamic state in the Muslim-majority northern Nigeria. It is believed that it earlier gained technical sophistication and weaponry with help from groups like al-Shabaab in southern Somalia and al-Qaeda in the Islamic Maghreb in Mali.