Nigerian Catholic Bishop Claims Jesus Visited Him in Vision to Say Boko Haram Will Be Destroyed Through Rosary Prayer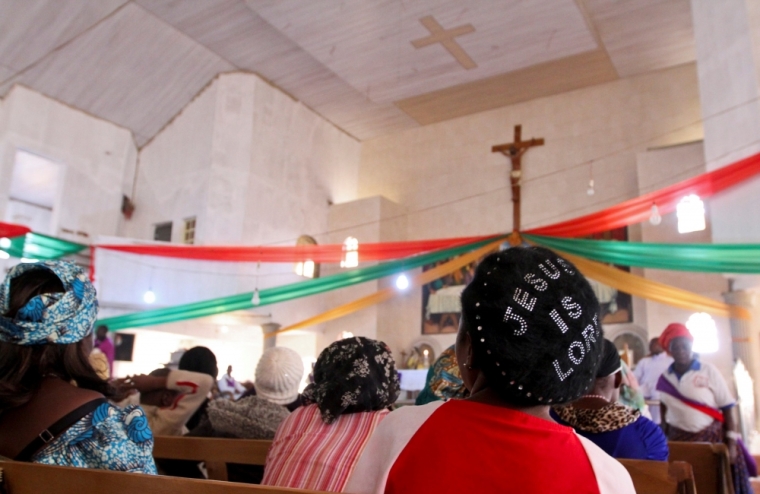 A Nigerian Roman Catholic bishop has claimed that he was visited last year in a vision by Jesus Christ, who told him that the terrorist group Boko Haram will be destroyed, key to which will be praying the rosary.
Catholic News Agency reported that Bishop Oliver Dashe Doeme, who leads the Diocese of Maiduguri in Borno State, said in an interview conducted last week that he is urging Christians to pray the rosary, which will rid Nigeria from the militants.
"Toward the end of last year I was in my chapel before the Blessed Sacrament … praying the rosary, and then suddenly the Lord appeared," Dashe said.
The bishop explained that Jesus extended a sword, which then turned into a rosary when he reached out to grab it. Christ then said three times "Boko Haram is gone."
"I didn't need any prophet to give me the explanation," Dashe asserted. "It was clear that with the rosary we would be able to expel Boko Haram."
He added that "prayer, particularly the prayer of the rosary, is (what) will deliver us from the claws of this demon, the demon of terrorism. And of course, it is working."
The cleric revealed that at first, he did not want to share his vision with other people, but then "felt that the Holy Spirit" was pushing him to do so.
Boko Haram has killed thousands of Nigerians since it began carrying out its attacks in 2009, and is determined to drive out all Christians from the country. The militants have also declared their allegiance to ISIS, which is spreading its Islamic Caliphate throughout Iraq and Syria and other countries in the region.
Boko Haram has been less successful when attempting to expand its territory outside Nigeria's borders, and has been pushed back by neighboring countries, like Cameroon.
Nigerians have also expressed hopes that the nation's newly elected president, Muhammadu Buhari, will be able to drive out the terror group all together. Outgoing President Goodluck Jonathan had been widely criticized for failing to implement an effective strategy against the terror group.
As a retired general, Buhari focused his presidential campaign heavily on promises of putting an end to Boko Haram's terror attacks.
BBC News reported that a heavy offensive by Nigeria's military has managed to win back a significant deal of the territory the Islamic extremists had captured in the past year. Ground troops are now searching for the last known hideouts of the group, which are believed to be located in the northeastern Sambisa forest.
Despite the many acts of terrorism Boko Haram has carried out on churches and Christian communities, especially in the Borno region, Dashe said that he believes one day his diocese will completely recover and grow.
"These terrorists … think that by burning our churches, burning our structures, they will destroy Christianity. Never," he said.
"It may take a few months or a few years … but 'Boko Haram is gone.'"