Nigerian military accused of burning villages, displacing civilians in Boko Haram fight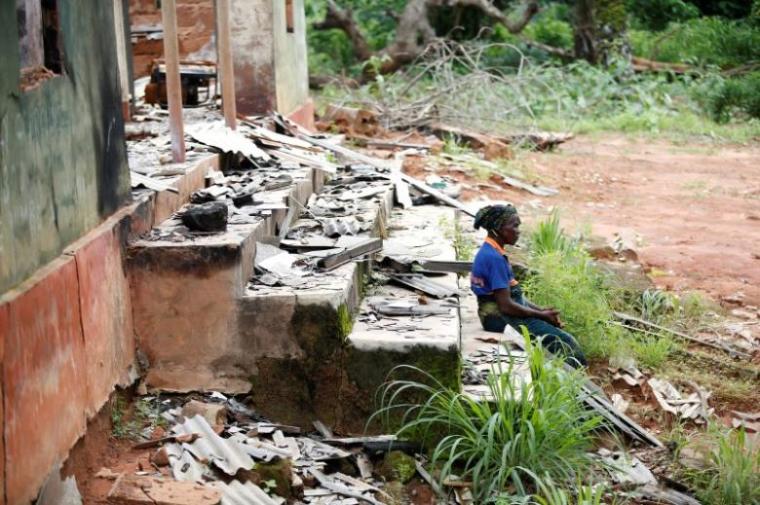 The Nigerian military has been accused by a leading human rights watchdog of razing villages and displacing hundreds of residents in its quest to defeat extremist groups Boko Haram and the Islamic State. The military, however, has contested those allegations.
In a report based on interviews with impacted villagers in Nigeria's Borno state, Amnesty International stated last Friday that the Nigerian military has burned and forcibly displaced entire villages in response to a rise in extremist attacks in the region. 
The United Kingdom-based nongovernmental organization reports that the Nigerian military also arbitrarily detained six men from the displaced villages and held them incommunicado for nearly one month before being released on Jan. 30. 
"These brazen acts of razing entire villages, deliberately destroying civilian homes and forcibly displacing their inhabitants with no imperative military grounds should be investigated as possible war crimes," Amnesty International Nigeria Director Osai Ojigho said in a statement. 
"They repeat a longstanding pattern of the Nigerian military's brutal tactics against the civilian population. Forces allegedly responsible for such violations must be suspended immediately and brought to justice."
The alleged military action comes as Boko Haram and the Islamic State's West Africa Province have carried out a number of deadly attacks in northeastern Nigeria since December 2019. 
During a recent research mission to the Borno state, Amnesty International interviewed 12 women and men who were forced to flee from their homes in three villages near the Maiduguri-Damaturu road on Jan. 3 and Jan. 4. 
Residents from the village of Bukarti recounted how "scores" of Nigerian soldiers arrived in the late morning of Jan. 3. 
"They said soldiers went house to house and to surrounding farmland, forcing everyone to gather under a tree and by a graveyard between Bukarti and the main road," the report explains. "Soldiers also rounded up people from neighboring Matiri and brought them to the same area."
"At around 3 p.m. on Jan. 3, residents said soldiers demanded that everyone walk from the village to the main road where they were forced to board large trucks. Witnesses claim that as they were loaded into the trucks, some of the soldiers returned to Bukarti. The witnesses said they then saw their village burning."
According to Amnesty International, over 400 women, men, and children were transported from Bukarti and Matiri to an internally displaced person camp near Maiduguri.
The next day, a similar fate struck the neighboring village of Ngariri. Residents were loaded up on trucks and taken to Maiduguri. Later, their properties were razed. 
Amnesty International reviewed data from remote satellite sensing that indicated "several large fires burning on and around 3 January in that area."
"Satellite imagery of Bukarti, Ngariri, and Matiri shows almost every structure was razed," the report adds. "The imagery also shows signs of burning in neighboring villages."
Residents who went back to the towns afterward told Amnesty International that everything was burned. 
Residents said that since they were not allowed to bring anything with them, most of their possessions were also destroyed in the fires.
"Everything we harvested was destroyed, and some of our animals died," one farmer told Amnesty International. "I had a year [of harvest] stored — it's what I would've sold to buy clothes and other things for my family."
Amnesty International accused the Nigerian military of "ordering the displacement of inhabitants" even though their "security or imperative military reasons did not demand so."
"The subsequent burning of their homes may amount to a war crime as well," the report asserts. 
The Nigerian army said at the time that soldiers from brigades 5 and 29 along with Special Intervention Battalion 2 carried out the operations in the area. 
The military said it "rescued 461 Boko Haram captives" from several villages after it was alleged that criminals were sporadically shooting and causing an uproar. The military also said it arrested six Boko Haram suspects.
However, witnesses who spoke with Amnesty International refuted that, saying Boko Haram fighters had not been in their village.
"They say they saved us from Boko Haram, but it's a lie," one resident was quoted as saying. "Boko Haram isn't coming to our village."
Acting Director of Defense Information Brigadier General Onyema Nwachukwu refuted the Amnesty International report. 
In a statement, Nwachukwu accused Amnesty International of distorting facts and supporting "the callous acts of terrorism" committed by Boko Haram and the Islamic State's West Africa Province. 
Further, Nwachukwu said that Amnesty International is "undermining Nigeria's Military campaign against terrorism" and "disparaging the Armed Forces of Nigeria."
"The Defense Headquarters wishes to state unambiguously that the allegations being touted by AI are nothing but a betrayal of its lack of in-depth knowledge of the goings-on in the [northeast] theatre of operation," Nwachukwu said. 
Nwachukwu added that troops who are conducting counterterrorism operations in the northeast "do not employ arson as an operational tactic." 
"It is a well-known fact, going by the modus operandi of [Boko Haram], that they have more often than not engaged in the atrocious acts of looting and burning of villages, as well as destroying infrastructures," Nwachukwu said. 
"It, therefore, beats one's imagination that AI is attributing these atrocities to [military] troops who are legitimately defending the country guided by extant rules of engagement and operational codes of conduct."
Nwachukwu further argued that Amnesty International "must understand" that Nigeria is at war with terror and that "troops have a constitutional mandate to protect lives and property even if it means conducting an evacuation to save and secure lives of civilians in the conflict."
"Protecting civilians by evacuating them from the line of fire during combat is not a violation of the international law of conflict or a war crime," the director added. 
"It is rather a commendable effort by the troops to prevent collateral damage during combat. Our troops should, therefore, be commended for making deliberate efforts to evacuate civilians in order to protect their lives and property."
Despite Nwachukwu's statement, three residents interviewed by Reuters confirmed Amnesty International's findings. 
This is not the first time that Nigerian military forces have been accused of criminal acts as Amnesty International and others have long called for the International Criminal Court in Hague to investigate alleged war crimes committed by the Nigerian military. 
Last year, the NGO International Society for Civil Liberties and Rule of Law (Intersociety) claimed in a report that Nigerian military and security forces killed at least 480 mostly Christian ethnic Igbo civilians pushing for self-determination in massacres that occurred between 2015 to 2017 as part of internal security operations designed to halt terrorist activities. 
Intersociety defended Amnesty International following Nwachukwu's response.
"We further make bold to say that patterns and trends trailing the Nigerian military's responses over such specialist reports are so despicable and condemnable that they have constantly emboldened the atrocity perpetrators and made them 'unrepentant and repeat-offenders,'" an Intersociety statement shared with The Christian Post reads. 
"The despicable and condemnable patterns and trends have also entrenched in the military (Army, Air Force and Navy) and the intelligence services (SSS, DMI, NIA and Force CID) a culture of impunity, incompetence, incapability, inability and unwillingness."
Last December, Nigeria was added to the U.S. State Department's special watch list for countries that engage in or tolerate severe violations of religious freedom in part because of the government's ineffective response to violence in the northeast as well as communal violence in the Middle Belt. 
"It is a dangerous situation in too many parts of Nigeria," U.S. Ambassador-at-large for International Religious Freedom Sam Brownback told reporters last December. "The government has either not been willing to or have been ineffective in their response and the violence continues to grow."