Nigeria's 'genocide': Who is helping the thousands of displaced Christians?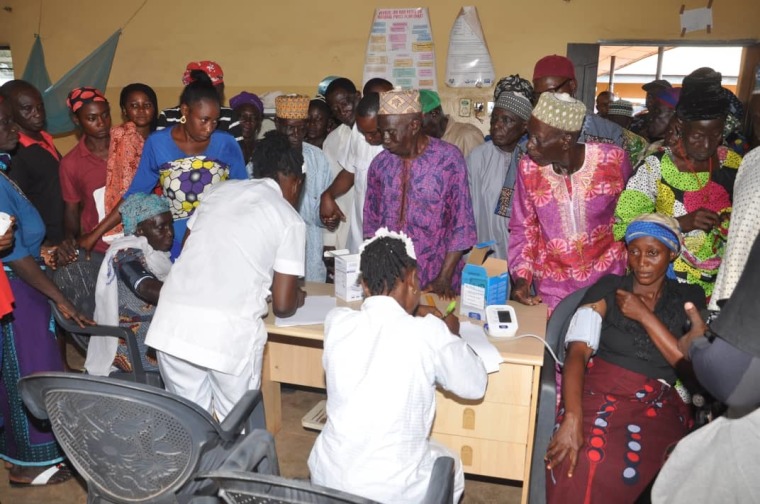 'They do not feel safe'
Greg Tweddell, a Delaware pastor who runs a house church and charity called Ignition633 that has served the last four years to help the people of the Middle Belt state of Benue recover from Fulani attacks, told CP that as many as 800,000 people were displaced throughout the state at the height of the violence in 2016. 
Many of them, he said, lived in the 30-plus internally displaced person camps established throughout the state. While the camps today are not as populated as they were in 2016, Tweddell said that some 75,000 to 80,000 people are cared for in the three displacement camps in Benue in which his organization operates. 
In the Agatu local government area of Benue where pastor Elaigwu lives and where hundreds have been killed by Fulani militants since 2013, there are some 5,000 displaced people still living with relatives and other hosts in neighboring villages, according to Elizabeth Duile of the Agatu Resource and Innovation Center. 
According to ARIC, which was established in 2016 in response to the plight of the Agatu community, around 1,000 people lost their lives in Agatu from 2013 to 2016 as conflict with Fulani armed militia left the community fractured. 
ARIC reports that as much as 60% of the region's population was displaced from their businesses or farmlands at the height of the conflict. ARIC believes the escalation and spread of Fulani massacres across the Middle Belt region in recent years could be the "world's worst neglected humanitarian crisis."

"Initially, it was termed 'communal [farmer-herder] clash,' and little or nothing was known about it. People [of the village] would always come out, form a vigilante group and help defend themselves. So it would just end up [seeming] like there was an ethnic clash and all of that," Duile explained. "And for a long time, it was termed as so until 2016, when 10 of Agatu's 17 villages were overrun at the same time. That was when hundreds of people were killed. And there was a need to let the world hear what was happening."
"If we keep calling them herdsmen, that [just feeds the narrative] of a communal clash," she continued. "It's more wanting to take over the community, not just herders coming to feed their cattle. … So It became more of a full-blown war and not just coming to feed or graze." 
Although 12 of Agatu's 17 villages are inhabited, Duile said the villages closer to the river banks are not safe due to the presence of Fulani militants. She said those villagers with lands near the river are still not able to return to their farms. 
"Unfortunately, it's not like the other side of Nigeria, the northeast, where they have organized displaced person camps. There are no displaced person camps in Agatu," she said. "So when communities are overrun, they either go live with other relatives in other villages or they just cluster around the local government area but then go back to their villages, rebuild and it is destroyed again and people killed again." 
According to Duile, there were at least three Fulani attacks in Agatu in 2019 with 50 deaths documented.
"So on the part of the government, there hasn't been any efforts to get the farmland back to the farmers," she said. "They do not feel safe that the soldiers only stay put in the local government headquarters and do not go into villages.
"In terms of helping the victims resettle, there hasn't been any such move. It's all individual private efforts. People just find a way of getting to rebuild their homes. If they aren't so lucky, they are overrun again and the homes are destroyed. You know, it's just a cycle and it keeps going on and on." 
In many cases, Duile said, displaced people in Agatu are living in overcrowded homes with over a dozen people inhabiting them.

ARIC is one of the few organizations on the ground in Agatu assisting the displaced community. ARIC has organized health and food outreaches to provide support to the widows and children of the crisis. 
She said that at ARIC's last health outreach in September 2019, there were over 2,000 people who showed up seeking medical care. However, ARIC only could take care of about 700 patients. 
The last food outreach that ARIC held was on Christmas Eve and Christmas Day 2019. 
"We just wanted to do that as part of Christmas so they could at least have something to eat and take care of the family," Duile said. "This was for widows and their children."
Duile said that ARIC has been supported and has received donations from various groups, including the United States-based International Committee on Nigeria and One Body Church in Florida. 
Additionally, she said that a few churches in Abuja, including Dunamis International Church and Living Faith Church, have stepped up to provide aid to the Agatu community. 
"When Dunamis came, they brought us foam for lying on mattresses. They brought corrugated iron roofing sheets so that people can fix broken houses," pastor Elaigwu said. 
Elaigwu recalled that the state government brought in roofing sheets also, noting that everywhere Fulani attack "they burn houses." 
However, the pastor said that the aid provisions came long after the people of Agatu had been displaced. 
"Many people suffered with no help," he said. "Today, many of our places are still in ashes." 
Since 2017, ARIC has helped to train vulnerable people in Agatu through an economic empowerment training program. 
The organization runs weeklong training sessions in which it educates batches of 20 people on how to make household items such as soap, detergent, Vaseline and fabric. Those items can be sold to help support their families.
The last training session was held in December and January. Duile said ARIC plans to hold another training session in May as long as it is feasible in light of the ongoing coronavirus pandemic.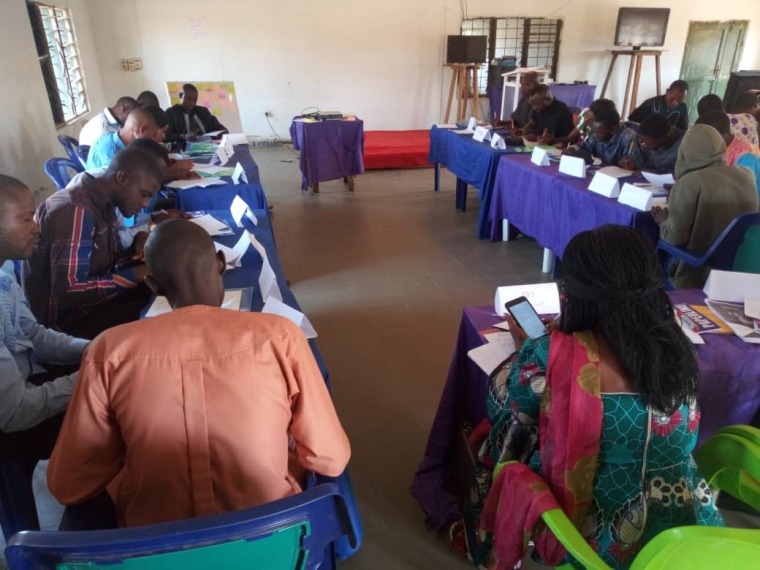 "Since they're predominantly farmers, we are trying to shift their focus from just farming to other things they can do and maybe earn some living," Duile detailed. "We want to expose them to other things they can do so they can see opportunities that are around them that they are not seeing." 
In the long run, ARIC has its eyes set on building a state-of-the-art community center that would host Agatu's displaced community, churches, schools and a medical center. The center would be designed by engineers and architects from the Agatu community.  
"I kind of giggle because it's quite big. It's a huge project," Duile admitted. "It's not like we have any sort of funding. But we're trying to see how we can advocate and see how we can use that as one of the means to resettle people who are currently being displaced." 
She believes if the community center project goes well, it could serve as a model to show that people can be resettled in a place where they would feel safe. 
"We are currently working with an architect to get our drawings out and giving them the ideas we have," Duile said. "And then we'll use that to start our advocacy [and fundraising] processes."
Eliminating the Fulani monopoly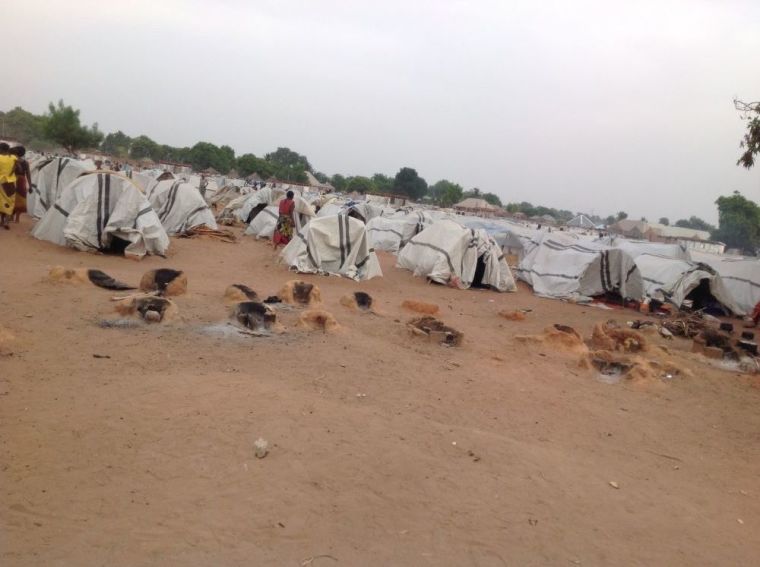 As for Tweddell and the Delaware-based Ignition633, the organization's permanent presence in Benue state started in 2019. But for the last handful of years, it has hosted revivals as well as provided support to the displaced in Benue. 
Over the last few years, Ignition633 has provided food support to the families of 15 pastors living in three displacement camps in Benue. Tweddell said that support provided in those camps is limited. 
"You had a lot of people dying in there that first couple of years because there just wasn't much," Tweddell explained. "One of our pastors, his wife gave birth to twins and she died. Luckily, they were able to save the twins. But she died because there just wasn't the care at the facilities. She gave birth in a tent and they couldn't really care for her in that situation."
Ignition633 is primarily focused on rebuilding and helping the displaced communities sustain themselves in the long run. 
As part of that effort, the charity has worked closely with the state government to build showers and outdoor toilet facilities for temporary housing structures. 

"The first two years of the IDPs, they didn't even have real access to water," Tweddell said. "The water had to be trucked in there. It was just a real mess."
Tweddell said that his organization has secured a 100-year lease through the state governor for 80,000 acres of farmland to develop an organic ranching training center.
"The way that the Boko Haram and the Fulanis get the majority of their money is they have the market cornered on beef all throughout that region," Tweddell contended. "One of our ideas is you can really hit them where it hurts and take that market away from them and we have the capability to do it. We've been in negotiations with the governor for the better part of the last year-and-a-half about this. 
"And he's so bought into this and believes in it so much. He's given us this lease on this land and basically said that this is the first of many. He said that if we get this up and going, then he wants us to teach it throughout Benue."
The plan would be to take in 20,000 workers primarily from Benue IDP camps into a three-year program where they would learn all aspects of organic ranching and farming. A percentage of the profit for their work will be put away into a savings account earmarked as funds to help them launch their own businesses at the end of the three years of training. 
Tweddell said the hope is that after the three years, people will regain access to their lands. 
"The money would be there to buy chickens, buy cattle, what they need to get going," he said. "And then, of course, we are their market. That is the biggest problem in Nigeria, especially in Benue state, is they don't have a market for these things. We've already begun the processes of developing the markets. So we can tell them, 'We will buy your cattle if you're doing it the way we have taught you and the way we need you to do it.'"
Tweddell expects the infrastructure for the organic ranching center to cost upwards of about $150 million. He hopes that Ignition633 will be able to get funding from international institutional donors such as the U.S. Agency for International Development. 
"We'll see the doors that the Lord opens with that," he said. "We're building infrastructure for 20,000 people, plus that includes two hydro dams that will produce enough electricity for the entire 80,000 acres. But it will also provide a lot of electricity for the good portion of Benue state."