'No' Gay Marriage in Australia Ad Showing Alarming LGBT Sex Ed in Schools Is Banned From Prime Time TV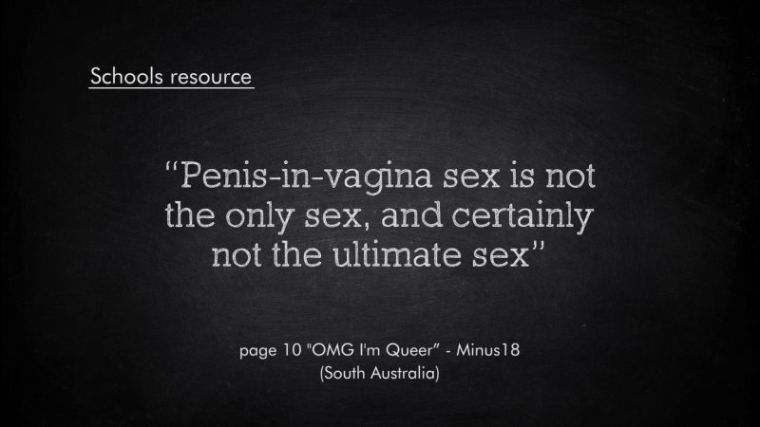 The latest video by Australia's "no" on gay marriage campaign has been banned from prime time TV in the country until 8:30 p.m., as it was deemed too explicit — for featuring quotes that students are taught in school.
Yahoo7 News reported that the 30-second ad has been given an MA rating due to "depictions of implied sexual activity and verbal sexual references."
The Coalition for Marriage used passages from the controversial Safe Schools sexuality education program to showcase just what pupils are being taught.
"Penis-in-vagina sex is not the only sex, and certainly is not the ultimate sex," one of the quotes from the "OMG I'm Queer" South Australian school resource reads.
Another quote claims that not all males have a penis, or females a vagina.
The video opens up with Roz Ward, the founder of Safe Schools, speaking at a pro-same-sex marriage rally, where she says: "It's a total contradiction to say yeah we want safe schools coalition, but you can't get married to the person you love."
Victorian Pastor Heidi McIvor argued, however, that "None of the mothers I know are homophobic, and they don't want to see bullying, but this isn't that. It really feels like it's part of a bigger agenda."
The ad continues with a warning that parents are not allowed to opt their children out of LGBT lessons in countries that have legalized gay marriage.
Coalition for Marriage spokesman Lyle Shelton disagreed with the mature audience classification.
"It [is] beyond belief that taxpayer-funded LGBT sex and gender education materials openly made available to students of all ages are given an MA rating for television" he said, according to Daily Mail Australia.
"The issue of these materials, of parents' rights, and the direct relationship with changing the Marriage Act are there for all to see, and parents should beware."
The latest ad attracted another form of controversy as it featured Paola Mitchell from Melbourne, a volunteer interpreter for the deaf, signing words during the pro-gay rally scene. Mitchell told news.com.au she is "devastated" that her presence is in the ad.
"It's irresponsible and they obviously don't really care who or what they do is affecting," Mitchell said, explaining that she has asked Coalition for Marriage to take down the video.
"I'm proudly and openly gay and it just tears me apart to my very core and devastates me my face is even remotely associated with this rubbish from the No campaign," she added.
Coalition for Marriage meanwhile said on Tuesday that 4 million Australians are yet to vote in the postal survey regarding gay marriage.
"More and more Australians are coming to understand that saying 'yes' to gay marriage means saying 'yes' to radical gay sex and gender programs in schools, and saying 'no' to freedom of speech and freedom of faith," Shelton said in a press release.
"We are extremely grateful for the contribution of the millions of Australians who have supported our campaign so far. Our incredible volunteers have achieved so much and their energy and spirits remain high. They continue to conduct themselves with integrity, even in the face of intimidation, threats and abuse," he added.