No Indictment Against NYPD Officer Daniel Pantaleo in Chokehold Death of Eric Garner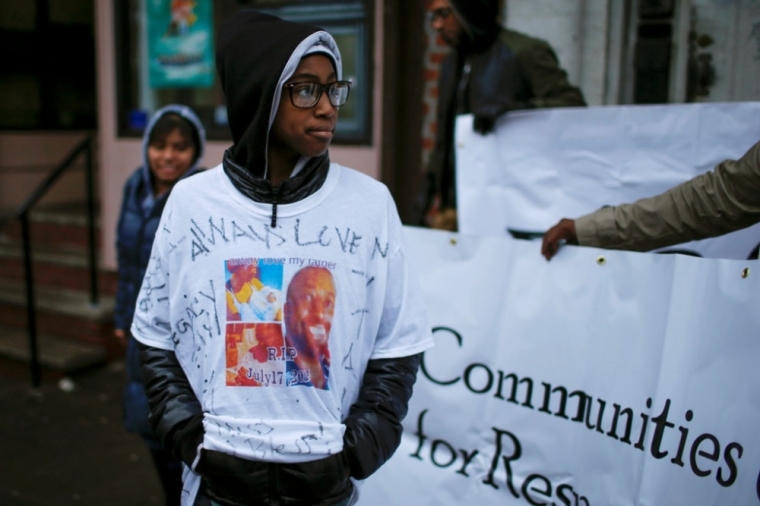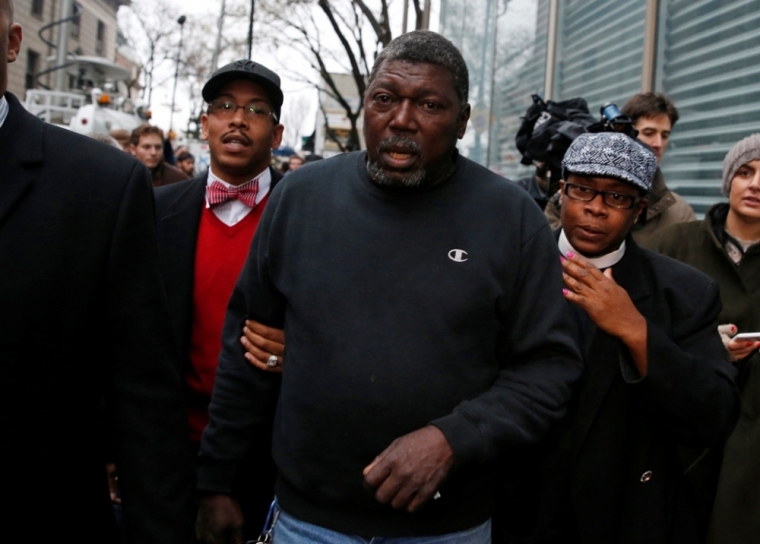 View Photos
Family and supporters of Eric Garner, 43, the 400-pound asthmatic father who died after he was locked in a chokehold by a New York City police officer in Staten Island this summer, expressed collective shock at the decision of a grand jury not to bring criminal charges against the officer on Wednesday.
Reacting to the news in a report in The Daily News, Eric Garner's widow, Esaw Garner, said: "Oh my God, are you serious? I'm very disappointed. You can see in the video that he (the cop) was dead wrong!"
A nearly 3-minute video of the encounter between Garner and NYPD officers posted on YouTube, shows Garner screaming "I can't breathe, I can't breathe," repeatedly before falling silent as cops swarmed him when he refused to be handcuffed after expressing surprise that the officers were harassing him for trying to break up a fight.
Russell Moore, president of the Ethics & Religious Liberty Commission of the Southern Baptist Convention, said he was "stunned" by the grand jury's decision and called on Christian churches to take a stand against injustice.
"I'm stunned speechless by this news. We hear a lot about the rule of law — and rightly so. But a government that can choke a man to death on video for selling cigarettes is not a government living up to a biblical definition of justice or any recognizable definition of justice. We may not agree in this country on every particular case and situation, but it's high time we start listening to our African-American brothers and sisters in this country when they tell us they are experiencing a problem," Moore said in a statement Wednesday.
"For those of us in Christ, we need to recognize that when one part of the body of Christ hurts, the whole body of Christ hurts. It's time for us in Christian churches to not just talk about the Gospel, but live out the Gospel by tearing down these dividing walls not only by learning and listening to one another but also by standing up and speaking out for one another," he ended.
The decision not to indict officer Daniel Pantaleo comes after months of testimonies were heard by the grand jury, including from Pantaleo, who used a chokehold to restrain Garner, an unarmed black man who died after the confrontation.
This decision comes less than two weeks after a grand jury in Ferguson, Missouri, declined to bring charges against a white officer who fatally shot unarmed black teenager Michael Brown.
For days, the New York City Police Department has been readying for a new round of protests, which began in the city after the Ferguson decision, and which were expected to continue and possibly grow if the grand jury declined to bring charges against the officer.
"The grand jury kept interviewing witnesses but you didn't need witnesses," Esaw Garner told The Daily News. "You can be a witness for yourself. Oh my God, this [expletive] is crazy."
Garner's widow said she now plans to seek justice for her husband through the U.S. Department of Justice.
Vincent Warren, head of the Center for Constitutional Rights, said the decision was a faith killer in the justice system.
"How can anyone in the community have faith in the system now?" he asked The Daily News. "First Ferguson, now Staten Island."
In a statement after the announcement of the grand jury decision, officer Pantaleo, 29, said he became a police officer to help people and was sorry about Garner's death.
"I became a police officer to help people and to protect those who can't protect themselves. It is never my intention to harm anyone and I feel very bad about the death of Mr. Garner. My family and I include him and his family in our prayers and I hope that they will accept my personal condolences for their loss," he noted.