North Dakota gov. vetoes ban on biological male transgender athletes in girls' sports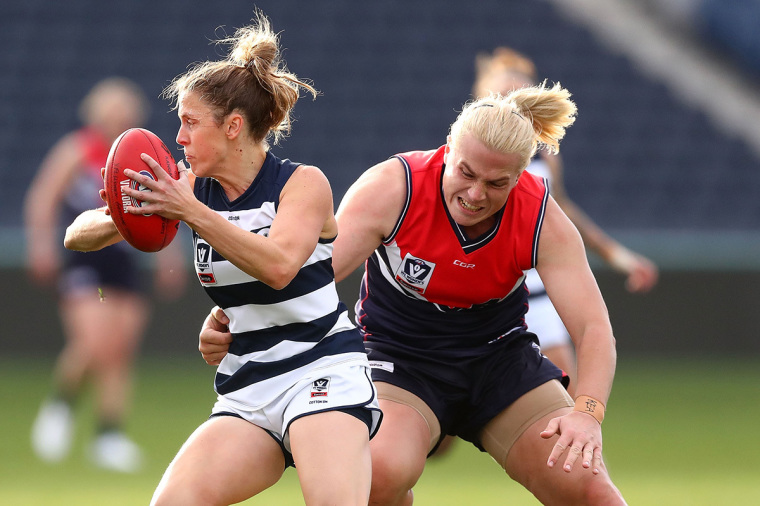 North Dakota's Republican Gov. Doug Burgum followed South Dakota Gov. Krist Noem's lead by vetoing a bill on Wednesday that would have banned biologically male transgender athletes from playing in women and girls' sports.
Burgum described his decision to block the passage of House Bill 1298 in a letter to House Speaker Kim Koppelman and explained the measure is not currently necessary.
The bill would have prevented any entity that receives public funding from the state from allowing "an individual who was assigned the opposite sex at birth to participate on
an athletic team sponsored or funded by the state, political subdivision, or entity
and which is exclusively for females or exclusively for males."
The governor wrote that there is no evidence that the fairness of girls' sports in North Dakota is in "immediate danger," as the bill suggests. He stated that there had not been a recorded incident of a transgender individual attempting to play on a girls' sports team in the state. 
The governor said the state has fairness in sports because of the "caring and thoughtful leadership" of the North Dakota High School Activities Association. 
"The bill would unnecessarily inject the state into a local issue by creating a ban with myriad unforeseen consequences," the governor wrote. 
He added that the NDHSAA has regulations in place that require "transgender girls to undergo testosterone suppression treatment for gender transition for a full calendar year before they are eligible to compete in girls' sports." 
The bill passed by a 69-25 vote in the House of Representatives and a narrow 21-20 vote in the Senate. The House voted on Thursday to override the veto. But the governor's veto was sustained as the Senate failed to achieve a two-thirds majority to override the veto.
"We need to keep women on an even playing field," Republican Rep. Kathy Skroch said during a House debate on the bill, noting the difference in men and women's height, weight, heart size and lung capacity, Fox News reported.  
"There is a reason why there is separation of boys and girls sports."
The American Civil Liberties Union of North Dakota praised Burgum's veto of the legislation in a statement released Wednesday.
"House Bill 1298 was never about leveling the playing field for student athletes," Libby Skarin, ACLU of North Dakota campaigns director, said. "It was obvious from the beginning that this discriminatory legislation was about creating solutions to problems that don't exist and, in the process, harming some of the most vulnerable people in our state."
Burgum is likely to face backlash from conservative organizations, as did other Republican governors who vetoed similar transgender-related measures. 
Noem of South Dakota also refused to sign similar legislation in March that would have banned biological males who identify as female from competing in women's sports in South Dakota, which was met with a wave of conservative backlash. 
Though she had formerly tweeted support of the bill and her excitement to sign it into law,  Noem issued a "style and form" veto and urged the legislature to make changes to the bill to avoid legal challenges brought by the NCAA.
Instead of passing the legislation, Noem signed two executive orders to protect fairness in both K-12 and college athletics designed to protect girls' sports from individuals of the opposite biological sex. 
Noem also announced the creation of a multi-state coalition to protect women's sports, "where the NCAA cannot possibly punish us all," she said. 
She later released a statement affirming her commitment to protecting women's sports from transgender athletes. 
The vetoes come as nearly 30 states are considering similar legislation. 
Arkansas, Idaho, Mississippi and Tennessee have already passed similar bills. Alabama recently passed similar legislation that is awaiting the governor's signature.
Republican Arkansas Gov. Asa Hutchinson recently vetoed legislation that would have banned puberty blockers, cross-sex hormones and genital mutilation of children under 18-years-old, saying it was "overbroad" and would cause government overreach. 
The Arkansas legislature voted to override Hutchinson's veto of the "Save Adolescents form Experimentation Act," making it the first state to ban the prescribing of puberty blockers, hormonal drugs and surgical body mutilation of minors suffering from gender dysphoria. 
Former President Donald Trump criticized Hutchinson for the decision and endorsed candidate and former White House Press Secretary Sarah Huckabee Sanders to be the state's next governor.