Woman Who Escaped North Korea Says Children Are 'Dying Without Hope,' Talks of Eating Mice to Survive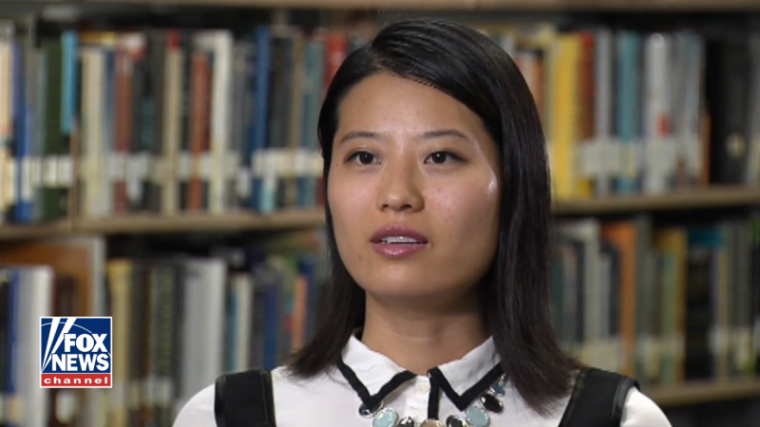 A North Korean refugee whose two younger brothers died of starvation says children and babies are "dying without hope" under Kim Jong Un's regime.
Grace Jo, 26, who now studies at Montgomery College in Rockville, Maryland, told Fox News in an interview on Wednesday that the world must stop the North Korean regime and its killing of innocent people, but added that she doesn't want to see a military intervention.
"Child, babies and moms are dying without any hope," Jo said.
The refugee said that she and her family escaped three times to China, but were captured and sent back to North Korea.
Starvation led to the deaths of her two younger brothers, and her father was tortured by police for smuggling a bag of rice from China.
On one occasion Jo's family had to survive 10 days without food before finding six baby mice in a field, which the grandmother used to make soup.
"We almost gave up our life, but it is kind of a miracle, a miracle happened to my family to survive," she said.
Jo, who is now a U.S. citizen, explained that after one escape she was caught and sent to intelligence center prison.
"I saw the North Korean agents torturing adults there and yelling them, it was kind of a scary place. It was dark and had no lights, small room with many people at the night so many insects walking on the wall and a dark hole with a fence around, so it was really scary," she said.
Jo called for action against the North Korean regime, which has threatened to attack the U.S. on multiple occasions, but said she didn't support targeted bombing to dismantle the regime, as she fears such a strike would also kill many innocent people.
Grace has received the North Korean Freedom Scholarship program, which is run by the President George W. Bush Institute. The $25,000 fund was established to help North Korean escapees "pursue higher education and build productive, prosperous lives as new Americans."
Others, such as Korean-American missionary Robert Park, who once was held and tortured by North Korea, also recently warned that a military option could kill many of the hidden Christians there.
"Please kindly be reminded that a large number of underground Christians are within North Korea. They are the most persecuted religious group in the world, according to international religious freedom watchdogs groups. As I pray your team accepts upon deep reflection, it would be decidedly un-Christian to countenance indiscriminate killings of those who are among the people in the world who suffer the most," Park wrote in an open letter to President Donald Trump earlier this month.
He added that even high-ranking North Koreans "are in actual fact slaves and are suffering gravely also."
Choi Kwanghyuk, a North Korean defector who now lives in Los Angeles, told The Christian Post earlier this month that many of the Christians being held inside the country's labor camps are refusing to renounce their faith, despite pressure to do so.
Reflecting on what prison guards have told him, Choi said: "They often talked about how stubborn Christians are. Even though they are offered release by signing a contract renouncing their religion, they do not accept this offer. Some of them feel that living inside the political camp is better than going outside because they foresee that it will be difficult for them to adapt to the outside society."