Obama Hails Iran Nuke Deal as Not Based on Trust but 'Unprecedented Verification'; Will It Help Free Pastor Abedini?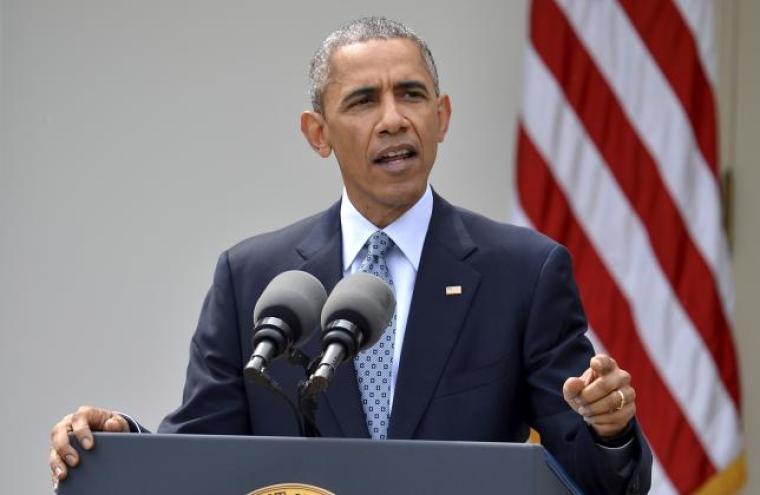 President Barack Obama has hailed the historic deal reached with Iran on Thursday, which will restrict part of its nuclear program in exchange for the lifting of international sanctions. Meanwhile Naghmeh Abedini, the wife of imprisoned pastor and American citizen Saeed Abedini, has said that she hopes the deal will help facilitate her husband's release.
"This will be a long-term deal, that addresses each path to a potential Iranian nuclear bomb," Obama said about the deal.
"If Iran cheats, the world will know it," he added, clarifying that the agreement is based not on trust but on "unprecedented verification."
The president insisted that when the deal is finalized by the end of June, "we will be able to resolve one of the greatest threats to our security, and to do so peacefully."
The negotiations with Iran were held between the five permanent members of the U.N. Security Council – the U.S., the U.K., France, Russia, and China – along with Germany.
The State Department published a fact list explaining the deal in detail, and highlighted that Iran will have to reduce the number of its centrifuges that can be used to enrich uranium into a bomb by more than two-thirds.
What is more, Iran agreed to not enrich uranium over 3.67 percent for at least 15 years, and will have to reduce its current stockpile of about 10,000 kg of low-enriched uranium (LEU) to 300 kg of 3.67 percent LEU for 15 years.
CNN reported that the deal was met with jubilation in Iran, with people celebrating on the streets.
"Iranians erupted in celebration as young people waved flags from their sunroofs, blasted music from stereos and chatted online with the hashtag #IranTalks," the report said.
"Just before midnight on Thursday, Vali Asr street, one of Tehran's main thoroughfares, turned into something like a block party," it added.
"Car horns blared. Men danced in the middle of traffic. Some people flaunted U.S. dollar bills. It was a fitting double occasion: The agreement was struck on the final day of Persian New Year festivities, symbolizing a fresh start."
Meanwhile Naghmeh Abedini, who has been campaigning and has met with Obama about her husband's release, shared in a statement that she hopes the deal brings the pastor a step closer to freedom.
Pastor Abedini has been imprisoned for over 920 days in Iran because of his Christian faith, and has been the subject of international petitions calling for his release.
Following the negotiations, Secretary of State John Kerry addressed the issue of imprisoned American citizens in Iran and said:
"And finally, with respect to our citizens, we of course have had a number of conversations, and no meeting, no date when we come together has been without conversation about our American citizens. I'm not going to go into any details except to say to you that that conversation is continuing."
Kerry added that there is a "specific process in place," and promised the U.S. will continue engaging with Iran every day about releasing imprisoned Americans and getting them back home to their famililies.
Abedini responded directly to the statement, and said that she hopes the deal will indeed be helpful in that regard:
"As Secretary Kerry stated, the United States and Iran continue to talk about the release of Saeed and the other Americans held captive in Iran. It is the hope of our family that Saeed and the others are released and returned to their families. President Obama has told our family that he considers securing the freedom of Saeed to be a 'top priority' and I continue to take him at his word."
The American Center for Law and Justice, the law group which represents Naghmeh Abedini and the couple's two children in America, has said that Iran must prove its commitment to improving its human rights record by releasing Abedini.
House of Representatives Speaker John Boehner said, however, that the deal represents "an alarming departure from the White House's initial goals," and insisted that Congress be allowed to review the details of the agreement before Iran receives any sanctions relief.
"After visiting with our partners on the ground in the Middle East this week, my concerns about Iran's efforts to foment unrest, brutal violence and terror have only grown. It would be naïve to suggest the Iranian regime will not continue to use its nuclear program, and any economic relief, to further destabilize the region," Boehner said.
"In the weeks ahead, Republicans and Democrats in Congress will continue to press this administration on the details of these parameters and the tough questions that remain unanswered. We will stand strong on behalf of the American people and everyone in the Middle East who values freedom, security, and peace."