Obama: I Will Fight for Immigration Reform Alone Since House Republicans Refuse to Vote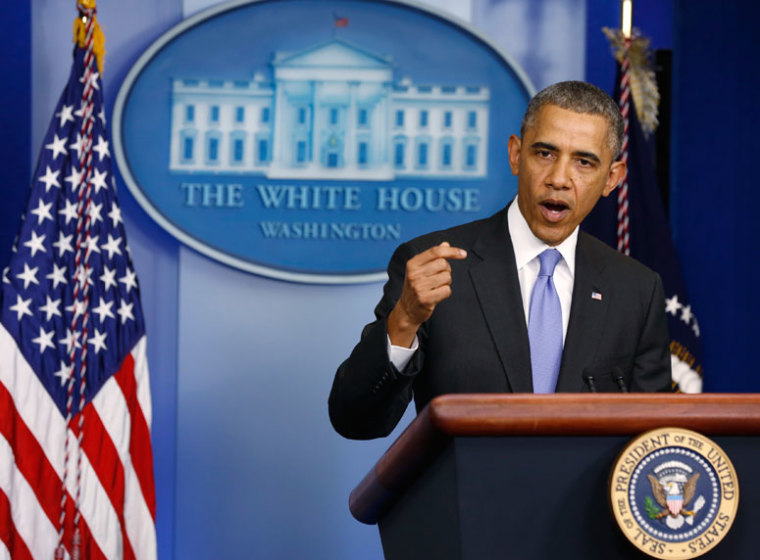 President Barack Obama said that he will continue fighting for immigration reform on his own after House Republicans refused to vote on a bipartisan bill this year. House Speaker John Boehner, who has been urged by Christian groups to allow such a vote, has called Obama's decision "sad and disappointing."
"If Congress will not do their job, at least we can do ours," Obama said on Monday, according to The Associated Press.
Boehner, R-Ohio, said that he informed Obama last week that the House would not be taking up immigration legislation this year, for which he blamed the White House.
"I told the president what I have been telling him for months: The American people and their elected officials don't trust him to enforce the law as written," he said. "Until that changes, it is going to be difficult to make progress on this issue."
He added that Obama's plan to go at it alone is "sad and disappointing."
A number of Christian groups have been calling on an immigration reform vote in the House, noting that 11 million men, women and children caught in America's "broken" immigration system are at stake. In May, Sojourners President Jim Wallis told The Christian Post that Boehner had both a moral and a biblical choice to make regarding putting immigration reform up for a vote.
"Fixing this broken system right now is the moral test for the common good of this Congress. One man stands in the way of that. One man can fix this system, by just allowing a vote. That's Speaker John Boehner," Wallis told CP back then.
"The faith community is going to be watching John Boehner very carefully, of whether he will make a moral decision here. The Catholic Church is completely clear about this. He is a Catholic, and his bishops have been clear, the pope has been clear - it's time for John Boehner to make the right moral choice. It's time for John Boehner to listen to and obey his own Catholic Church."
Obama has reportedly asked Homeland Security Secretary Jeh Johnson and Attorney General Eric Holder for recommendations on the type of executive actions he could take to address some of the aims of the comprehensive bipartisan bill, which passed the Senate last year but has stalled in the House.
Mary Kay Henry, president of the Service Employees International Union, and Eliseo Medina, the union's secretary treasurer, praised Obama's decision to continue pushing for immigration reform despite lack of support from Congress.
They noted, however, that the White House has several issues to deal with when it comes to immigration reform, including tackling the influx of illegal immigrants that continue crossing America's borders.
"We also hope that as President Obama moves forward with administrative action, he will carefully and humanely address the urgent crisis of unaccompanied immigrant minors," Henry and Medina said in a statement.
"Children — from whatever country they may come from — who are fleeing from violence or trying to reunite with their families obliges our country's leaders to act in the most compassionate and thoughtful way possible."
Obama has also reportedly asked for increased penalties for people who smuggle vulnerable immigrants, such as children. Fox News reported that the president has asked Congress for emergency money that would help conduct "an aggressive deterrence strategy focused on the removal and repatriation of recent border crossers."
In a letter to Boehner, House Democratic leader Nancy Pelosi, Senate Majority Leader Harry Reid and Senate Republican leader Mitch McConnell, Obama insisted that the administration is confronting the influx of immigrants with a coordinated response on both sides of the border.
"This includes fulfilling our legal and moral obligation to make sure we appropriately care for unaccompanied children who are apprehended, while taking aggressive steps to surge resources to our Southwest border to deter both adults and children from this dangerous journey, increase capacity for enforcement and removal proceedings, and quickly return unlawful migrants to their home countries," Obama wrote.
Republicans are arguing that Obama is overstepping his authority when announcing that he will bypass Congress, however.
"He wants a comprehensive immigration overhaul that's his way or the highway," Republican National Committee Chairman Reince Priebus said. "It's disturbing that this president believes he can be a one-man legislative branch when it comes to our immigration laws."