Obama Justice Dept. To NC: Male-Only, Female-Only Bathrooms Is Sex Discrimination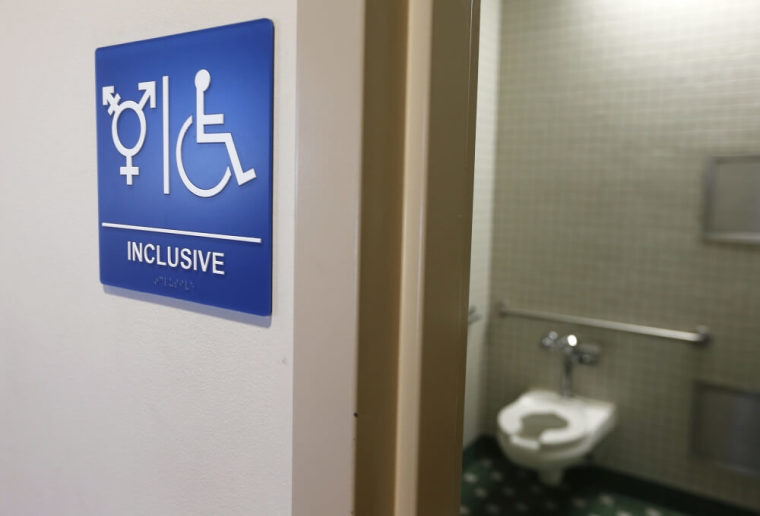 The United States Justice Department has given the state of North Carolina an ultimatum to abandon its recently passed, controversial transgender bathroom law, which allows businesses to chose their own bathroom policies, or risk legal action and possible loss of federal funding.
The department's top civil rights lawyer, Vanita Gupta, sent a letter to North Carolina Gov. Pat McCrory on Wednesday stating that H.B. 2, which became law in March and upholds a requirement for people to use bathrooms designated for their biological sex in state-run buildings, violates Title VII of the U.S. Civil Rights Act of 1964.
The letter argues that the state is engaging in a pattern of "discrimination" against state employees and also engaging in "resistance to the full enjoyment of Title VII rights by transgender employees ..."
The letter argues that H.B. 2 is discriminatory towards transgender employees because they are not allowed to use the restrooms that correspond with their gender identity, while non-transgender employees are allowed to use the restrooms that correspond with their gender identity.
"Access to sex-segregated restrooms and other workplace facilities consistent with gender identity is a term, condition or privilege of employment," the letter states. "Denying such access to transgender individuals, whose gender identity is different from their gender assigned at birth, while affording it to similarly situated non-transgender employees, violates Title VII."
The letter cites a ruling by the U.S. Equal Employment Opportunity Commission, which also found that "equal access to restrooms is a basic employment condition" and preventing transgender employees from having equal access is a violation of Title VII.
The letter also cites the U.S. Court of Appeals ruling in G.G. v. Gloucester County on April 19, which found that a Virginia school system violated Title IX by prohibiting a transgender student from using the boy's bathroom.
The Justice Department threatened to proceed with legal means to ensure that North Carolina follows its demands. The department gave the state until May 9 to respond to the letter and address whether it plans to stop implementing the law.
Along with the threat of legal action, North Carolina could be at risk of losing some 4.5 billion in federal education funding since a violation of Title IX would allow the Department of Education to shut off funding, The Atlantic reports.
A Justice Department official who spoke to The New York Times on the condition of anonymity confirmed that stripping North Carolina of federal funds is one of the tools the Obama administration could use in order to coerce the state into compliance.
Gov. McCrory addressed the letter on Wednesday night and explained that Justice Department's interpretation of the law only addresses the the provision regarding bathrooms in state buildings, not necessarily the provision banning local governments from forcing transgender bathroom access on businesses and other places of public accommodation.
McCrory stressed that the state is reviewing the letter and added that the department's interpretation of the law is just that — an interpretation.
"Every state will be impacted by this interpretation, I might add, by one agency within the Obama administration," he said. "This is one interpretation by one agency."
"The Obama administration has not only staked out its position for North Carolina, but for all states, universities and most employers in the U.S," McCrory continued. "The right and expectation of privacy in one of the most private areas of our personal lives is now in jeopardy. We will be reviewing to determine the next steps."
Phil Berger, the president pro tempore of the North Carolina Senate, said on Wednesday that the Justice Department's ultimatum is a "gross overreach."
"This is a gross overreach by the Obama Justice Department that deserves to be struck down in federal court," Berger said in a press release.
In a statement Wednesday, North Carolina Lt. Gov. Dan Forest criticized the Department of Justice for using North Carolina "children and their educational futures as pawns to advance an agenda," adding that it represents one of the "sickest examples of the depths the Obama Administration will stoop to fundamentally transform our nation."
Family Research Council President Tony Perkins said in a statement shared with The Christian Post that the Justice Department is totally "out of control."
"The far-Left bullies at the Department of Justice are threatening action against North Carolina because the state designated restrooms in government buildings are for men only and women only," Perkins stated. "President Obama's hypocrisy is stunning. If President Obama truly wanted to, he could issue an executive order bringing this kind of bathroom chaos to every federal agency and national park in America. However, he hasn't because he knows how unpopular it would be."
North Carolina residents, prominent conservatives and real estate entrepreneurs Jason and David Benham, who had their HGTV show canceled because of their religious opposition to same-sex marriage, lambasted the Justice Department's ultimatum.
"The Obama administration would rather side with convicted sex offenders and push our bathrooms open against the will of our people," David Benham said in a Facebook video. "This is absolute bullying."
FRC released a video this week highlighting what it believes to be Obama's hypocrisy in dealing with transgender issues. The video explains that Obama has assigned five federal agencies to investigate North Carolina and threaten pulling federal funding from the state.
"While ISIS is infiltrating America, President Obama seems confused about human biology," the video's narrator says. "While Russia taunts our military, President Obama is fighting for men to have access to women's locker rooms."