Obama Praises LGBT Activists at Event Attended by Southern Baptist Pastor Who Rejects Biblical Teaching on Homosexuality
President Barack Obama highlighted Monday his administration's efforts to bolster the gay community at a reception celebrating LGBT Pride Month, which was attended by a Southern Baptist pastor who recently broke with his denomination on the homosexuality issue, and his gay son.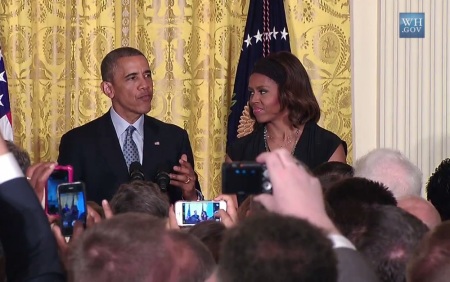 Danny Cortez, who leads New Heart Community Church in La Mirada, California, rejected his denomination's stance on homosexuality by deciding to accept the LGBT community without teaching that homosexual behavior is a sin. He and his 15-year-old son, Drew, who came out as a gay earlier this year, received an invitation to the presidential reception, which was also attended by First Lady Michelle Obama.
Obama told a crowd of attendees holding up cameras and cell phones that his administration had appointed 10 openly gay federal judges and publicly recognized his openly gay pastry chef, Bill Yosses, whom he joked had put "crack" in their pies.
"A lot has happened in the year since we last gathered here together. Same-sex marriage has gone into effect in 10 more states, which means that 43 percent of Americans now live in states where you're free to marry who you love," Obama noted. "The NFL drafted its first openly gay player. Harvey Milk got a stamp. Laverene Cox was on the cover of Time. Coca-Cola and Honeymaid were unafraid to sell their products in commercials showing same-sex parents and their children."
The president congratulated "those of you who fought the good fight" on "the tremendous progress we've made as a society."
"So I want to thank all of you for making the United States a more just and compassionate place. I want to thank you for offering support and guidance to our administration. Because of your help, we've gone further in protecting the rights of lesbian and gay and bisexual and transgender Americans than any administration in history," he added.
In June, New Heart split following the pastor's decision to transform the church into a "Third Way" church.
According to Cortez, as a Third Way church, the Southern Baptist congregation would "accept the LGBT community even though they may be in a relationship. We will choose to remain the body of Christ and not cast judgment. We will work toward graceful dialogue in the midst of theological differences. We see that this is possible in the same way that our church holds different positions on the issue of divorce and remarriage. In this issue we are able to not cast judgment in our disagreement."
Cortez explained the journey that led him to change his beliefs about homosexuality in a letter to progressive Christian blogger John Shore, founder of Unfundamentalist Christians, last month.
"I recently became gay affirming after a 15-year journey of having multiple people in my congregation come out to me every year," Cortez wrote.
After reading many of Shore's writings and hearing testimony from gay friends who felt marginalized, Cortez said his "eyes became open to the injustice that the church has wrought" and in August 2013, he said he "realized I no longer believed in the traditional teachings regarding homosexuality."
Cortez believes that if it wasn't for that 15-year journey and his change in theology, "I may have destroyed my son through reparative therapy."
The California pastor, a graduate of Biola University's Talbot School of Theology, told his congregation in February that he had recently informed the church's elders that he now personally affirmed same-sex relationships. Cortez's announcement, which the pastor acknowledged had frustrated church elders by its abruptness, left many in the church displeased and the church decided to vote on whether to terminate the pastor or accept his proposition.
After a period of prayer, study and discernment, which also included hearing from gay and straight teachers on both sides of the homosexuality debate, the church voted in May not to dismiss Cortez and instead become a "Third Way" church.