Obama Quotes Bible Verses on Heaven, 2 Corinthians 4:16-18 and Matthew 19:14, at Sandy Hook Prayer Vigil
'Let the little children come to me and do not hinder them, for to such belongs the kingdom of heaven.'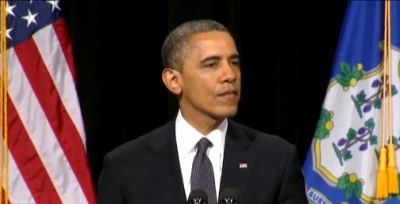 President Barack Obama cited Bible verses and evoked images of heaven and perserverance as he comforted the families of the Sandy Hook Elementary School victims during an interfaith prayer vigil on Sunday evening in Newtown, Conn. He began and ended his speech with popular Bible verses among Christians, including words from Apostle Paul's second letter Corinth and Jesus' quote about children.
READ: FULL TRANSCRIPT OF OBAMA'S PRAYER VIGIL SPEECH
Obama began his speech at the prayer vigil by citing 2 Corinthians 4:16-18 to 2 Corinthians 5:1, telling families, first responders, to the community of Newtown, clergy, guests at the event that "Scripture tells us, 'Do not lose heart. Though outwardly we are wasting away, inwardly, we are being renewed day by day.
"For light and momentary troubles are achieving for us an eternal glory that far outweighs them all, so we fix our eyes not on what is seen, but on what is unseen, since what is seen is temporary, but what is unseen is eternal.
"For we know that if the earthly tent we live in is destroyed, we have a building from God, an eternal house in heaven not built by human hands."
Prior to speaking at the interfaith vigil for victims of Friday's massacre at the Connecticut elementary school, the president met with the families of those who lost their lives in the shooting.
"Here in Newtown, I come to offer the love and prayers of a nation. I am very mindful that mere words cannot match the depths of your sorrow, nor can they heal your wounded hearts," said the president.
Obama went on to reference a few of the inspiring stories of children and teachers who reacted to the shooting with courage in the face of danger. He also named the names of six adults at the school, including teachers and the principal, who lost their lives in the fatal mass shooting.
"You've loved one another. This is how Newtown will be remembered, and with time and God's grace, that love will see you through," he said.
READ: FULL TRANSCRIPT OF OBAMA'S PRAYER VIGIL SPEECH
Although Obama did not mention the word "gun" in his speech at Newtown, he alluded to the possibility of stricter gun control under his Administration. Obama also noted that he had witnessed four mass shooting under his current term as president.
"We can't tolerate this anymore. These tragedies must end. And to end them, we must change," continued the president, who had shed tears days before when he spoke about the shooting at the White House.
"If there's even one step we can take to save another child or another parent or another town from the grief that's visited Tucson and Aurora and Oak Creek and Newtown and communities from Columbine to Blacksburg before that, then surely we have an obligation to try."
Before Obama read the first names of the 20 children, all between the ages of 6 and 7, who lost their lives at Sandy Hook Elementary School, the president read from a verse found in Matthew 19:14:
"'Let the little children come to me,' Jesus said, 'and do not hinder them, for to such belongs the kingdom of heaven.'
"Charlotte, Daniel, Olivia, Josephine, Ana, Dylan, Madeline, Catherine, Chase, Jesse, James, Grace, Emilie, Jack, Noah, Caroline, Jessica, Benjamin, Avielle, Allison, God has called them all home."
He added: "For those of us who remain, let us find the strength to carry on and make our country worthy of their memory. May God bless and keep those we've lost in His heavenly place. May He grace those we still have with His holy comfort, and may He bless and watch over this community and the United States of America."