Obama Says There Will Be No Religious Test for Syrian Refugees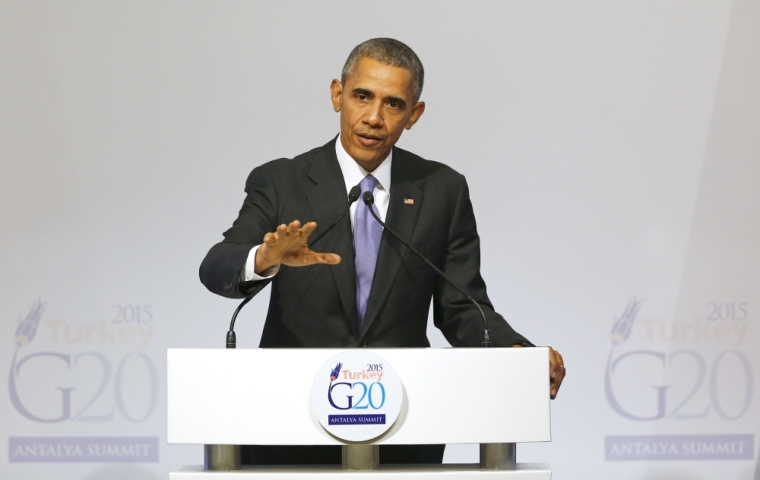 President Barack Obama on Monday shot down the suggestion that only Christian refugees from Syria should be granted asylum in the United States.
As more than half of the nation's governors rallied in opposition to his plan to allow thousands of Syrian refugees into the country in light of the recent terror attacks in Paris, Obama slammed the suggestion that only Christian Syrians should be welcomed.
"When I hear folks say that, well, maybe we should just admit the Christians but not the Muslims, when I hear political leaders suggesting that there would be a religious test for which person who's fleeing from a war-torn country is admitted, when some of those folks themselves come from families who benefited from protection when they were fleeing political persecution, that's shameful," said Obama at the G-20 summit in Antalya, Turkey, on Monday. "That's not American. That's not who we are. We don't have religious tests to our compassion."
The Washington Post noted that Obama was alluding to Sen. Ted Cruz, R-Texas, whose father had come to the U.S. as a refugee from Cuba decades ago.
Obama then pointed to the advice of Pope Francis as an example of how lawmakers should respond to the refugee crisis.
"When Pope Francis came to visit the United States and gave a speech before Congress, he didn't just speak about Christians who were being persecuted, he didn't call on Catholic parishes just to admit those who were of the same religious faith, he said protect people who were vulnerable," Obama continued. "And so, I think it is very important for us right now, particularly those who are in leadership, particularly those who have a platform and can be heard, not to fall into that trap, not to feed that dark impulse inside of us."
Cruz, however, said Obama was coddling America's enemies.
"It is one of the saddest things we've seen for seven years, that President Obama has consistently abandoned and alienated our friends and allies and has coddled and appeased our enemies. And that is never more true than with radical Islamic terrorism," said Cruz. "Both President Obama and Hillary Clinton want to define the enemy as some sort of abstract and ill-defined violent extremism. That means they cannot direct a strategy to defeat it because they cannot acknowledge who they're fighting."
A CNN report highlighted that governors from 27 states have expressed opposition to a plan to accept tens of thousands of refugees into the country after authorities revealed that at least one of the suspects believed to be involved in the Paris terrorist attacks entered Europe among the current wave of Syrian refugees.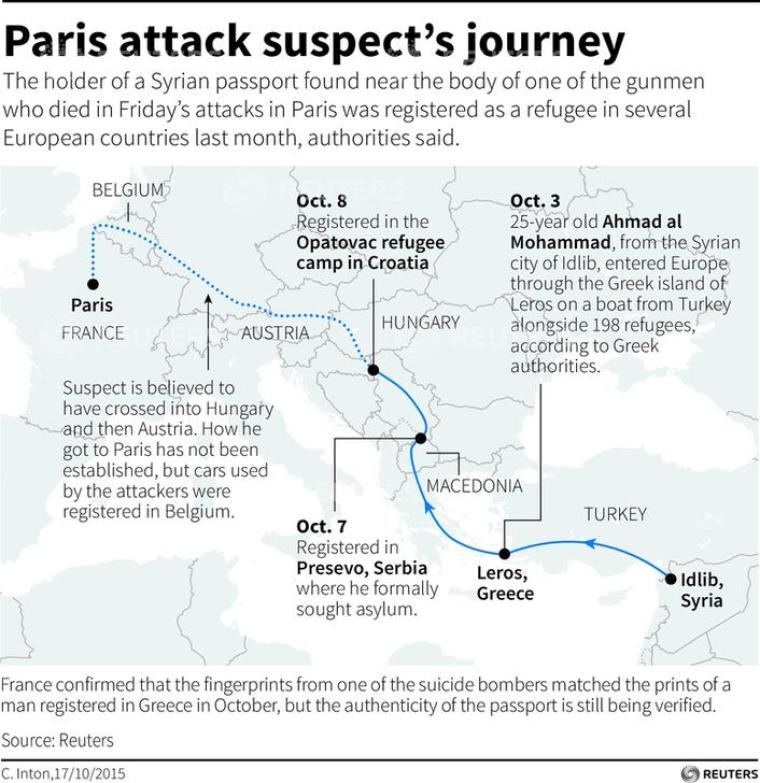 All but one of the states opposing the admission of refugees from Syria are Republican. Among the states opposing the admission of refugees are Alabama, Georgia, Texas, Arizona, Michigan, Illinois, Maine and New Hampshire.
Some 1,500 Syrian refugees have been accepted into the U.S. since 2011. In September, however, Obama announced that he would allow some 10,000 Syrians across U.S. borders next year.
In a letter to Obama on Monday, Texas Gov. Greg Abott raised concern about the ability of the U.S. to vet the refugees.
"The threat posed to Texas by ISIS is very real. ISIS claimed credit last May when two terrorist gunmen launched an attack in Garland, Texas. … Given the tragic attack in Paris and the threats we have already seen in Texas coupled with the FBI director's acknowledgement that we do not have the information necessary to effectively vet Syrian nationals, Texas cannot participate in any program that will result in Syrian refugees — anyone of whom could be connected to terrorism — being resettled in Texas," wrote Abbott.
Rejecting the refugees, said Obama, would be a betrayal of American values.
"Slamming the door in their faces would be a betrayal of our values," he said. "Our nations can welcome refugees who are desperately seeking safety and ensure our own security. We can and must do both."
Ben Rhodes, Obama's deputy national security adviser, said on NBC's "Meet the Press" on Sunday that the massacre in Paris would not alter the U.S. policy toward taking in refugees from Syria because of a "careful vetting process."
"We have very expansive screening procedures for all Syrian refugees who have come to the United States," argued Rhodes. "There's a very careful vetting process that includes our intelligence community, our national Counterterrorism Center [and] the Department of Homeland Security, so we can make sure that we're carefully screening anybody who comes to the United States."
The Council on American-Islamic Relations, the nation's largest Muslim organization, has also called the rejection of Syrian refugees "un-American."
"Defeating ISIS involves projecting American ideals to the world. This un-American rejection of refugees, who will face significant security checks prior to entry, sends entirely the wrong message. Governors who reject those fleeing war and persecution abandon our ideals and instead project our fears to the world," said the organization in a statement.
Despite the opposition of the governors, Stephen Legomsky, a Washington University of St. Louis law professor and former chief counsel of U.S. Citizenship and Immigration Services in the Obama administration, said they have no "constitutional power" to reject the refugees.
"The one thing I feel very comfortable saying is there is absolutely no constitutional power for a state to exclude anyone from its territories," he said in a USA Today report.