Obama State Department Responsible for Rise in Global Christian Persecution, Tony Perkins Says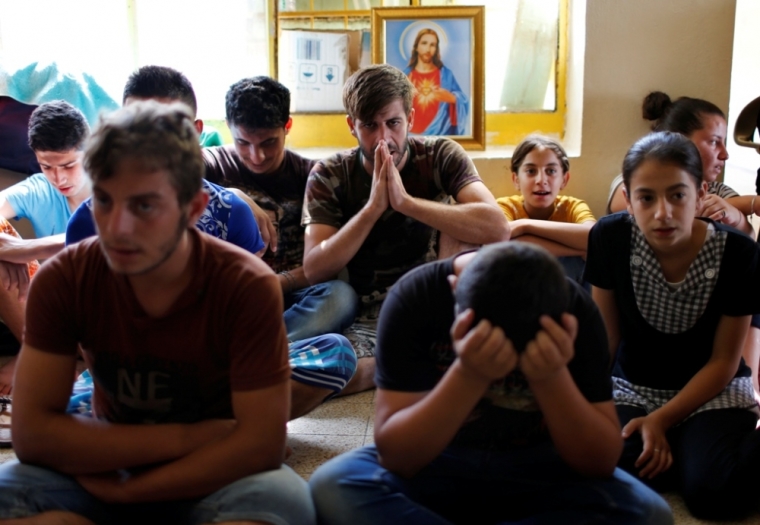 Displaced Iraqi Christians who fled from Islamic State militants in Mosul, pray at a school acting as a refugee camp in Erbil, Iraq, September 6, 2014.
|
(Photo: Reuters/Ahmed Jadallah)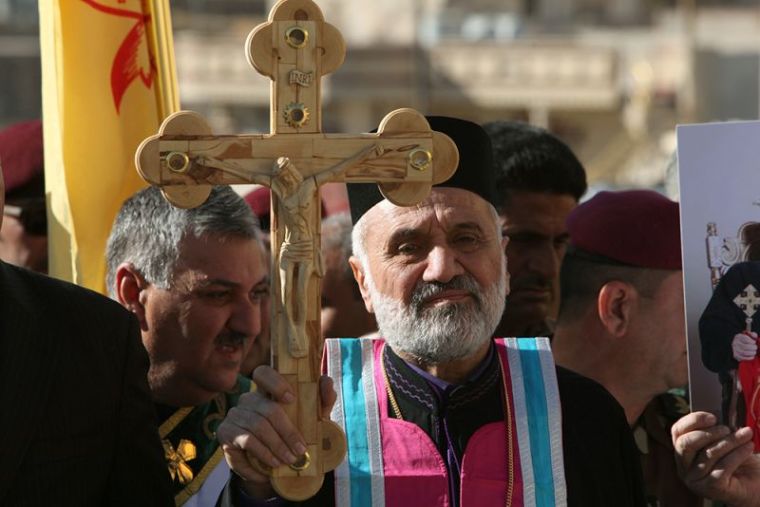 Iraqi Christians take part in a procession to erect a new cross over the Mar Korkeis church, after the original cross was destroyed by Islamic State militants, in the town of Bashiqa, Iraq, November 19, 2016.
|
(Photo: Reuters/Azad Lashkari)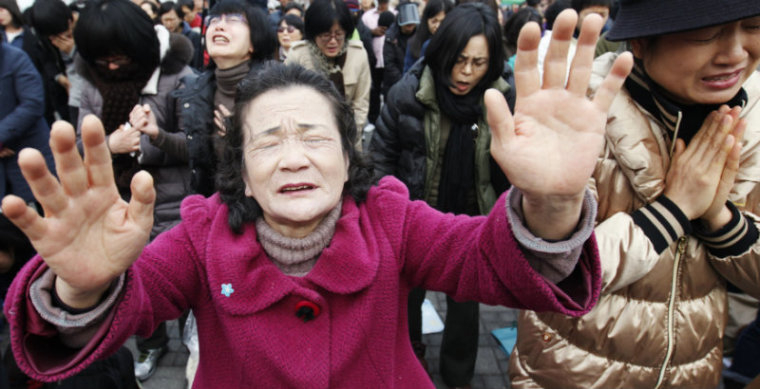 Christians pray for starving North Koreans during a prayer session in Seoul March 1, 2012. About 300 South Korean Christians also asked China not to send North Koreans detained in China back to the North, saying the North Koreans might be executed after their repatriation.
|
(Photo: Reuters/Kim Hong-Ji)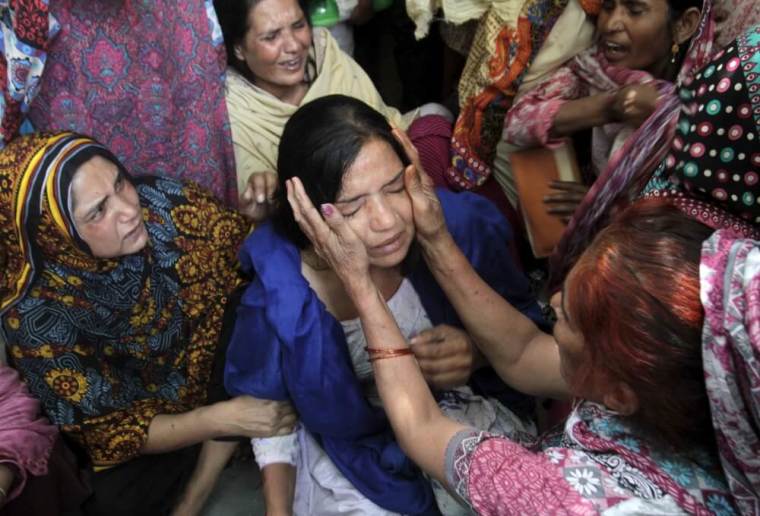 Family members comfort a woman mourns the death of a relative, who was killed in a blast outside a public park on Sunday, during funeral in Lahore, Pakistan, March 28, 2016.
|
(Photo: Reuters/Mohsin Raza)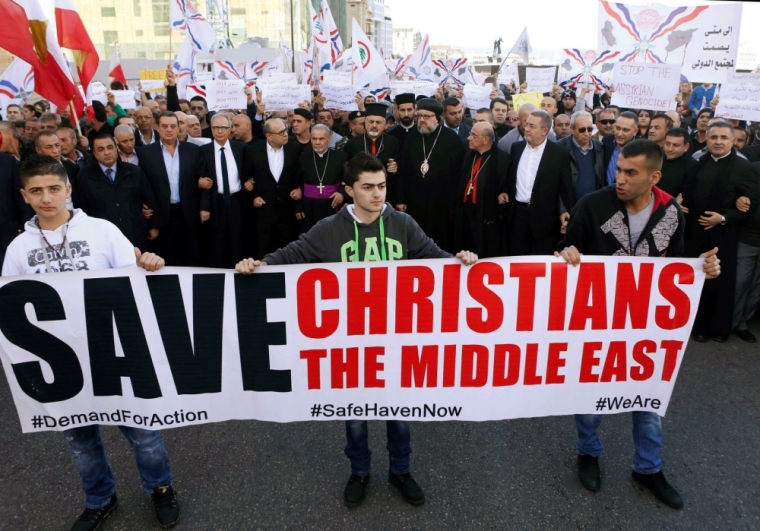 Assyrians hold banners as they march in solidarity with the Assyrians abducted by Islamic State fighters in Syria earlier this week, in Beirut, Labanon, February 28, 2015. Militants in northeast Syria are now estimated to have abducted at least 220 Assyrian Christians this week, a group monitoring the war reported.
|
(Photo: Reuters/Mohamed Azakir)
View Photos
The continued rise in Christian persecution across the globe in the past few years can be connected to Obama State Department's "misplaced priorities," leading social conservative activist Tony Perkins has asserted.
On Wednesday, Open Doors USA released its extensive 2017 World Watch List of top 50 countries where Christians are the most persecuted, which found that 2016 was the "worst year of persecution on record."
This report comes as Open Doors has found in each of the last three years that persecution against Christians because of their faith had reached previously unprecedented levels.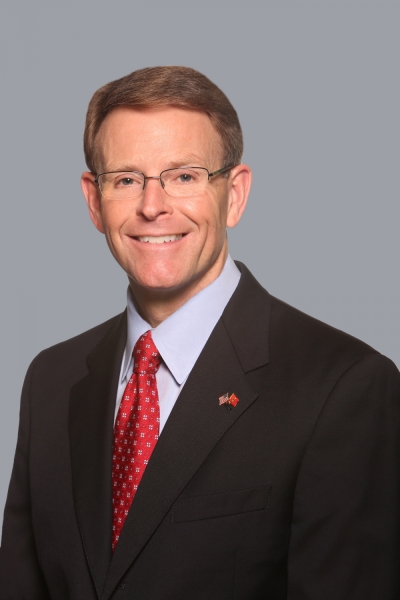 Speaking with The Christian Post on Wednesday night, Perkins, the president of the Family Research Council who is often vocal about the importance of the United States government doing its part to protect international religious freedom, said the Obama State Department's policies of promoting the LGBT movement and abortion in countries across the globe has come at the cost of religious freedom worldwide.
"Open Doors USA released their 2017 watch list and for the third year in a row there has been this growth in persecution of Christians abroad," he said. "You cannot look at this spread of anti-Christian persecution toward Christians absent of the policies of this administration."
"To a large degree, not exclusively, the problem is as acute as it is because of the way this State Department has been operating," Perkins continued. "That is why it is so important that the incoming administration and the incoming secretary of state be willing to take on an agenda that is layered within the department and not going to go away simply with new appointees."
Perkins has been a critic of the State Department's promotion of the LGBT movement and abortion, pointing out how the Obama administration has tied foreign assistance funds to governments' willingness to embrace the sexual agenda and has also funded efforts to legalize abortion in some African countries. He also listed a number of ways the State Department has promoted the liberal social agenda.
"Key to that foreign policy is the State Department that has been promoting the LGBT agenda, which John Kerry has bragged about as recently as this past week. Barack Obama has bragged about it. Hillary Clinton bragged about it," Perkins added. "It's all been to the detriment of its statutorily defined role of promoting religious freedom as a part of their foreign policy."
Perkins told CP that the State Department's promotion of the Left's sexual agenda has become systemically ingrained during the eight years of the Obama presidency and it will take more than just a new secretary of state to change.
Considering that President-elect Donald Trump's nominee for secretary of state, former ExxonMobil CEO Rex Tillerson, was on the executive board of the Boy Scouts of America when it moved to allow openly gay scout leaders, Perkins is not confident that Tillerson will be the "change agent" needed to transform the culture in the State Department.
"Contrary to what some have claimed, that the State Department doesn't deal with social issues, that is a large portion of what this State Department has done under Barack Obama and it is not going to just go away. It has to be changed," Perkins said. "[Tillerson] has not addressed that as to why he didn't stand up and defend the Boy Scouts. I am just concerned that whoever comes into the State Department has to have the track record and the courage to be a change agent to return the State Department to the statutorily stated goals of the State Department.
"His track record raises some concerns. I just know that we have encountered a lot of these issues at the State Department in our work on international religious freedom," he said. "We know that Christians are suffering globally as a result of our State Department's misplaced priorities. That cannot continue. It's going to require a leader who is willing to be criticized, who is willing to be a change agent. I just don't know that is him."
At a Senate subcommittee hearing in March 2015, Perkins also argued that the Obama administration's limitations on religious freedoms at home have impacted religious freedoms overseas.
Many religious freedom advocates have claimed that the Obama administration has limited religious freedom to mean simply "freedom of worship."
Additionally, the Obama administration has advanced a number of policies that critics claim infringe upon the religious freedom of conservative Christians, such as an Obamacare mandate forcing Christian organizations to be complicit in providing healthcare plans that provide access to abortion-inducing drugs and birth control without providing them with religious exemptions.
"[O]ur administration's persecution of Christians within our borders is emboldening the attack on Christians worldwide," Perkins continued. "Why would Islamic butchers fear our government, or believe the United States would defend Christians elsewhere when they do nothing to help Christians under attack for their faith right here in America?"
Perkins also claimed that the Obama administration has done very little to help persecuted Christians overseas.
"Ask Christian wives, mothers and daughters overseas. Their husbands, sons and fathers are being beheaded or shot by radical Islamic jihadists like ISIS. They are being driven from their homes. Children are being martyred," Perkins explained. "And our administration has done little to help, and for months resisted calling this massacre of Christians by Islamic jihadists what it is."
Rep. Chris Smith, R-N.J., said at a press conference this week that the U.S. government has gone "AWOL" in helping Christians persecuted by the Islamic State.
"The United States government has not been helpful to the Christians that have fled Mosul in the Nineveh Plain. We have been AWOL when it comes to humanitarian aid," Smith said. "I went to a camp [in Erbil] that I was told I couldn't go to because it was so dangerous. So, I went without the consulate general or the diplomatic security people only to find 6,000 wonderful families and clergy that were helping these people who are really on the edge, physically, with not even food, medicine and shelter."
"If it wasn't for the Christian community rallying for them, raising approximately $30 million, there would have been deaths and sicknesses. The camp is about 10 minutes max by car away from the consulate's office and no one had been there from the embassy or the consulate, except one who went almost before I went. Are you kidding?" Smith asked. "I had nine hearings on the genocide against Christians — nine of them. ... They left 70,000 Christians in Erbil with no help by the United Nations and the United States government."