Oklahoma School District Stops Football Coach From Leading Team Prayer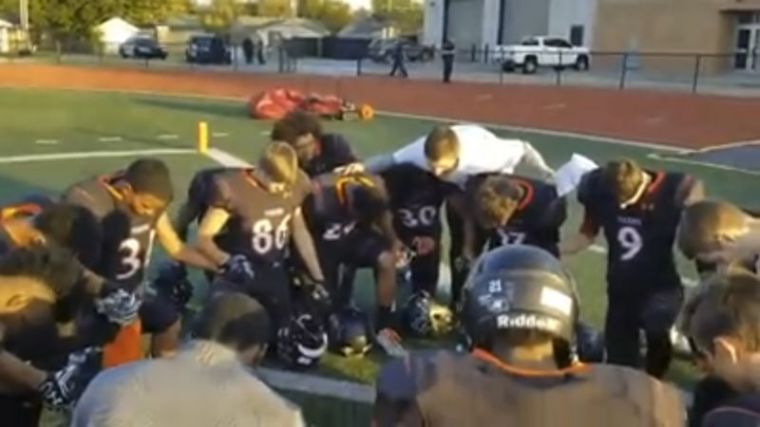 Another school district has taken action to quell a complaint made by the nation's largest atheist legal organization in regards to a public high school football coach praying with his team.
The Wisconsin-based Freedom From Religion Foundation, which advocates for a strict version of separation of church and state and often threatens legal action against schools and local government entities, claimed victory on Tuesday.
FFRF announced that Norman Public Schools in Oklahoma responded to its complaint from last month about an assistant coach for the Norman High School football team who was video taped leading his team in prayer before their game on Nov. 3.
As previously reported in mid-November, the school launched an investigation into the accusation after FFRF legal fellow Christopher Line sent a letter claiming that the coach's prayer with students was a violation of the Establishment Clause of the First Amendment.
Last Thursday, an attorney representing the school district sent a formal follow-up letter to Line clarifying that the coach involved in the prayer on Nov. 3 was an assistant coach who volunteers his time to the team for little pay.
"The district investigated the factual description in your letter and was able to confirm the alleged event occurred. The coach in question was a new lay coach with the district. The term 'lay coach' refers to an individual who volunteers their time to work with students for a small stipend. This individual assisted with coaching duties for football under supervision of a head coach. Lay coaches are not employed by the District in capacities other than coaching a sport(s) and have limited hours. His actions were not representative [of] a pattern of conduct within the district."
The letter to Line, written by attorney Karen Long, also explained that the coaches supervisor met with him to make him aware of the concerns in the letter and aware of the legal prohibitions on public school coaches leading in prayer with student-athletes.
"The coach has been informed of the district's expectations for coaches — which includes complying with legal restrictions surrounding school-sponsored prayer," the letter from Long explained. "After discussing the matter with him, and outlining appropriate conduct going forward, we believe this matter is fully resolved."
FFRF Co-President Dan Barker praised Long's letter.
"It's commendable that the school district acknowledged the violation and acted promptly to protect its students' constitutional rights," Barker said in a statement. "Prayer has no place on a public school football field."
The school district's move to comply with FFRF's complaint comes after a school district in Georgia issued a legal memorandum to all of its schools following an FFRF complaint about a football coach at East Coweta High School who was seen bowing his head during a team prayer.
The legal memo, which was written by the lawyer for Coweta County Schools, focused on the topic of prayer in school. The memo states that coaches and other school staff are not legally allowed to participate in student-led prayer but are also not required to leave the area or make their non-participation obvious when a student-initiated prayer occurs.
"We are not allowed to be in the middle of it but we have a right to be there with our players. We don't have to flee [the scene]," East Coweta football coach John Small told The Christian Post last month. "If my head is bowed, nobody can tell me what I am thinking. I am not leading the prayer. I am there supporting my kids. Whether I am praying or not, nobody can say I am or I ain't."