Online anti-porn ministry getting increased interest from churches due to coronavirus shutdowns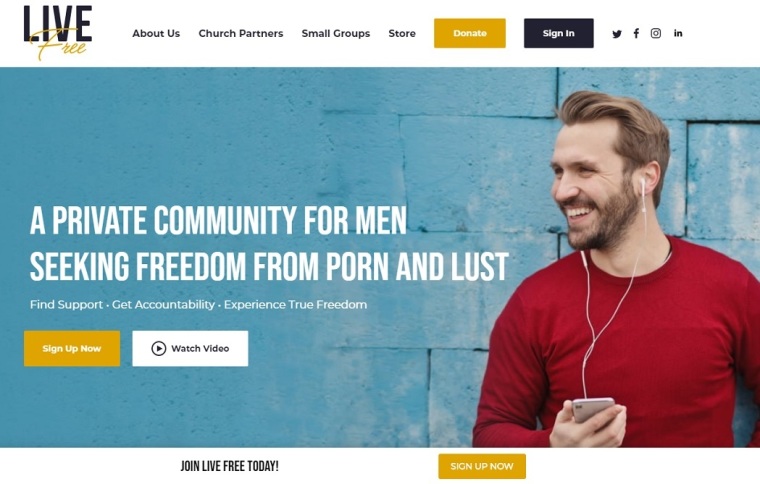 An online ministry that helps men who struggle with sex and pornography addiction has been getting increased interest from churches looking to partner with them due to recent closures over the coronavirus pandemic.
The Live Free Community app was launched in November 2019, with over 700 individual members as well as a couple of church partners signing up.
In an interview with The Christian Post, Live Free founder Carl Thomas explained that, with many churches closing down over pandemic concerns, his group is "suddenly" receiving "more interest and inquiries."
"Now with COVID-19, churches are being forced to take their efforts online, something many recovery groups have no experience with," Thomas said.
Thomas also told CP that his ministry "can provide them all the tools they need to do this and do it effectively."
Given the need and the current situation, Thomas noted that the group was waiving their usual $299 setup fee for congregations, though the monthly fee of $4.99 would remain.
"When a church signs up with us we create a landing page for them and a private/secret group in our network that they manage and only their church members can access," Thomas added.
"Inside these groups churches can host live events, online meetings, post articles, videos, etc. We also provide free training for their leaders on how to run a group based on our model, both locally and online."
Thomas added that he wanted "to give churches a safe recovery community for their men where they can openly communicate and organize their efforts."
"I believe the issue is the tremendous shame that surrounds this struggle and that most men don't want to show up to a weekly group meeting that's being advertised in their church where they can be easily identified as a guy with 'that problem,'" he said.
The first congregation to agree to become a partner in the program was Fervent Church, founded in 2012 and based in Voorhees Township, New Jersey.
Fervent Church founder and lead pastor Mike Rosado told CP that his congregation has been a partner with Live Free "at its inception."
"Our church attracts different types of people and since we value vulnerability, many men admit to struggling in this area, so we wanted to strike while the iron was hot," explained Rosado.
"Our partnership has been great. The men in our church now feel they have a healthy and safe place to process and be known, while still deal with their issues privately."   
Rosado went on to "strongly recommend Live Free," telling CP he believes "this struggle is so prevalent in our lives that it's foolish not to resource our churches with ways to deal with it head on."