Only 4 Percent of Evangelicals Think Trump Is 'Genuinely' Conservative, George Barna Says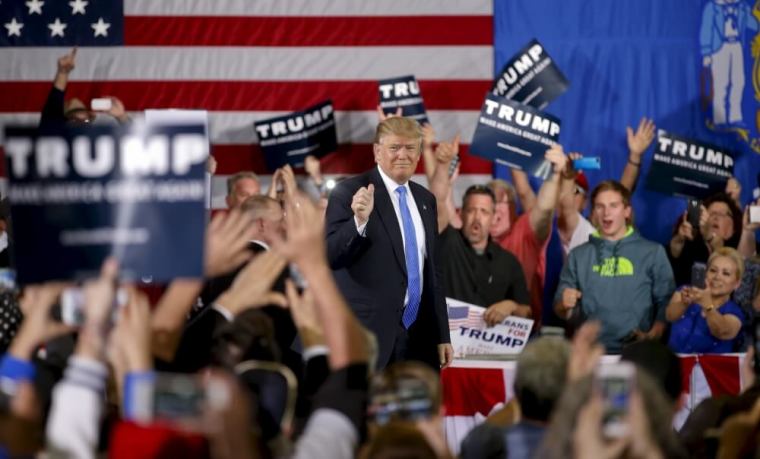 One of the most prominent pollsters who focuses on the religious beliefs and behaviors of Americans says most evangelicals actually doubt that Republican presidential frontrunner Donald Trump is a conservative.
George Barna, the founder of the research firm Barna Group, explained during an interview with One News Now that despite media reports suggesting Trump is winning over evangelical voters, many evangelicals are weary of Trump's new-found conservatism.
"They don't really believe he's a conservative — only four percent believe he's genuinely a conservative," Barna explained.
Although some evangelical leaders like Liberty University President Jerry Falwell Jr. and Dallas megachurch Pastor Robert Jeffress have rallied around Trump in the 2016 election, other #NeverTrump evangelicals don't believe Trump is a conservative.
Although Trump now proclaims that he is pro-life, he once proudly claimed in 1999 that he is "very pro-choice" and wouldn't favor a ban on partial-birth abortions.
While many conservative evangelicals stand firmly against ordinances allowing biological men into women's restrooms, Trump recently said transgender individuals should be allowed to use whatever bathroom they feel is appropriate. Additionally, he criticized a controversial transgender bathroom law passed in North Carolina that thousands of social conservatives rallied in defense of.
An online poll posted with the One News Now interview asked readers what grade they give Trump's conservatism. Of the 1,400-plus respondents, 51.92 percent gave Trump a "fail," while 38.19 percent selected "needs work." Only 9.89 percent selected "pass."
It's not just Trump's conservatism that evangelicals are not sold on, Barna said that evangelicals are also not sold on Trump's personality, character and history.
"They don't like his character," the pollster asserted. "[Yes] the issues matter to them, but character is critical because they figure it's based on your character that you make up your decisions."
Trump has been married three times and has even admitted in the past that he doesn't feel he needs to repent or ask for forgiveness. Barna stated that Christian principles are very important for evangelical voters.
"This deeply matters to these people," Barna stated. "They don't want to give up the ship, but they're saying 'Oh my gosh, look at the captain we're stuck with."
But as Trump swept five primary elections on Tuesday, he looks to be in a good position to win the GOP nomination and run in the general election against Democratic frontrunner Hillary Clinton.
If forced to choose between Trump or a Democrat, Barna said he believes that evangelicals will vote for Trump but won't go the extra mile to lobby others to vote for him.
Although evangelicals might not like either of the two party candidates running this November, Barna believes that a good number of them will still turn out to vote.
"Their theology and their patriotism require them to vote," Barna said. "They believe that that's an obligation that they have."