Oprah Winfrey Joining TD Jakes, Joel Osteen for MegaFest 2013
Oprah Winfrey announced on Tuesday that she is joining Bishop T.D. Jakes of The Potter's House and other big-name Christian pastors for MegaFest 2013, the multi-day event that is scheduled to take place on Aug. 29 in Dallas.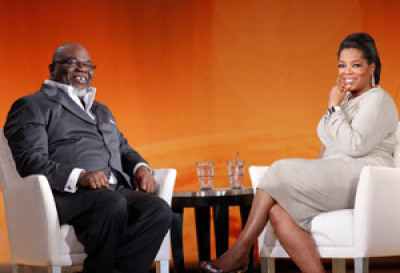 "[Winfrey] will be joined by Bishop Jakes and together they will continue the important work of reaching out to the many fatherless sons and daughters who are struggling and in need of healing," a press release on Winfrey's website states.
"Earlier this season on Oprah's Lifeclass, Oprah and spiritual life coach Iyanla Vanzant started the in-depth conversation around fatherless sons and daddyless daughters, a crisis affecting nearly 21 million children in the United States today, that elicited a strong and passionate viewer response."
Some other notable leaders that will participate in MegaFest include World Changers International Church Pastor Creflo Dollar, as well as Joel Osteen of Lakewood Church.
In an earlier video promoting the three-day conference, Osteen said that the event is very important as it will feature families coming together.
"We don't have enough opportunities these days, and so when you called and invited us I thought 'What a great thing to be a part of,'" Osteen told Jakes. "I'm inviting everyone to come along to Dallas. You are always looking for an excuse to come together. Why not get together with other believers? Get inspired in your faith, and have fun at the same time."
Winfrey's participation in the event will air on her "Lifeclass" program in September.
"It doesn't matter who you are or where you are in life, everyone is looking for answers, and MegaFest is the place to find them," Jakes has said about the festival. "Whether you come on your own or with family and friends, one thing is for sure: people attending MegaFest will find joy, fun, great music, encouraging community and powerful messages of inspiration, hope and purpose."
The Potter's House pastor and Winfrey have met on several occasions previously, sharing their thoughts on many of the issues that affect society today. Jakes appeared in April 2012 on "Oprah's Next Chapter," where the two talked about gay marriage. The preacher noted that his job is not to give personal opinions but to talk Scripture, and he said that the Bible affirms that marriage should be between a man and a woman.
"I'm not particularly political. I'm not particularly denominational. I'm not worried about any of that," he added. "I'm not anti-gay, I'm not anti-anything. I don't want to even be known by what I'm against."
Further details of MegaFest 2013 and tickets are available on the TD Jakes Website.
Positive Declarations from Pastor Joel Osteen - Oprah's Lifeclass - Oprah Winfrey Network