Oprah Winfrey, T.D. Jakes Confront Fatherless Households During 'Lifeclass' Taping at MegaFest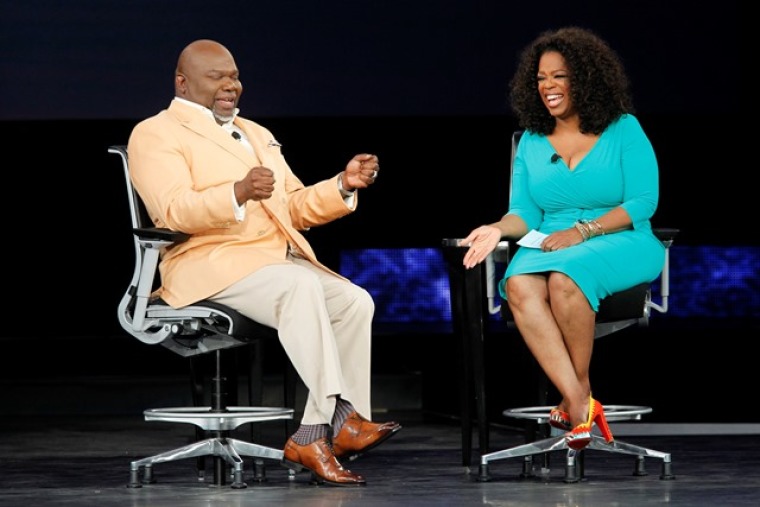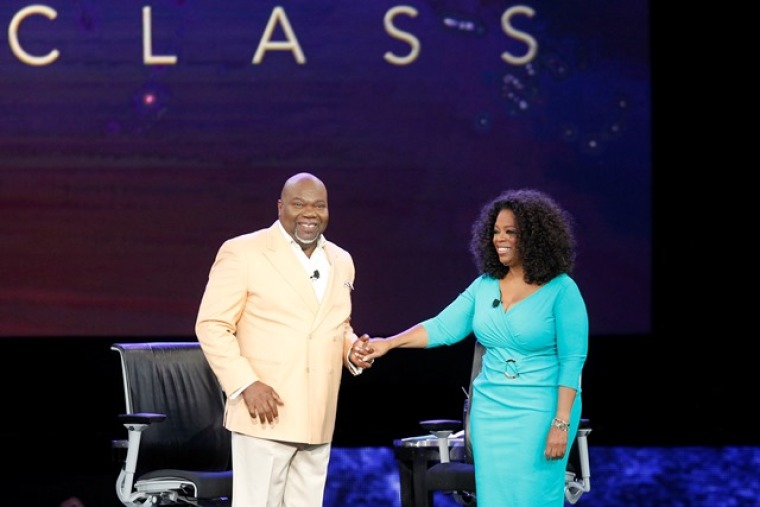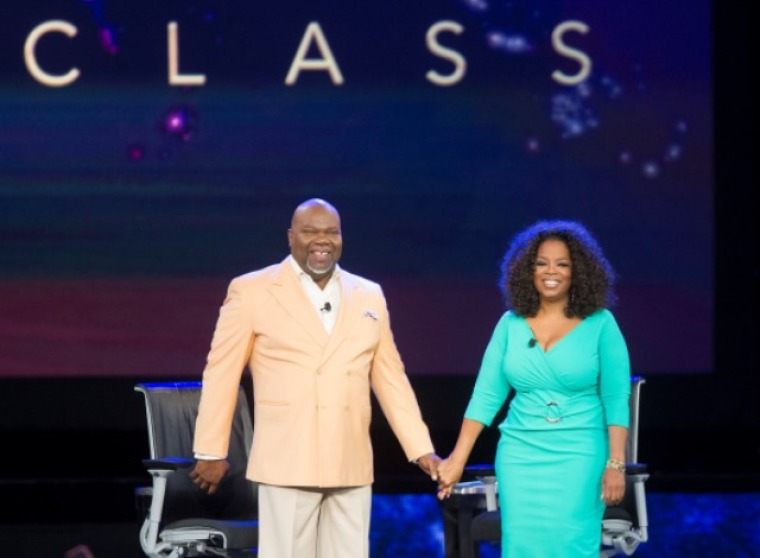 View Photos
DALLAS, Texas — Oprah Winfrey held two episode tapings of her Emmy Award-winning program "Oprah's Lifeclass" on Thursday during T.D. Jakes' three-day MegaFest festival that will broadcast on the OWN network during the first two weeks of September.
Oprah invited Jakes back to her lifeclass to talk about the millions of sons and daughters who are growing up without a father in their life, and to share the steps families can take to heal old wounds and restore their fractured relationships. There were many "aha! moments" for the queen of television who surmised that women are incapable of fulfilling the role of a father, regardless of how hard they try or how much they believe that they can.
"The truth is that you can't be a father and a mother," Oprah said.
Jakes then emphasized that God designed the family to have a father and a mother to provide children with comfort and a safe place to land on their feet.
But when there's a falling out, separation or divorce, the megachurch pastor commented that some women are so angered by how their ex treated them during their relationship, they don't realize that it's possible for the man to become a good father, if he's given the opportunity.
"Mothers use the children as a switch to beat-up their fathers," Jakes described. "If anyone's ever seen a switch, the switch gets beat too."
Jakes implored mothers not to use their children as a weapon against their exes, either by denying them time to spend with their child, or by discouraging the child from seeking a connection with their father because the parents' relationship didn't work out.
"Don't allow your personal feelings to make you an unjust judge," Jakes said.
However, Jakes added that there are circumstances in which children aren't safe with a parent, and advises mothers to use their best judgment. "Not every man is good. If your ex is a substance abuser or physically abusive, then you are wise not to send your child to be with him."
Reconnecting after years of absence
For the fathers who've been out of their children's lives for years, Jakes suggested that there needs to be a period of courtship, and ample time to get to know each other before stepping in to set rules and provide discipline.
"You need to court your children. Your children have no foundation, no memories. You cannot reclaim yesterday," he explained. "Without having memories to build upon, new ones need to be created."
He added that both the child and the father are experiencing the same fears and are seeking the reassurance that they won't get hurt. The child, especially, has a fear of abandonment. But instead of dwelling on the past and allowing the feelings of guilt and shame to stifle progress, Jakes said parents must forge ahead and create the foundation of a new relationship.
"Invest even if you don't know how," Jakes advised fathers who themselves might have been raised without the presence of their father. "God has an amazing way of subsidizing what you didn't get. That void of wisdom and protection often comes from other sources."
No one gets through life without wounds and scars, Jakes said, emphasizing that the problem is often generational, not situational. "Your story doesn't begin with you."
Oprah then suggested the importance of letting go of the fantasies people have about what their relationship might be like, and to instead embrace and accept the reality of what it is right now, and build upon that.
"There are wonderful things that could happen, if we would let go of the pain of what didn't happen. There are wonderful things that could happen, if we would open up to the possibilities," Jakes said.
During a recent Father's Day service at The Potters House, Jakes said the congregation decided that all of the men would wear bow ties to celebrate the holiday. He shared that "grown men were in pain because they didn't know how to tie the tie. That goes back to not having a father to show you. The tie not important, it's what it represents. So, it's little things that define masculinity, like going fishing. What children get out of it is: it's daddy who taught me that. It's the father's presence and watching how he does things."
You're not alone
According to Jakes, those who have a relationship with God have a spiritual advantage, because they know they're not alone.
"You are not unprotected, you are not in that apartment by yourself, you are never alone," he said. "When the disciples asked Jesus to teach them how to pray, the very first words out of his mouth was our Father."
He continued, "A father gives you the sense that if things go wrong in your life, he will fight for you. They are a protector. What real fathers do is they make deposits in you, through which you can withdraw for the rest of your life."
And for all of the children, both young and old, whose fathers are deceased, Jakes reminded them that although they cannot reclaim yesterday, they can embrace those who are around them today, and cherish the memories that they have of their loved ones.
"All you have when life is finished is the memories. Even if they're not many, they're still priceless."