Ore. Supreme Court halts ruling that would've lifted restrictions on church gatherings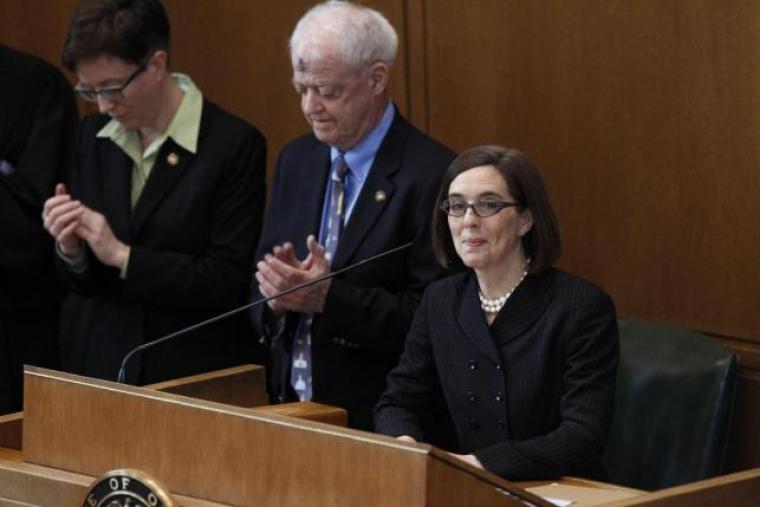 The Oregon Supreme Court granted an emergency motion Monday evening putting on hold a lower court's injunction earlier in the day granting churches statewide preliminary relief to Gov. Kate Brown's restrictions on mass gatherings and in-person worship.
Oregon Supreme Court Presiding Justice Thomas Balmer granted the motion per the request of Brown and other unnamed defendants hours after Baker County Circuit Judge Matthew Shirtcliff ruled in favor of the plaintiffs.
Balmer explained that the plaintiffs, which included 10 churches and ministries throughout the state led by Elkhorn Baptist Church of Baker City, had until Friday to submit responses to the defendants' petition.
"Following swift action by the Oregon Supreme Court, my emergency orders to protect the health and safety of Oregonians will remain in effect statewide while the court hears arguments in this lawsuit,'' Brown said in a statement. 
''From the beginning of this crisis, I have worked within my authority, using science and data as my guide, heeding the advice of medical experts.''
The court put a hold on Shirtcliff's ruling in which he concluded that Brown exceeded her authority by restricting business operations and worship services for more than the 28 days governors are allowed to do so under Oregon's health emergency law. Brown had extended the state of emergency until July 6 without approval from the state legislature. 
The plaintiffs contend that the measures have harmed churches, businesses, private schools and other groups and individuals.
Under the first phase of the state's reopening plan, churches are allowed to gather with no more than 25 people present. But Shirtcliff also concluded that churches could hold worship services with over 25 people provided they follow the same social distancing guidelines as secular facilities, such as grocery stores and home improvement stores.
The Pacific Justice Institute, a legal group that provides pro-bono support on topics related to freedom of religion, filed the lawsuit earlier this month against Brown. On behalf of the plaintiffs, the group alleges that the governor's orders aimed at helping curb the spread of COVID-19 are unfairly violating the rights of churches.
Joined by the grassroots nonprofit Common Sense Oregon, PJI filed a motion requesting a temporary restraining order against the enforcement of the state restrictions on gatherings.
"We've got plaintiffs from Portland all the way south to Klamath Falls, from Lincoln City on the coast over to the eastern part of the State," PJI attorney Ray Hacke said in a statement earlier this month.
"There's a rising tide of churches wanting to push back against Governor Brown's oppressive executive orders, and this case will hopefully remind her that she is not free to dispense with constitutionally protected liberties, even in emergencies."
Stephen Williams of Prepare the Way Ministries based in Bend, a ministry listed as a plaintiff in the case, issued a statement following Shirtcliff's ruling. Williams said he was "shocked" by some of the language the governor's attorneys used during the hearing on Monday. 
"I was shocked by Gov. Brown's lawyers … who asserted that the governor has no limits to her power during a state of emergency. They used phrases like, 'limitless power,' 'no limits,' 'nothing limits,' total authority,' 'complete power,' over a dozen times," Williams claims. "What makes our country great is the fact that we have a Constitutional Republic that acknowledges we are one nation under God, not a socialistic authoritarian regime where one leader has unlimited power."
In response to the spread of the coronavirus, the vast majority of churches in the United States have opted to cancel in-person worship services. Many have switched to online alternatives or have held drive-in services. 
Some congregations, however, have continued to hold in-person worship services. At times, they do so in direct defiance of state or local stay-at-home-orders. Many of those churches contend that it is their First Amendment right to assemble for worship. 
Several churches in multiple states have filed lawsuits against state and local orders. Churches argue that, as long as they adhere to social distancing guidelines, they should be allowed to gather for worship service.
Last week, U.S. District Judge Robert Gettleman rejected a request for relief against an Illinois state order limiting in-person worship to no more than 10 people.
"An injunction would risk the lives of plaintiffs' congregants, as well as the lives of their family members, friends, co-workers and other members of their communities with whom they come in contact," wrote Gettleman.
"Their interest in communal services cannot and does not outweigh the health and safety of the public."
The lawsuit filed on behalf of the Oregon ministries has been criticized by at least one left-leaning Christian leader. Rev. Chuck Currie, an Oregon resident and minister with the liberal United Church of Christ, wrote on Twitter he is "thankful" for the Oregon Supreme Court's decision to stay Shirtcliff's injunction.
He argued that the lawsuit was filed on "behalf of far-right activists and white evangelical churches."
"People of faith want to worship. We want to gather. But houses of worship across the world have ended up as hotspots for #COVID19," Currie argued. "This decision by Circuit Judge Matthew Shirtcliff is reckless. I strongly support @OregonGovBrown's appeal. #StayHomeStayHoly."