Outspoken NFL Star Benjamin Watson Takes on Race and Religion in First Book 'Under Our Skin' After Ferguson Response Thrust Him Into Spotlight
'God Placed It on My Heart to Trust Him With Such a Project,' New Orleans Saints Tight End Says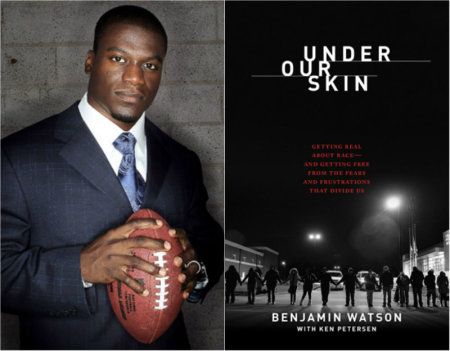 After initially ignoring calls to write a book about his thoughts on certain hot-button issues, NFL tight end and outspoken Christian Benjamin Watson has decided to tackle race and religion head-on in his first book, Under Our Skin: Getting Real about Race—And Getting Free from the Fears and Frustrations that Divide Us.
"In the weeks and months following my initial Facebook post about Ferguson that received national attention, I've been humbled by the number of people who have asked me if I would consider writing a book," Watson, 34, has shared online.
Although the New Orleans Saints tight end says he felt inadequate to take on the task, "I started to hear from even more people about how my thoughts and feelings about certain events are, in many ways, representative of what they are thinking and feeling."
"Writing a book is not a small undertaking, but God placed it on my heart to trust Him with such a project," Watson said, adding that he felt it was important to "advance discussion of the 'hot topics' of our time, particularly the topic of race."
"I am hopeful this book will challenge people to have serious, healthy discussions about that topic. I'm hopeful that this book will encourage people of all races to discuss these important issues without fear of saying the wrong thing or insulting someone who doesn't agree with you. I am confident that nearly all of you will agree with some of the things that I have written in the book while being opposed to, or seeing differently, other things that I have written from my personal perspective," Watson added.
The Facebook post that placed Watson in the spotlight and led to an appearance on CNN, the latter of which eventually proved controversial, was the married father of five's response to a grand jury's decision not to indict former Ferguson police officer Darren Wilson in the shooting death of Michael Brown, and the subsequent violence that overshadowed peaceful protests.
Watson wrote at the time:
"I'M ANGRY because the stories of injustice that have been passed down for generations seem to be continuing before our very eyes.

"I'M FRUSTRATED, because pop culture, music and movies glorify these types of police citizen altercations and promote an invincible attitude that continues to get young men killed in real life, away from safety movie sets and music studios.

"I'M FEARFUL because in the back of my mind I know that although I'm a law abiding citizen I could still be looked upon as a "threat" to those who don't know me. So I will continue to have to go the extra mile to earn the benefit of the doubt.

"I'M EMBARRASSED because the looting, violent protests, and law breaking only confirm, and in the minds of many, validate, the stereotypes and thus the inferior treatment."
Watson went on to list several other emotions, and concluded by explaining why he was "encouraged."
"I'M ENCOURAGED, because ultimately the problem is not a SKIN problem, it is a SIN problem. SIN is the reason we rebel against authority. SIN is the reason we abuse our authority. SIN is the reason we are racist, prejudiced and lie to cover for our own. SIN is the reason we riot, loot and burn. BUT I'M ENCOURAGED because God has provided a solution for sin through the his [sic] son Jesus and with it, a transformed heart and mind. One that's capable of looking past the outward and seeing what's truly important in every human being. The cure for the Michael Brown, Trayvon Martin, Tamir Rice and Eric Garner tragedies is not education or exposure. It's the Gospel. So, finally, I'M ENCOURAGED because the Gospel gives mankind hope," Watson wrote.
The NFL tight end's November 2014 Facebook post went viral, and has since been "liked" more than 860,000 times and shared nearly half a million times. The post prompted CNN's Brooke Baldwin to interview the athlete, but during Watson's appearance, the outspoken Christian was cut-off during his remarks on Jesus Christ.
"The only way to really cure what's on the inside is understanding that Jesus Christ died for our sins," Watson told Baldwin during their satellite interview.
Then, Baldwin interjected, telling Watson she "go it" as his side of the split-screen interview turned green.
"Just like that, we lost him," Baldwin told viewers, CP reported at the time.
Although Baldwin and Watson exchanged pleasantries on Twitter after the interview abruptly ended, the sudden connectivity issues prompted some viewers to speculate that Watson might have intentionally been cut off for straying into religious talk.
In Under Our Skin: Getting Real about Race—And Getting Free from the Fears and Frustrations that Divide Us, which Watson co-authors with Ken Peterson, the NFL star will not be restrained from delving in-depth into matters of faith, and into issues he believes national tragedies like Ferguson, the Charleston church massacre, and other incidents have brought to light.
"Tyndale Momentum is thrilled to have the opportunity to publish a book with Benjamin Watson. Benjamin has a well-earned reputation as a thoughtful, compassionate, intelligent leader. His essays have struck a chord with hundreds of thousands of people from diverse backgrounds," Jan Long Harris, publisher at Tyndale Momentum, said in a press release shared with The Christian Post.
"This book will give Benjamin the opportunity to explore in much greater depth the ideas and convictions that have already resonated so strongly with so many people. We believe that he will be one of the most influential voices in America in the coming years," Harris added.
Under Our Skin: Getting Real about Race—And Getting Free from the Fears and Frustrations that Divide Us will be available Nov. 17.
In June, Watson received a K-Love Fan Award, and in his acceptance speech spoke directly about reconciliation in light of Ferguson, Baltimore and Cleveland. Watch a clip of Watson's speech in the video player below, or on YouTube: