Over 400 Movie Theaters Host Teen Mania 'Youth Group' Event With Christian Rock, Comedy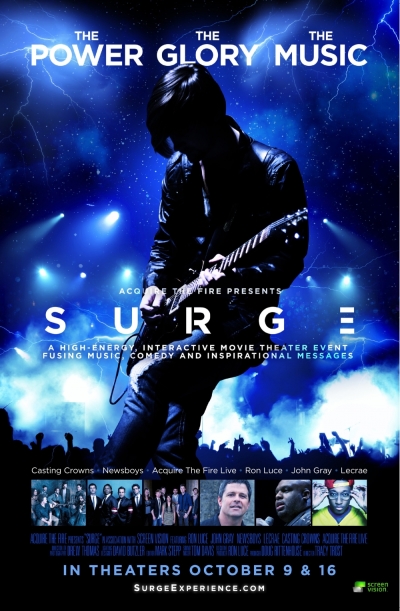 For one night, Christian rock will blast out across the country as over 400 movie theaters channel the pulse of "Surge," with famous bands such as Newsboys, Casting Crowns, and Lecrae, while comedian John Gray will crack jokes to bolster faith among teens and prepare them for life's struggles.
"It's like a big national youth group gathering in theaters all across the country," Ron Luce, founder and president of Teen Mania Ministries, told The Christian Post in a Wednesday interview.
Luce, who organized the entire project, announced that the filming would be tonight, from 4 to 8 PM – at a stage in Nashville, Tenn.
The event filmed tonight will broadcast in over 400 local theaters on Oct. 9, but even in October, there will be live community along with the recorded film. Teen Mania will be receiving texts and other messages from kids all night long, and will respond in kind. "It's a big conversation, allowing us to unite in ways that we've never been able to do before," Luce said.
While the event comes charged with the pulse of praise and worship music, it also aims to prepare kids for the struggles ahead. Luce mentioned the fear of rejection, and warned that it often leads teenagers to "live as a slave to other people's expectations." This fear grows when kids hear about school shootings and young people even committing murder "randomly."
"Kids end up taking drugs or giving away their purity because they want to be accepted," the Teen Mania president explained, drawing from his 27 years of experience reaching out to junior and senior high school kids.
"Surge" aims to utilize the power of Christ, "equipping young people to see through the lies that fear pushes them into believing," Luce said.
The event took over two and a half years to come together. The Teen Mania founder recounted his efforts to coordinate with hundreds of youth pastors across the country in preparation for the event. He also mentioned the extensive planning by distributor Allied Media, and Screenvision, the venue that coordinates with theaters. Surprisingly, it took very little time to schedule the high profile bands.
Casting Crowns has sold nearly 8.2 million albums, achieved 14 Gospel Music Association Dove Awards, three Grammy Awards, and performed in 175 different cities. As the "Surge" website explains, Casting Crowns has "secured its place as one of the most popular Christian bands of all time."
Newsboys boasts a similar pedigree, with over 7 million records sold and a Grammy nomination. Last year, when the band released "Born again," sales hit #4 on Billboard's overall chart, beating out new releases from even Justin Bieber.
Meanwhile, Lecrae released the first Christian rap CD to ever hit the top spot on Billboard's Top Gospel Charts.
Luce said all three bands proved more than willing to work with him, and will play this evening.
October 9th proved ideal, because Wednesday nights are slow for movie theaters and big for churches. When the secular company Allied Media ran a study on the demand for such an event, Luce recounted, they quickly grew very excited.
But the Teen Mania founder emphasized that his goal "isn't about filling theaters." Instead, he wants to make a statement about redeeming the culture.
"Think of how much corruption and garbage has been communicated into the hearts and minds of our young generation in these very movie theaters," he said.