Pakistan Court Upholds Death Penalty for Security Guard Who Killed Former Gov Salman Taseer for Opposing Blasphemy Laws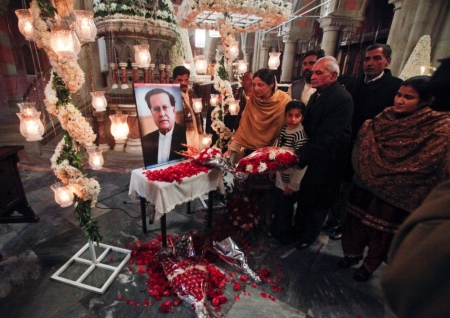 The Supreme Court of Pakistan has upheld the death sentence of a security guard who assassinated former Punjab Governor Salman Taseer for publicly speaking against the country's draconian blasphemy laws on behalf of a Christian woman.
The Pakistan's apex court has dismissed an appeal to revoke convict Mumtaz Qadri's death sentence, according to that country's newspaper, The Express Tribune.
The court also retained terrorism charges on Qadri which were dropped by a lower court.
Qadri, who was supposed to guard Taseer, chose to assassinate him in January 2011. Days before he was killed, Taseer had visited Asia Bibi, a Catholic woman charged with blasphemy and who is now on death row.
"Given the case and the context, we expected this result, even if we as Catholics and human rights activists do not approve of the death penalty," Peter Jacob, director of the Centre for Social Justice, told AsiaNews. "The decision shows after all that the Supreme Court is independent and free from fundamentalist influences. The ruling will reopen the debate closed after the high-profile murder."
After the assassination, Qadri was hailed by Islamists as a "national hero."
"The judgment of Qadri is very significant at this time, when many Pakistanis believe that the judges are under heavy pressure from terrorists," Fr. Bonnie Mendes, a priest in Pakistan, was quoted as saying. "The Supreme Court has spoken courageously and clearly stated that criticizing the blasphemy law – as Taseer had done, calling it the 'black law' – does not make him guilty of blasphemy. The judges issued the judgment without fear. This is good for the country."
Last October, the Lahore High Court upheld the death penalty of Asia Bibi.
She was sentenced in 2010, a year after she was accused of blasphemy. She was harvesting berries with a group of Muslim women, who accused her of drinking from the same water bowl as them. Following an argument, the women told a local cleric that Bibi had blasphemed against Islam.
The blasphemy laws are embedded in Sections 295 and 298 of the Pakistan Penal Code. These sections are often misused to target religious minorities – Christians, Shi'as, Ahmadiyyas and Hindus. They allow Islamist extremists, who believe that killing a "blasphemous" person earns a heavenly reward, to justify killing of minorities. The laws carry no provision to punish a false accuser or a false witness of blasphemy. Local Muslims frequently seek revenge by making allegations against their adversaries who are non-Muslim.
Shahbaz Bhatti, a Christian and elected member of the National Assembly, was killed in March 2011 for his advocacy against the blasphemy laws, two months after Taseer's kiling.