Pakistan Supreme Court Sets Asia Bibi's Death Sentence Hearing for Monday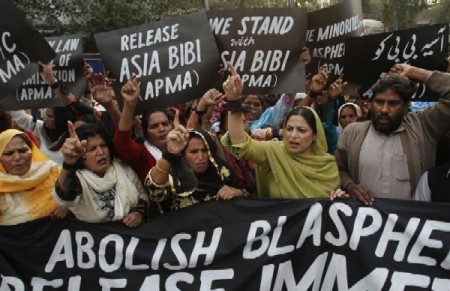 The imprisoned Christian mother of five who has been sitting on death row for blasphemy in Pakistan for almost eight years will finally have her appeal heard by the Pakistan Supreme Court early next week.
Dawn.com, Pakistan's oldest and largest english language newspaper, reports that a supplementary cause list issued on Friday indicates that a three-judge panel headed by Chief Justice Mian Saqib Nisar will hear the appeal of Asia Bibi (also known as Aasiya Noreen) on Monday.
Bibi, who was sentenced to death in 2010 after she was accused by Muslim women of insulting the Muslim Prophet Muhammad, could become the first woman to be lawfully killed on blasphemy charges in Pakistan. However, rights activists have long called for Bibi's release as the blasphemy laws in Pakistan are frequently used by the Muslim majority to persecute religious minorities and settle personal issues.
The news of the hearing comes as Bibi's health has been deteriorating and as some reports have indicated that she could be beginning to suffer from dementia.
"News of her poor health and early signs of dementia are a paramount concern for our community, and the date of this appeal is very timely," Wilson Chowdhry, chairman of the London-based charity British Pakistani Christian Association, said in a statement. "These charges have been proven false time and again and it's time for her to return home to her family. Clearly she will need asylum in a western country where she can live out the remainder of her days in peace."
This is not the first time an appeal hearing for Bibi has been set by the Pakistan Supreme Court.
Bibi appealed to the Supreme Court after she lost her case in the Lahore High Court in 2014. The Supreme Court agreed to hear the case in 2015. Bibi was originally scheduled to have a hearing before the Supreme Court in October 2016. However, the hearing has continually been delayed.
"When I spoke to [Bibi's lawyer Saiful] Malook, I thanked him for all the efforts he has done for the community. He has fought bravely until the end like no other," BPCA officer Mehwish Bhatti said in a statement. "We must pray for the success of the appeal and we will all stand with her."
Bibi's case goes all the way back to 2009 when she was working as a field laborer. She got into an argument with some Muslim women co-workers who objected to the fact that Bibi (a Christian) was drinking from the same water bowl as they were. It was during this argument that the women alleged that Bibi insulted Islam's prophet.
In Pakistan, the punishment for blasphemy under section 295-C of the criminal code is the death penalty or life imprisonment to anyone who either speaks or writes words that defile the name of Muhammad.
Pakistan ranks as the fifth-worst country in the world when it comes to Christian persecution, according to Open Doors USA's World Watch List.
"Pakistan's notorious blasphemy laws target religious minorities but affect Christians the most, especially those who seek to evangelize," an Open Doors fact sheet states.
Earlier this year, a Christian man who sat on death row for nearly two years because of blasphemy charges was acquitted of the charges by judges in the Punjab province.
Despite being a strategic international partner to the United States, Pakistan was also placed on the U.S. State Department's "special watch list" for severe violations of religious freedom earlier this year.
For its first-ever Ministerial to Advance Religious Freedom this summer, the State Department invited the brother of Shahbaz Bhatti, a Christian member of the Pakistan National Assembly who regularly spoke out against the nation's blasphemy laws before he was assassinated 2011. Peter Bhatti spoke during the first day of the ministerial.
The State Department released a statement condemning apostasy and blasphemy laws like the ones in Pakistan at the conclusion of the ministerial.
"We see governments using such laws to punish individuals whose views on matters of religion or belief may differ from official narratives or the views of majority populations," the statement reads. "We will work collectively to encourage governments that maintain these laws to free any individuals imprisoned on such grounds, and to work toward the universal repeal of blasphemy, apostasy, and other laws that similarly impede freedoms of expression and religion or belief in a way which is inconsistent with international law."
Blasphemy laws are also prevalent in other nations with a Muslim majority, such as Indonesia.
Earlier this year, an Indonesian court sentenced a Christian man to four years in prison over a blasphemous Facebook post. The former governor of Jakarta, a christian named Basuki Tjahaja Purnama, was also convicted of blasphemy and sentenced to jail in 2017.